TeloGenesis Reviews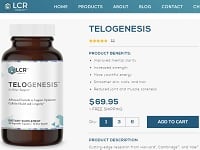 LCR Health is a company that focuses on developing health products that they claim could significantly change people's lives and even add to their life span.
This company's leading idea is making the latest medical breakthroughs available to regular people and enabling them to experience all the benefits of contemporary medical advancements.
They say that their first and foremost aim is making people healthier and more satisfied with their overall physical shape.
This is why they claim to use only ingredients of the highest quality, which are then processed and packed in the USA and tested by third-party organizations.
The leading figure in this organization is Dr. Rand McClain, a regenerative medicine specialist based in Los Angeles, California. He's recently come up with a longevity protocol aimed at making you feel and look much younger, even slowing down the aging process at the cellular level.
Products
Dr. McClain calls this protocol "The Lazarus Protocol" and a part of it, which he stresses as the most important one among the five of them, is boosting your telomeres' regeneration.
Telomeres are the ends of our DNA chains which save them from damage. Thus, saving our cells from harm and eventually our tissues and the whole system. The problem is that as we age, our telomeres wear out - this is what leads to all the age-related illnesses.
Dr. McClain realized that the ways to slow down the loss of telomeres are reducing stress levels and our intake of processed meats as well as increasing physical activity and our intake of vegetables, fiber, salmon, seaweed, coffee and green tea.
However, that isn't enough to fight the inherited telomeres-related issues, or to reverse the process of telomere loss.
The wish to solve these problems is what kept him going in this research. He finally came across the results of a study conducted by Dr. Elizabeth Blackburn, who won a Nobel Prize for it.
It said that Tetrahymena, or pond scum, produced an enzyme which not only thoroughly repaired the telomeres, but even made them longer. The name of this enzyme is Telomerase.
It was later found to exist in most of the species, including humans and the only question remaining to be answered was how to "turn it on."
That's when he realized that the answer lies in KSM-66 – the plant extract of a berry named Withania somnifera, which is specific to a territory near the Himalayas. This extract has incredible telomerase-boosting effects.
For better results, he paired this extract with the one from astragalus - which increases telomerase activity even further and Cat's Claw - which was found to notably influence DNA repair.
Thus, he created TeloGenesis – a dietary supplement which is claimed to not only freeze, but also reverse the aging of the whole organism.
How Does TeloGenesis Work?
The TeloGenesis formula comes in the form of pills, which should be taken every morning on an empty stomach. This should help your organism increase telomerase production, its activity and even improve your DNA's ability to repair itself.
This means repairing not only the lifelong damage to your body, but also the inherited and prenatal impairments that have started affecting you over time. Additionally, it should improve your heart health, kidney health and your overall immunity.
All of these effects should manifest as increased muscle and joint strength, weight loss, higher energy levels and clearer thinking. What the company advertises is basically the possibility of taking a number of years off of your overall body and health shape.
To be sure if you need this formula, there is a five-question quiz – two or more positive answers mean you need to seriously consider using this supplement.
However, the trick is:
Anyone can have two positive answers – you don't have to be over 40, you might just not exercise enough, or you take in too much processed meats. So, anyone can easily fit into the TeloGenesis user profile.
Still, there is quite a fair disclaimer included in their online presentation, which states that due to TeloGenesis being quite a new formula, it is still too early to know what kind of effects it can have on aging-related ailments.
Moreover, they stress that this supplement shouldn't be used as a treatment for any illness.
Cost and Price Plans
TeloGenesis has the usual price of $69.95. However, if you are a first-time user and you sit through their online presentation, you get the chance to order one bottle for $49.95 as well as three or six-bottle packages with an even greater discount and free shipping.
Customer Service
If you are not satisfied with the effects of this formula, or you don't think you've felt any of the advertised benefits, don't worry – there is a 90-day money-back full refund policy. So, if you reach out and send back your bottles, even if they are empty, you will get a full refund.
For any further questions about this refund policy, or inquiries concerning anything else regarding the product, reach the company through telephone on the number 800-384-8308, via email address at [email protected], or using the contact form on their LcrHealth.com.
Online Reviews/Complaints
TeloGenesis is quite a new product, so there are still no online reviews or any active discussions about it.
Competitors and Alternatives
Vitameretm AntiAging, Memory, & Sleep Supplements: 3-Pack seems to be one of the alternatives to TeloGenesis.
Although it's significantly more inclusive and focuses on a few things besides telomerase, it is also noticeably more expensive and complicated to use since it involves three different formulas.
TA-65 is another dietary supplement that claims to have positive effects to telomeres repair. The upsides include the option to consult a certified TA-65 doctor so that you are sure you're using it properly.
On the other hand, it is way more expensive than TeloGenesis. So, you might not be able to afford it, especially if you get prescribed more than one pill per day.
Telomax is also an option if you are looking to activate your telomerase and it includes eight herbal extracts. So, it seems that it does more for you than TeloGenesis does. However, you will have to spend a bit more than you would with TeloGenesis.
Where to Buy TeloGenesis?
This supplement is not available in stores as of now, only online. If you are a first-time customer though and would like a discount, take a look at their presentation and then order through a safe page where you'll be offered a discount for orders of one, three, or six bottles.
Bottom Line
If you've been feeling intense signs of aging such as fatigue, brain fog, and weakness in muscles and joints, you probably just accepted them in resignation. Maybe you've even wondered what to do about them but haven't found the appropriate answer yet.
According to Dr. Rand McClain, you may be experiencing telomere deterioration and you can do something about it. He is not the only one who claims the resolution of your problem lies in increasing the telomerase activity.
TeloGenesis is aimed at helping relieve this problem and is the among the least expensive compared to similar formulas. So if you are on a tight budget it could be a good choice.
You may also be interested in
TeloGenesis Customer Reviews