TC1200 Pro Tactical Flashlight
TC1200 Pro Tactical Flashlight Reviews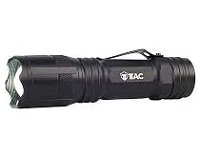 The TC1200 Pro Tactical Flashlight, found online at 1TAC.com, is a new product that describes itself as a tactical flashlight with military grade strength that can be used as an important safety tool.
How Does It Work?
According to the Tactical Ignite, which is promoting this product, most Americans are not properly prepared for issues with their own safety because they do not own a proper flashlight.
Though most people feel as though a basic flashlight from their corner store is "good enough," this website says that a high powered tactical flashlight is actually necessary to take the best care of themselves and their loved ones.
The reality is that tactical flashlights are used by the U.S. Navy Seals, the Coast Guard, Firemen, Policemen, and U.S. Search and Rescue because they are the most powerful and the most useful in a crisis.
For example, someone whose car has broken down on the side of the road could use a tactical flashlight to signal for help.
The website even goes so far to say that the TC1200 Pro Tactical Flashlight has a strobe feature which is designed to blind attackers and leave them disoriented, so that the owner of the flashlight can get away safely without needing to engage in any physical attack.
Tactical Ignite says that so many people are learning the importance of these flashlights that they have become difficult to keep in stock.
Cost & Price Plans
The TC1200 Pro Tactical Flashlight is currently available for $56, which they quote as being 75% off the normal retail price of $224.00.
Unfortunately the website does not provide any information on how long this promotion will last and when they will return to normal retail pricing.
Refund Policy
This website does offer their customers a published Terms & Conditions with a brief explanation of their Return & Refund Policy, though the website simply says that customers hoping to return their purchase will need to contact Customer Service by either phone or email with their name, their address of delivery, and the reason why they wish to return their product.
Returns must be made within the first 30 days of the date of purchase in order to be considered, but even returns made within the required time period will still be handled on a case-by-case basis. There is no guarantee that your request will be honored.
Customer Service Contact Info
Customers who would like to contact Customer Service with any questions, concerns, or complaints can do so by phone at 877-616-3515 or by email at [email protected]
Reputation
Unfortunately this product has very few customer reviews available at this time, making it difficult for prospective customers to know whether or not they would like to purchase this product from this website.
However, of the few reviews which are available, there are certainly some extremely poor reviews that should give potential customers cause for concern.
In general, there is more than one "tactical" flashlight being sold online for 75% off the retail price and customers who order them are finding out that they are getting basic, cheap, standard flashlights constructed in China and advertised as though they are military grade quality.
The fact that this website provides almost no information on their pricing structure and doesn't provide a clear to follow policy for returns and refunds is just another sign that customers should stay far away.
Competitors and Alternatives?
As mentioned above, there are many other of these flashlights available on the market, like the T2000 Tactical Flashlight, and Lumitact G700, as well as local stores which sell tactical grade flashlights for customers who are interested in purchasing that kind of product.
Customers who are unhappy with this product should be able to find an alternative that better meets their needs.
If you have any experience with TC1200 Pro Tactical Flashlight, please leave your reviews below.
You may also be interested in
TC1200 Pro Tactical Flashlight Customer Reviews