Tac Glasses Reviews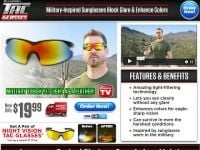 Tac Glasses, found at TryTacGlasses.com, are glasses made in a military-design with features that the company says allow them to be suitable for extreme environments and activities such as sports.
Tac Glasses are visually unique and can be noticed from a mile away due to their military-inspired design.
However, these glasses are more than meets the eye because they pack a lot of features behind their rugged aesthetic look. They are the perfect protective eyewear to keep your eyes safe from ultraviolet rays and glare, thanks to the technology imbued in their development.
Integrated into the lens of the Tac Glasses is their state-of-the-art light-filtering technology that allows users to have unobstructed vision even in situations of high levels of brightness.&nbsp
&nbsp
This does not only give users convenience but actually provides safety for people doing relatively risky activities such as sports and driving.
Even when accompanied with heavy filtering, Tac Glasses does not have any chromatic aberrations which means that colors remain as vibrant and sharp as ever.
The differences between the Tac Glasses vs polarized sunglasses can be understood the moment you put them on. With their military aesthetic and product quality, Tac Glasses will be a great addition to anyone's accessory collection for both style and function.
Tac Glasses has a one size fits all design and has been featured on different platforms of media including a television commercial, which speaks of their confidence in their product.
How Do Tac Glasses Work?
The lens technology integrated into the design of the Tac Glasses manipulate light to the advantage of the wearer. The technology makes it so that light is filtered by the lens, only letting through sufficient light to make the colors crisp while blocking excess light and avoiding glare.
UV rays and other forms of radiation, like that from a computer screen, can be easily filtered by the lens technology of the Tac Glasses.
Cost and Price Plans
Tac Glasses are priced at $19.99 with the shipping fee covered. However, TryTacGlasses.com will also charge a small web processing fee of $1.00 which sums up to $20.99. The company offers a pair of Night Vision Tac Glasses for $7.95 as an addon.
Additionally, the TryTacGlasses.com will require you to input your state zip code to properly place the appropriate state tax amount. Payment can be done through Visa, MasterCard, and American Express.
Customer Service
Bell and Howell puts their customers first with their excellent customer service. After placing an order, you can monitor your order's progress as it makes its way to you though www.customerstatus.com.
However, the company does note that you should give their system 24-48 hours after placing your order before checking the status of your order.
For customer service and other related concerns, the phone number 1-866-322-7714 can be used to reach the company and place your inquiry or concern. The company advises that they are able to receive calls only during the hours of 8:00AM - 8:00PM EST.
For unsatisfied customers, you can make use of the company's 90-Day Money Back Guarantee where you can return the product and be refunded. You need to include your basic and contact information such as complete name, address, telephone number, and email address and then send the product through USPS to:
ATTN: Returns
400 RETURNS RD
Wallingford CT, 06494
Online Reviews/Complaints
Customers who have bought the Tac Glasses have many positive things to share about them. Online, the general opinion on the Tac Glasses are that they look aesthetically pleasing, are able to withstand a beating, and everyone enjoys the free shipping.
On the other hand, there are some criticisms.
First, some people wish that the Tac Glasses were available in physical stores rather than just through TryTacGlasses.com. Secondly, although people like how the Tac Glasses look, there are others who would prefer variations with different styles.
Competitors and Alternatives
Torege is one competitor that also produces a similar product. The company offers a sports eyewear that looks almost similar and it comes with interchangeable lenses.
Cosver, another eyewear company, also produces a similar-looking sports glasses and they also come with interchangeable lenses like that of Torege's.
Another company that provides polarizing eyewear is Battle Vision, a company that provides protective eyewear that can withst and the sun's UV rays and overexposed glare.
Where to Buy?
An easy way to get your hands on the Tac Glasses is through their website www.trytacglasses.com. There is an intuitive purchase form found on the page that can be easily understood to process your purchase.
The Bottom Line
The Tac Glasses may have a few competitors but it still stands out among the rest. Easily a functional piece as much as a fashion piece, the Tac Glasses can be worn on a wide variety of scenarios and activities that ordinary sunglasses cannot.
Affordable and easy to purchase, the Tac Glasses is a quality product from a respected company.
If you have any experience with Tac Glasses or their products, please leave your reviews below.
You may also be interested in
Tac Glasses Customer Reviews

marvin d
Glasses were good , but not durable, i dropped mine on the ground and the side frame broke , totally worthless. no repair available

Jay D
I have been using this product for the past week. I drive a bus, and expect to have no glare when the sun is shining! Well, there is also a lot of glare, and it is at times difficult to see the road. This product sucks at filtering glare! Do not buy it!

David T
The film started peeling on one lens. Then, one of the legs, not sure what to call it, broke. I've had them for at least 90 days and according to the tv commercial, there is a 100% guarantee. I didn't wear them every day, just on occasion.