T1 Tact Watch Reviews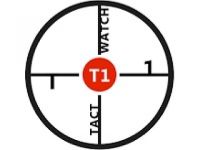 T1 Tact Watch Customer Reviews

Azmi A
Definitely a scam. The Tact Watch did not function as claimed. I changed batteries twice, each lasted for about one month only not 33 months as claimed.

Michael B
This watch is garbage. Like the previous review this watch lasted 1 month for me then stopped working. I used the buy one get one at 50% off. I made the mistake of buying 3 of these. Worst purchase I have ever made.

Ghost G
T1 tacwatch rubbish scam liers
I pay 86 dollars for this crap watch and its been two month I never received the watch contact them 10 times by email no response i filled complaig form to my bank reported them a frauds scams useless don't buy never

Peter B
I bought this recently direct from the manufacturer as I didn't trust the "ebay" sellers at $20-$40.
I bought this watch as a replacement for my Apple watch as I will be travelling for 5 weeks and didn't want to carry the charger due to poor battery life of the apple watch.
All I was looking for was a watch that counted steps had alarm function and would link to my Iphone.
Here is my experience,
The app that is linked used is poor. only good for up loading steps
The alarm is not really loud enough and only goes a short time if you are a deep sleeper like I am it will be easy to miss.
There is no snooze function.
Changing the time manually is a pain as there is no "backwards function"
The phone alert and message function also doesn't work properly for messages or phone calls
You can't add other messenger apps to the phone such as "hangouts" or Viber
The APP doesn't appear under the notification settings in your phone.
The alarms in the app settings don't work.
you cant't turn the beeps off
The phone doesn't stay on functions for long apart from the stop watch.
If i knew this prior I would not have bought the watch you do get what you pay for, would have thought in this day and age for A$130 there would have been a few more function or better functionality.

Satish L
DO NOT BUY!! It is pure china scam watch.
The watch is cheap grade and nothing of what the web has published.
Do not waste your money.
T1 Watch Scam victim

L.B. J
DONT BUY THIS TACT WATCH from NOVAD RUBBISH.
Its a crap chinese rubbish watch.
Nothing is what it says.
33 month battery lasted 3 days. Strap broke on second
week.
It doesnt connect to S9 phone.
There is no stainless steel on it.
Its a BS lie.
It takes 8 weeks to get delivered.
Its plastic with pretend buttons that don't function.
Don't touch it.

Wwe N
This is a scam. The watch is faulty. It stops working after 2 weeks and then you cannot get support. Do not buy this watch.