Swiss America Reviews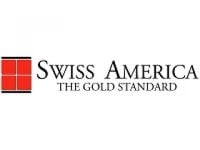 Swiss America, found online at SwissAmerica.com, is a company that states their goal is to help advise and guide customers toward the best opportunities in precious metal coin investment.
How Does It Work?
Customers can use the Swiss America website in a variety of ways.
First, this website offers free knowledge and information to people who are curious about the value of precious metals in today's market, as well as basic investment information where they are regarded.
Customers who are already familiar with precious metals investment may use this site simply as an online retailer, choosing to purchase coins they already know they want.
And finally, customers can also contact a Swiss America representative to discuss their investment goals and current portfolio to receive specific guidance on how they should incorporate precious metals investment into their financial plan.
Cost/Price Plans
The pricing and costs of various items and services on this website will differ depending on the needs and wants of individual customers, so it is impossible to quote a specific price point for this company.
Refund Policy
The website does not offer a published or detailed Refund Policy at this time.
Customers who are concerned about potential returns or refunds should discuss this with a Swiss America representative prior to making a purchase.
Customer Service Contact Info
Customers who would like to speak to their Customer Service team about their questions, concerns, or complaints can do so by phone at (800) 289-2646 or by traditional mail at 15018 N Tatum Blvd, Phoenix, AZ 85032.
Reputation
There does not seem to be many user reviews available for this company at this time, though customers should note that you should never invest more money than you are comfortable losing or depreciating, as with all types of financial investment.
Competitors and Alternatives?
There are many other companies that also promote people to invest in precious metals and coins, as well as offer specific investment assistance, like LearCapital, Investment Rarities Incorporated, and more.
If you have any experience with Swiss America or their products, please leave your reviews below.
You may also be interested in
Swiss America Customer Reviews

Eli
Honorable Reliable Integrity
Michael Weiner went above and beyond my expectations. Was extremely knowledgeable, professional with an abundance of experience which made my decision to become a client of Swiss America. I was looking for honor, integrity and reliability and found it. Highly recommend Michael Weiner and Swiss America who care about their clients.

Kimmy J
Scammy, high pressure tactics
I just started a gold/silver IRA at the referral of Brannon Howse on his programs.
When I called, they sounded like an excessively long sales pitch basically warning you how the government is coming after all your assets, you need a gold IRA etc etc. I did sign up and transfer finds. Then they called and recommended I immediately buy all gold ($60k) but I said I want both gold and silver . Magically they had just the rare silver that would suit me, which arrived that afternoon. So the broker quickly I mean instantly, worked it out and sold me gold eagles at $2519 (would be about $2300 retail), and silver 5oz at $213 (retail is $183). so overall I'm out about $3k upfront.
And they are super paternalistic. When 3 days later I asked how to access my online account (I did) and do own trades, (I can't), he got pretty irritated and rushed to end the call. I apparently have to call to make a trade. I asked for his direct email, still waiting. I plan to start a different IRA and trasfer my metals.
It's like a CULT. BEWARE!!

Frank V
Avoid Swiss America like the plague.
This is my story. Was enticed into buying numismatic coins back in 2010. My fault for not really being fully informed on numismatic coins versus bullion. Purchased American Gold Eagles from Swiss America - set of coins for $7560. Total ounces gold = 3 Ounces. Also bought 24 Silver Eagles for $1674. This equates to Gold price = $2520/ounce Silver price = $69.75/oz.
Had to pay $125/year annual storage fee for 9 years. I saw the the coin valuation in my IRA continually going down. I liquidated all coins today (11/7/19). This is what they gave me for selling the coins back to Swiss America: Gold buyback price- $4320. Silver buyback price - $162 This come out to my gold coins were worth $1494 per ounce and the silver was worth $27 per ounce. This is a net loss of almost 49%. They would not even give me back the spot price of the gold!? Not sure how the people at Swiss America can live with themselves with this business practice. Numismatics are a scam!