Suze Orman's Financial Security NOW
Suze Orman's Financial Security NOW Reviews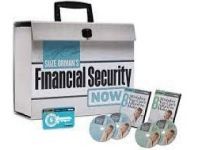 Suze Orman is one of the most recognized personal finance experts in the USA and she has been helping people manage and secure their finances for over 35 years now. She is also an award winning TV host, writer, producer and motivational speaker.
She also writes columns and is appraised by the renowned magazines, such as USA Today, Time, Forbes and Businessweek for being one of the most influential women in the media and a financial advice powerhouse.
Her approach is based on taking complex financial concepts that are not that easy to comprehend if you are not an expert in the field. She stands out because she is known to present them to the audience in a simple manner that the average layman can understand. In addition to explaining how finance works, she also gives helpful advice that are straightforward and easy to follow.
Products
Suze Orman has partnered up with a company named Time Life to create Suze Orman's Financial Security NOW, a complete financial system that will help you manage and protect your assets.&nbsp
&nbsp
It comes with four important documents, a collection of advice on what mistakes not to make, Insurance Selector feature and a nice branded portfolio to store all of the important files and documents in the pre-labeled sheets. It is designed in such way to help protect your loved ones from costly estate fees, by creating legal documents you need through an online interactive program.
You will spend under one hour to create four important documents by answering a selection of basic questions that will add personalization to them. These documents include the following: will, revocable trust, advance directive and durable power of attorney for health care and financial power of attorney.
The online program provides detailed instruction and updates with each upgrade automatically. If you experience any issues and get stuck in the process, additional help is available by phone, chat or email.
On top the four main documents, this program includes around 70 additional documents and around 90 useful web links that can give you the information you need.
The package also includes DVD in which Suze talks about gaining your financial security in a video named "8 Mistakes You Can't Afford to Make". Thanks to it, you will learn how to deal with your debt and stay out of it. In addition to that, you will get tips on how to invest smart, make the most out of your money and do your retirement planning wisely.
Insurance Selector feature evaluates your unique insurance needs, based on your answers and provides advice on whether you have the adequate Home, Auto, Long-Term Care and Disability insurance. In addition to that, it points out to the weak spots and generates a report on whether you are over or under insured.
How Does It Work?
You are able to set up and manage your online account from any device of your choice – smartphone, tablet, PC and Mac. When you place your purchase, you will receive an activation code you can use to activate your account.
First, go to SuzeOrman.com and click on "Start Here" to watch the introductory video. You can also sign-up with your name and e-mail to recieve her free video series.
Cost and Price Plans
Suze Orman's Financial Security now business pack is sold for $99.95. However, if you don't wish to pay all at once, you are able to select easy installments, where you will have the amount divided into five payments of $19.99.
In addition to that, there are no additional costs for shipping, handling and processing your order.
If you are not satisfied with the product received, you are entitled to a 100% no questions asked refund, as long as you send it back within 30 days from purchase.
Online Reviews/Complaints
Online reviews testify about the number of satisfied customers and Suze Orman's Financial Security NOW being a really smart investment to make. It will save you a lot of time and money by avoiding the need to hire an attorney to do it instead of you.
Competitors and Alternatives
If you wish to manage your personal finance, plan your investments and retirement plan, you may also check out some other software options.
For example, you can compare Suze Orman's Financial Security NOW vs. Legalzoom, which uses a combination of text fields and interview questions. It comes with great support options, but you will have to make additional payment to access the living will and power of attorney documents.
Lawdepot is another online will software and it offers a one-week trial period, during which you will have access to all the documents you need to create a will, power of attorney and living will. However, there is no spellcheck in the worksheets and no lawyer directory available.
Quicken Willmaker Plus is very easy to use and it contains all the documents you need. You create them in an interview-style process, by following step by step instructions. However, this software will not work on Mac computers and has no email or phone support.
Where to Buy?
To place a purchase, visit the official website here, fill the online form, select the payment method and hit the "order now" button.
Conclusion
You have worked hard your whole life to provide for your family and now is the time to protect your financial security and plan ahead.
Suze Orman's Financial Security NOW provides you with excellent tools to create documents such as will, revocable trust, advance directive and durable power of attorney for health care and financial power of attorney.
Suze Orman's Financial Security NOW Customer Reviews

Edward S
Good luck dealing with her customer service regarding the trust kit. This whole thing is a scam. Her advice long- term is not very good either. Don't be fooled by her tv cutesy looks. This is all trash. Dr. E.B.

Kathleen M
Suze Orman Financial Security - Trust Documents
Beware, this is a very poorly designed program. I found it to be very counter intuitive in terms of the programming. This program is not user friendly and at times makes assumptions that make it useless. I would not recommend it for anyone. Plus, they recommend that you have an attorney review their program - so what is the point? Plus they will get you for shipping if you or should I say when you have to return this useless waste of time. Don't bother.