SurvivaLighter Reviews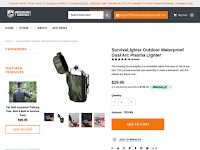 The SurvivaLighter is a USB-charged lighter that claims to uses special technology to allow it to produce a light even in unfavorable weather conditions, specifically rain and wind.
How Does It Work?
The SurvivaLighter does not use lighter fluid and is instead powered by an internal battery. It uses electricity to create a plasma arc that the seller claims is heated to over 1800 degrees. Additionally, they state that this plasma arc is windproof and very effective at lighting things on fire.
The SurvivaLighter case is waterproof when closed and, on the bottom, has an LED flashlight that American Family Survival states is 20 to 30 lumin in strength.
Cost and Price Plans
The SurvivaLighter is sold for $29.95 at AmericanFamilySurvival.com. There are additional sales pages which offer discounts if you purchase multiple SurvivaLighter
Competitors and Alternatives
The UCO Stormproof Torch is designed to be durable, waterproof, windproof, and refillable. The UCO Stormproof Torch has a 3/5-star rating on Amazon. The UCO Stormproof Torch costs $16.18 if you want to purchase the version that includes emergency utility tape or $21.95 if you would like to buy the one that includes a bottle opener.
Another option is the Tesla Coil Lighter. Like the SurvivaLighter , it is rechargeable via USB and claims to have a long battery life that can last up to a week without needing to be recharged. It sells on Amazon for $16.99, where customers seem pleased with the product, giving it a 4.2/5-star rating.
Customer Service
You can reach out via e-mail at [email protected] or by phone at (833) 955 2655. There is also a "contact us" form on the website at AmericanFamilySurvival.com.
Online Customer Reviews/Complaints
The customer reviews on American Family Survival's own website are mostly positive, citing only delayed shipping as an issue.
Unfortunately, it is not easy to find legitimate reviews of the SurvivaLighter on other websites. Most online reviews come from affiliate websites that earn a commission when you purchase the SurvivaLighter through their website.
Where to Buy?
You can purchase the product directly on AmericanFamilySurvival.com.
Is It Worth It?
The SurvivaLighter promises a lot of amazing things including its high-quality and its ability to provide both windproof & waterproof lighting capabilities. These are major selling points for customers who always want to be prepared.
Unfortunately, the lack of verified customer reviews makes the product difficult to recommend. While the price point is not exorbitant, it is still priced higher than many other lighters on the market.
Many of the popular lighters boast excellent reviews from various customers, which automatically boosts their credibility when compared to the SurvivaLighter.
If you have any experience with American Family Survival SurvivaLighter, please leave your reviews below.
You may also be interested in
SurvivaLighter Customer Reviews

Lori B
This is a Scam!! Beware!!
This is a scam, they will charge your card several times over and over, do not give them information.
This place is the worst, no one except a girl helping you with a baby crying in the background, we never received the product, and was charged 3 times a month! Horrible, THIS IS A SCAM

Marion E
I placed an order 5 1/2 months ago. No product and no refund. Legitimate companies don't charge you until product is shipped. If you can make contact, their response is "sorry about the delay, we are 2 to 3 weeks behind"

Andy H
I bought a survival lighter several months ago and it has worked perfectly. Then, by accident I left it in my pants pocket and ran it thru the washer and the dryer. It came apart but I found all the pieces and put it back together and it once again it worked perfectly. This is the most awesome indestructible lighter ever and I will never be without one again!

Mark M
It has been two months since I placed my order, I have tried to contact with no avail.
Scam!

Brent G
I really like this lighter. It is well thought out,well built, and has a built in (very bright) flashlight. It has a safety latch so the top doesn't open until it is released, and that is great to have because it can't operate by accident. It does get very hot and gives a slight odor similar to arc welding. The lighter has a protective covering that will keep it from breaking if dropped. It also comes with a lanyard to hang it by. I do recommend this lighter. I'm going to purchase a few more for others in my family.