Survival Shield X2 Reviews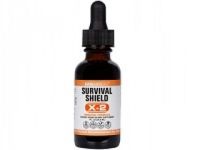 Survival Shield X2 Nascent Iodine is a health and wellness nascent iodine supplement from the InfoWars Store, which promises that their line of nutritional supplements is "truly life-changing".
How Does It Work?
The InfoWars website says that Survival Shield X2 is one of the highest quality nascent iodine supplements available on the market today.
While many people may not have heard of nascent iodine supplements, they say that iodine is an essential mineral that many people may be deficient in.
This is important because iodine is not made by the body and must come from diet and other external sources. It supports your thyroid health and healthy hormone levels, and may be involved in maintaining a healthy metabolism.
Ingredients and Side Effects
According to their website, the iodine used in their supplement has been taken from 200 million year old salt solutions found more than 7,000 feet below Earth's surface, and is free of all unwanted additives and genetically modified ingredients.
They say that their iodine is even screened for radiation during quality control. This supplement is non-GMO certified, vegan-friendly, and non-toxic.
Cost & Price Plans
Currently the website shows that this product is priced at $29.95 per bottle, which is a special discount off of their regular price of $59.95.
Customers also have the option of different per bottle pricing when you take advantage of their promotional packages of multiple bottles.
In addition, customers will get a lower per bottle price if they choose to purchase more than five bottles at a single time.
Refund Policy
The Info Wars Terms and Conditions page is very clear when they state that all sales which take place on their website are considered final, and all purchases are non-refundable.
At this time, it doesn't even appear that this company offers a Refund Policy in cases of manufacturer error or defect.
That being said, if you do receive an order that you believe has a problem or is defective, you should always contact their Customer Service and ask them to address your issue.
Customer Service Contact Info
Customers who would like to contact Customer Service with any questions, concerns, or complaints can do so by phone at 888-253-3139 or by submitting them directly to their website through their Contact Us link and by choosing the option to Submit a Ticket.
Reputation
First and foremost it is important to point out that though the InfoWars website does talk about the number of people who may be iodine deficient, the reality is that most doctors and practitioners of conventional medicine don't believe that iodine deficiency is a widespread problem.
Since an iodine deficiency can result in serious thyroid problems or other health problems like depression, people who are concerned that they may suffer from this deficiency should first contact their primary care physician and request blood tests to confirm and to speak to their physician about how they should be approaching this deficiency.
Other than having an actual, documented and confirmed iodine deficiency, there does not appear to be any reason to take an iodine supplement, especially from a company that provides no information as to how this product will really benefit you and that does not provide any Refund Policy.
Competitors and Alternatives?
The belief that iodine supplements are necessary is not very common, and so these kinds of supplements may be harder to find than others.
That being said, most people will be able to get more than enough iodine from their regular diet, as long as they use iodized salt or sea salt, as well as saltwater fish and other seafood.
If you have any experience with Survival Shield X2, please leave your reviews below.
You may also be interested in
Survival Shield X2 Customer Reviews

Quinn T
Iodine deficiency disorders include mental retardation, hypothyroidism, goiter, cretinism, and varying degrees of other growth and developmental abnormalities. Iodine deficiency is the most preventable cause of mental retardation in the world (World Health Organization 2007).
It is a real thing and its is needed. China has put Iodine into its public water for centuries unlike here where the water is poisoned with Fluoride. You should not say its not as deficient as reported. Doctors really know nothing, they are pill pushers. Secondly, the soils are depleted badly so Iodine is not prevalent in the foods.
Why did they pull Iodine from the breads in the 70s? They put Bromide in its place. That's a non absorbable element. Buy your Iodine today an dyes from infowars.com or not , but get it for your health.