Survival Frog Reviews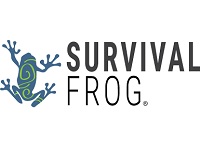 Survival Frog, found online at SurvivalFrog.com, was established in 2009 as a publisher of online information books and has since become the largest and most trusted source for survival and preparedness products sold online.
How Does Survival Frog Work?
According to their website, after Survival Frog became a successful publisher of survival guides and information, they moved on to the distribution of physical survival and outdoor gear throughout the US and Canada. They say that they are now considered the industry leader in online sales of survival gear.
Survival Frog works hard to be a resource for everyone, whether you consider yourself a beginner or an expert, and they say that they cater to all types of people and organizations.
They believe that it is the responsibility of everyone to be prepared for potential threats with at least a 72-hour supply of the essentials, and they want to educate everyone on the best survival and preparedness methods and techniques, as well as provide them with the most advanced survival gear at affordable prices.
Customers who are interested in the products they have to offer can look through their inventory by category, including New Products, Survival Gear, Food & Water, Energy & Radio, Survival Kits, Camping, Education, and Sale.
Cost/Price Plans
This company sells such a wide variety of products at this time that there is simply no way to quote a single or static price range for the products you will find on this website, especially since new products are being added all the time.
Refund Policy
This company is very proud of the fact that they offer their customers a somewhat unusual Refund Policy. They refer to it as their 6-Month Any Reason Refund Guarantee, which gives their customers the option to return any Survival Frog product with the first six months of the date of purchase, for any reason whatsoever.
Their website says that they know customers sometimes hesitate to purchase a product they are interested in because they worry they won't actually like it and then they will be stuck with it. Survival Frog wants their customers to be able to purchase a product knowing that they will be able to return it if they are not completely satisfied with it.
To initiate your return, you will need to contact their Customer Service team by either email or phone to receive your return instructions and they will refund the full purchase price of the product once the merchandise is returned, less shipping and handling.
This website does have some specialty products which unfortunately are not eligible for this Refund Policy, but these should be clearly distinguished when you purchase them.
Customer Service Contact Info
Customers who would like to contact Customer Service with any questions, concerns, or complaints can do so by phone at 800-773-7737, by email at [email protected], or by using the website's Live Chat feature when it is available.
Reputation
This company sells such a wide variety of products that customers should look for reviews of the individual product they are considering purchasing, as this will provide them with the most accurate and relevant information to inform their buying decision. That being said, this company does provide an excellent Refund Policy and does seem to be respected within the survival community.
Competitors and Alternatives?
Websites and companies that sell survival gear and outdoor products are actually very popular and there are many different options available either in your local residential neighborhood or online.
If you have any experience with Survival Frog or their products, please leave your reviews below.
You may also be interested in
Survival Frog Customer Reviews

Olive W
Defective brand new laces/refuse to replace
I bought Survival Frog Paracord laces with flint and tinder -- Still new in the wrapping, and the end of one of the laces pulled right off (with the flint where you need the stiffness to thread it into your boots). Since I hadn't ordered them through Survival Frog (I don't remember which site I got them from), they are Survival Frog brand, and they are defective. I sent them photos of them still packaged in the original plastic band, and the broken lace, and they refused to replace them, because I didn't have an order number from their site. I think they should stand by their product...