Super Brand Tools Reviews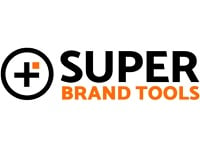 Reviewopedia is supported by our readers. This page contains links through which we may earn a small commission for purchases.
Super Brand Tools markets a variety of battery powered power tools directly to consumers through online ads.

Their advertisements often target seniors, claiming that their tools are lightweight, easy to use, and perfect for anyone suffering from hand weakness or wrist pain.
In this in-depth review we take a look at what products Super Brand Tools offers, how well their tools perform, and examine their customer reviews.
Products
SuperSaw - This handheld mini chain saw is intended for light to medium yard work and tree trimming.
It's marketed to those who may not have the need for a full-size chainsaw or are too intimidated by those powerful gas powered machines.
It's unclear if the SuperSaw comes with a lithium ion battery and a wall charger. It's unclear if the battery is 21v or 24v, as the images and item description offer conflicting information.
Out of the box you will have to assemble the tool yourself. Make sure to read the included setup instructions and install the chain correctly.
There are video guides available online and the process is fairly straightforward, requiring the removal of one nut and easing the tension screw while installing the guide plate and chain.
On SuperBrandTools.com the SuperSaw sells for $159.95.
Be aware that when you proceed to checkout there will be several additions preselected to add to your order. If you want just the saw make sure to remove the extra items from your cart.
SuperSocket - One of the company's most popular products, this tool is intended to allow you to unscrew any bolt without having to switch sockets.
The SuperSocket has 54 steel pins that wrap around what you're trying to screw in or extract. This unique feature is supposed to help with stripped or damaged bolt heads as well as save you time.
It can grip a variety of bolts, hooks, and nuts, provided that they meet the specs of minimum 7mm (1/4") to a max of 19 mm (3/4'') with a max depth of 9.5mm.
One SuperSocket costs $24.99 and includes a power drill adapter.


Note: The pictured ratchet handle is not included in the base package of the SuperSocket.
SuperGauge - This tool allows you to copy abnormal or difficult to contour areas to transfer to your cutting material.
Helpful for laying floors or other instances where you need to make a template. Available in the original 5" or XL 9" sizes.
In addition to these tools, SuperBrand Tools also sells a variety of accessories and replacement parts for their products.
Customer Service, Warranty, and Returns
The SuperBrand Tools refund policy states that orders can be cancelled and refunded automatically only within 8 hours of ordering.
The company also offers a limited warranty on their non-powered tools. Powered tools and batteries are not eligible for returns.
Only items that are defective or damaged upon arrival and that have not been used can be returned.
Customers must notify the company regarding a return within 30 days of the order date.
SuperBrandTools.com lists the customer service phone number as 855-556-9588 (M-F 9am-4pm central) and email as [email protected].
The website also has an option for a live chat with customer support.
On their terms and conditions page they list company address as:
SuperBrand Tools
1776 N Scottsdale Rd
#2852
Scottsdale, Arizona 85257
According to their terms you will be responsible for the shipping costs of sending an item back to the company and for the shipping costs of sending the replacement.
Additionally, a $4.95 restocking fee is applied to returns.


Note: The SuperBrand Tools terms state that they do not accept returns for batteries or power tools and that to be eligible your return "must be in the same condition that you received it, unused, and in its original packaging."
Is SuperBrand Tools a Legitimate Company?
Ultimately, these tools may work for small hobby needs or light yard work but they are not suitable for serious projects.
Super Brand Tools is not a manufacturer of tools but is rather a reseller.
They buy cheaply made products wholesale from overseas factories then rebrand and sell them using questionable marketing practices.
Their "advertorials" are full of stock photos, dubious reviews, and scarcity tactics designed to get you to buy these products quickly and without doing any research.
Below is a listing taken from popular wholesale website Alibaba featuring the generic unbranded version of the SuperSaw.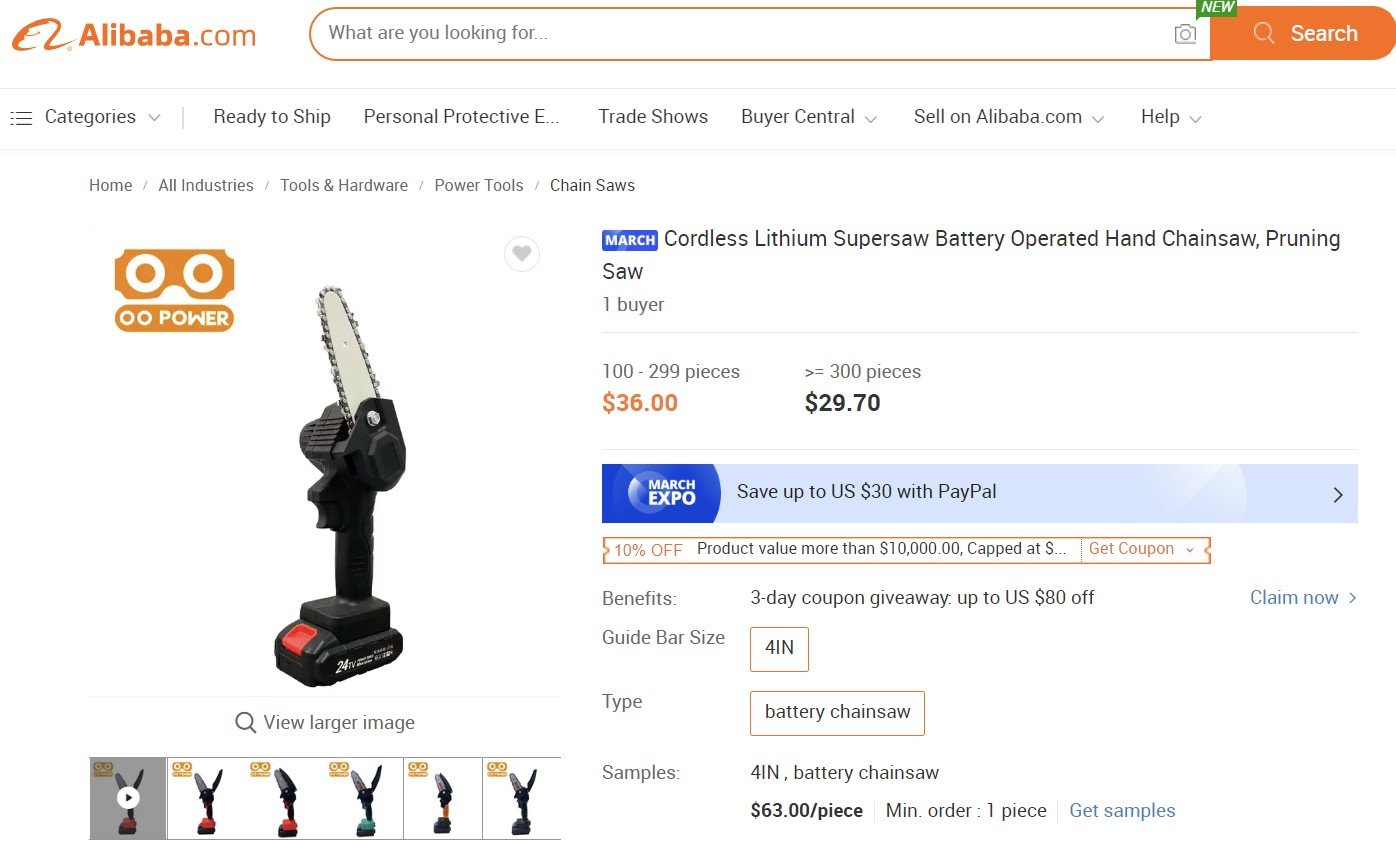 ( Generic unbranded product that looks identical to the "SuperSaw" on AliBaba, priced much lower )

This unbranded generic version of the "SuperSaw" can be bought for under $30 when ordering in bulk. The seller can also provide customized branding and packaging for orders over 500 units.
You can find the generic unbranded versions of all Super Brand Tools products on websites like these.
The main downside with buying products like this is that they are usually not built with the same quality and customer satisfaction backing as the more well-known brands.
If something goes wrong with your product then you will be dealing with a 3rd party wholesaler with a limited return policy who is sourcing their inventory and parts from overseas.


Note: The company provides a physical address that is the location of a USPS building, a notable red flag for this company.
Customer Reviews & Complaints
There is not much online feedback for SuperBrand Tools products from real customers. The version of the SuperSaw that is sold on Amazon has mixed reviews from customers.
People do enjoy these tools when they work. However they have reliability issues and many customers reported that they stopped working.
The same goes for their other products such as the SuperSocket.
SuperBrand Tools is not accredited by the BBB and has an F rating on that platform. There they also have a customer rating of just 1.31/5 from 74 customer reviews.
There are a large number of complaints posted with the BBB, but to the company's credit they have resolved more than half of them.
Some of the issues that customers had were:
Long shipping times
Difficulty canceling orders
Unreceived orders
Poor customer service


Competitors and Alternatives
The major tool brands have designed their products to keep customers within their ecosystems.
They design entire tool lineups share the same lithium ion batteries, allowing you to add new pieces without having to purchase new power adapters and batteries.
This ends up being beneficial to both customers and the companies as they get loyal customers and you can buy tools that seamlessly integrate within your existing battery system.
If you already have tools from a brand like Rigid, Ryobi, or Milwaukee it makes sense to stick with those.
For instance, one of the best alternatives to the SuperBrand Tools mini chainsaw is the Milwaukee M12 FUEL HATCHET 6" Pruning Saw.
It has an impressive 4.8/5 rating from customer reviews on Amazon where users noted that it was easy to use, very powerful, and could cut 4" branches.
The Milwaukee brand costs more than the SuperSaw, however the battery can be used with most Milwaukee M12 cordless power tools, which are regarded as some of the best available.
Are Super Brands Tools Worth It?
If you are looking for long lasting reliable tools then we would not recommend Super Brand Tools.
There are too many potential red flags and ultimately it's not worth foregoing the convenience and trust of local tool retailers for the lower upfront cost of these cheap generic tools shipped from China.
If you just need hobby tools then you can find similar products to what SuperBrand Tools sell on Amazon, where you can at least have the assurance of a straightforward return process.
If you have tried any SuperBrand Tools please leave your reviews below.
Super Brand Tools Customer Reviews

Catherine
Don't Buy It- Defective Tool and No Refund
I ordered the SuperSaw and paid for express shipping. Received on May 12, the battery pack was dead and wouldn't charge. Customer service was a "bot" named "Joyce".
They wouldn't take a return and agreed to send new battery, on May 13. It's May 20 and have not received it, they stopped responding to inquiries by email.