SuperBoost WiFi Reviews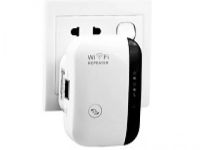 SuperBoost WiFi Customer Reviews

Leigh A
Total Scam-Horrible Customer "Service"
Would give them Zero stars if Possible -Total scam! Horrible customer service. I looked at this product on their website. I started to purchase, but then wanted to compare prices on Amazon.
When I was shopping prices, I came across multiple negative reviews and so I closed the browser and did not order the boosters I actually received an email from the company saying your order is still open in order to be able to secure the product for you with our low inventory please complete your order which I ignored because I had decided that I did not want to purchase this with all of the negative reviews.
Eight minutes later I received an email saying confirmed order we will send you a tracking number when it ships I immediately emailed them and told them I did not place this order that I never confirmed or completed the purchase and that this was a fraudulent charge and do not ship this product to me and credit my credit card immediately.
I called the next morning because they weren't open when I first placed the order and the customer service rep told me that it had already shipped.
I later found out from the shipping company that they didn't even receive the file to ship the Boosters for five days After I made that phone call. needless to say, countless number of emails and phone calls with this company telling them that I never completed the order and I was not going to accept the product and they said well you can just pay to return it and I said I'm not paying to return something I didn't purchase! the tracking number didn't even show where the product was for over a week and then I happened to check it a couple of days ago and it said the product was delivered to my house a week ago which it never was! this has been a total nightmare do not waste your time or money with this company!
This is total fraud and stealing!

Jim M
I have been trying to get my money back since May 22.
They did not ship and have not returned my money even though they said they would return it 3 times over a period of 4 weeks.
Jim

Myra P
Tried for several days to get it to work. Read all the information. Looked at the videos on how to set it up. Still nothing. Just a piece of junk. Have tried for 3 days to get in touch with someone. Get hangups. So far have sent 7 emails over a period of 2 days and no response at all. Yes, this is a scam.

Braxton J
Just like play-beatz just a money grab...Once they've got your $...You'll be hung up trying to get it back

Tim
It's been like 3 weeks since I ordered it no tracking number no customer service they won't respond to my emails nothing and now I've read the reviews you can buy this stuff anywhere I wish I read the reviews first I think I've been screwed !!!!!!

Clint L
All false. You only need to go to 5 Ghz on your router to double the speed of the 2.4 Ghz. You can't make the band width bigger with a booster. It is what you get from the supplier, period. Don't fall for this ad. Note: these units are using the old 2.4 Ghz frequency which is almost obsolete now. Old technology with a new price. Don't walk away, RUN.
PS: If you are using Shaw internet in Canada you are being screwed, as they purposely slow you down to serve the commercial customers, that way they don't have to buy better equipment to supply you with a bigger band width.

Steve k
First of all - doesn't work. Will not respond to local wifi signal.
Lastly, there is no customer service. best to call it customer ignore. Phone calls do not connect with anyone, not even to leave a message. Emails ignored.
Search elsewhere.

supa k
Not so fast with that review. You must have gotten paid to write such bs first of all this thing is cheap and flimsy. It is also made in China were there is absolutely no quality control. They claim that you can get a 5 mile signal of other hot spots. That is a lie it doesn't even circle my 600sq ft condo.
The claims that it will speed up and make my picture look better is absolute false. Do not buy this product and if you have return it. Customers sucks. You can't get a hold of them.