Student.com Reviews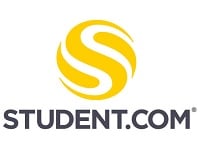 Student.com is a website and app designed to help find students find rental spaces close to the university where they are studying in select cities throughout the world.
How Does Student.com Work?
Student.com actually functions similarly to other rental property finder websites. People can use the site or app to enter the University or college where they will be studying, and the service will provide them with a list of available properties or rooms in close proximity to that school.
Their website states that choosing the right home to live in while you pursue your chosen field of study is important. Being in a safe and comfortable space can help students grow and have a greater chance of success in their journey.
This is why Student.com not only has a unique way to search for rental properties, and some of the largest selection of available rental properties, but also why they vet and approve every housing provider and option they feature on their website.
In addition, if you are a landlord or property owner, their website says that listing your property with their service ensures that students from all over the world will see your listing. They will also provide you with professional photos and content for your listing.
Cost/Price Plans
This service appears to be completely free of charge for students who are searching for rental properties. If you are hoping to list your property on their website, you will need to submit an application, explaining all the details of your property and a company representative will contact you.
Refund Policy
Because this company does not charge their visitors any fees for finding apartments or rooms on their website, they also do not provide a Refund Policy at this time.
Landlords and property owners who use this service to find tenants and feel that they deserve a refund of fees for any reason will need to contact their Customer Service team, as it most likely that these requests will need to be handled on a case-by-case basis.
Customer Service Contact Info
Customers who would like to contact Customer Service with any questions, concerns, or complaints can do so by phone at 855-839-0374 or by submitting them directly to their website through their Contact Us link.
Reputation
Student.com seems to get mostly positive online reviews from customers, with a company representative often responding directly to negative reviews.
However, this service is free of charge to use, so customers who are interested in what they have to offer can look at the listings available here for themselves.
Competitors and Alternatives?
As mentioned above, there are many different websites that list available rental properties, including the ability to show these properties by neighborhood, such as Zumper.com and Rent.com, along with many others.
These websites may not be specific to students and universities, but they can easily be utilized by people looking for alternatives to Student.com.
If you have any experience with Student.com or their services, please leave reviews below.
Student.com Customer Reviews

Vishakha S
Absolute scam please do not fall for their service is what I would recommend. They only want to mint money. No follow up taken on the issues raised by their clients no work ethics at all. I booked my accommodation in my pad through them and paid 150 gbp.
Due to the technical glitch from my pads side the room got upgraded and the rent increased so I cancelled my booking. You can see the date of experience mentioned and the date where today's review was updated.
I still have not received my refund and these people just keeping telling me they will get back which they never. The person who was assisting me in this whole process Mrs. Shital Suresh Nazare I believe has left and is not working with them is what was told to me by Sham a telephone operator.
I spoke to him a couple of times and he told me he'll get back but no courtesy of updating same with Ria another telephone operator whom I spoke to. In today's digital world the money if refunded max in 15 days here the period of 28 days as they mention is not getting over.
Hence please do not book through them. No sense of professionalism.

Jennifer
For weeks I have tried to convince them to let me view the house. They reject my request for viewing the house before payment. ALWAYS rush me to pay the deposit money. I don't think STUDENT.COM is legit.

Assiya B
Terrible service.
The assistant Muskan was too pushy and could not organize a smooth booking with 2 (two!) Student housing for me. Rushed me to pay the deposit which I cannot even get back now. Now ever time I text her, she takes long time to answer. Because of her incompetence and straight-up lies on a few occasions, I incurred losses of $418. I keep asking for refund, but they are ignoring me.
I advise everyone to use some other service to find student accommodation.

Janine M
Scammers - any good reviews must be fake - BUYER BEWARE !!!
They scammed my young daughter out of £380 - a holding deposit for a property she didn't even view - and then told her it was non-refundable after she paid it. They took advantage of her naivety and I am about to log a fraud case with the police and make a civil claim.

Dike S
I've tried on 4 separate occasions to book a room and was never contacted by the Booking agent named Mica. The booking consultant kept saying that the information has been passed on to the relevant person (Micah) and I was NEVER contacted. Ruby, the booking consultant on the website chat was very understanding and apologised more than once. When I tried for the fourth and last time tonight, the booking consultant this time named Lorraine CLOSED THE CHAT ONE ME when I complained of their unprofessional behaviour. What kind of company is this????? Am I supposed to beg you to pay you money? STAY AWAY FROM THIS WEBSITE!!!!

Vinicius G
I was STOLEN! Do NOT trust Student.com
If you want to avoid stress, waste of money and time, simply avoid Student.com.
I made a €200 deposit to book a room, but the landlord said that it is not available anymore and that they won't return my deposit. My student.com agent does not answer me anymore. For all I see, I must have been stolen.
I started talking with "Linda" from student.com after seeing a single studio accommodation in Barcelona. I was interested in booking it for 3 months. Linda seemed to be in a rush to make me book it, like she was more interested in achieving her sales goals than helping the customer. She avoided my specific questions about the accommodation and kept asking me to make the payment to book it.
She provided me with an email login and password for an external website and said that I should make the payment there. I wrongfully thought that Student.com was trustworthy and made the payment there for a single studio.
Now, the landlord has contacted me saying that my single studio is not available, and they will not return my deposit for months, IF they return.
I have tried contacting student.com and my agent, but nobody responds nothing.
So, from what I see, I was stolen €200.
While many people succeeded in booking using Student.com, watch out because maybe you'll be the unlucky one to be stolen.

Dharmika S
They act as middle man. I almolst wanted to pay someone i didn't even know the accomodation fee then realised that i only has his word that he works with the accomodation i asked.
It was a bit suspicious when i asked whether i can pay them directly at belsize house. He asked me to hold and get back to me later. Then, theres this application process that he wants to put me through. I knew its a hostel. You don't need an application for that. He even asked for my guarantor over the phone. Very suspicious. I ended up losing his contact and dealing directly with belsize house.