Storenvy Reviews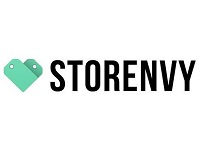 Storenvy is an online community and marketplace which acts as a place where people can both buy and sell unique items that they find or make themselves.
This digital marketplace relies heavily on their online community to both provide the items they have for sale as well as catalog them and promote them to the rest of the active community.
Whenever you find a product and either "Envy" it – which is a mark of admiration – or purchase it outright, you are effectively advancing the popularity of that item and helping it be seen by other Storenvy users.
All products on their website are shown in "real time popularity," where you can either search their category of Most Popular items or you can search their other categories and be assured that the popular items are on the top of the page.
They have a wide range of categories that cover most of their audience's desirable themes, including Women's, Men's, Kids & Baby, Home, Art, Music, Books & Media, Jewelry, Health & Beauty, Food, Specialty, and Tech.
Similar to other online marketplaces like Etsy, Storenvy says that they have over 40,000 new items added to their website each week, and that they will email you at least once a week about items that are considered the "best finds" within your network.
If you are someone who would like to add your personal store to the Storenvy marketplace, their website promises that they have made this a fast, easy, customizable, and free process.
According to the website, you can set up your store in five minutes, without having to deal with complicated store software. You can also customize your online store however you wish, and even have the option to integrate into any website you may be currently running.
They go on to say that some of their store owners have seen more than 50% of their total sales come through their marketplace, giving them twice as many sales as they would have otherwise gotten.
If you have any experience with Storenvy or their services, please leave your reviews below.
You may also be interested in
Storenvy Customer Reviews

Gwen G
We ordered a pretty dress and received something completely different! I contacted them about a return but they can't speak English properly and they won't pay for the return shipping. That means we're out $30 and have something we didn't want. sigh, big mistake!

ericka
this site is a total scam
I ordered from The Horror Project the early part of May. A week later I sent them an email asking when my item would ship because i had yet to hear anything from them regarding my purchase. Since then I have attempted contact with them many times with ZERO response. Then I noticed my order was cancelled which is fine but where is my money? I feel scammed. I will be reporting this site to the BBB. I just want what I ordered or the money I paid. I cannot believe Storenvy allows stores to cancel orders without any contact to the customer. This was my first experience here and it will be my last. Bad Business! Awful Customer Care! Ran by a bunch of money stealing scammers.