Sticker Mule Reviews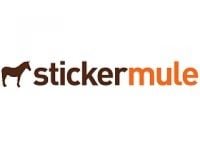 You may also be interested in
Sticker Mule Customer Reviews

Michael B
"Order yard signs for our company, items never arrived. When contacting Sticker Mule, the only way through email, they blew it off like it was no big deal. Had a large company job plan that we needed the signs for, and they didn't even rush us a new set of sings. Was given a $25 gift card to their store and was told the reorder signs would reach me in a week. What happen to 4 days turn around? Why would I want to use them again if they couldn't even get my order ship to me correctly. On top of that 2 days after complaining and going around and around in emails, I end up getting another order for a completely different customer of theirs. Had my company name on the box, but the signs were for a school in Washington. This company is a joke and I suggest you save your money and find a different company. Not only can they not get the orders right, but lack in customer service."

Jeeprassic
Caution when making an order through Sticker Mule
We made a sticker order last year and they charged me more than the quoted price because they had to modify the art and also make the decal stickers larger. Okay I get that.
We ordered again this year and they wanted to make modifications to the artwork. Of course that would cost more money. Instead, I asked them to use last years art order as a reprint. That brought the price back to the original quote.
Just be aware of that if you order through Sticker Mule. They do charge extra if they have to do modifications. The quality has been good and the sticker decals have fastened well and are in good shape even after a year in the weather and sun.

Noemi V
Easy. Affordable. StickerMule is all you need.
I only needed a small quantity which made StickerMule the lowest and EASIEST PRICE to calculate. The process for placing the order was short and seamless. They placed the design on the proof PERFECTLY. I didn't have to give any instructions about what the margins should be. SUPER EASY. Shipment arrived EARLY. Received extra buttons! StickerMule deserves your money. I can't wait to design more stuff to print with them.

Chris H
They do not care about repeat business
I placed an order for 300- 3x3 die-cut stickers.. They charged me $170 and I was fine with that until as soon as I hit the submit button I got a reply from another sticker company with a much better deal.. 500 - 3x3 die-cut stickers for $149 with free shipping and free proofs (which should be free anyway.) So right away I screenshot the new deal and sent over an email to Sticker Mule asking if they could match the quantity of stickers that the other company was offering for less. I got a rude response from a girl named Kristin. She told me no and just kept repeating herself about how they have the best prices... Clearly not.
So after back and forth conversations I decided I would never again order from this company. If I were a sticker company I would want to create long-term clients, not short-term... I feel like this could have been handled very different. I mean how hard is it to run off 200 more stickers and match the amount? I was not asking for a price difference I just wanted to either cancel the order or have them match the amount of stickers to the other company quote that I provided them. So moral of the story... Instead of trying to do right and match a competitor they now have officially lost a repeat customer and their competition gained one.
Very silly if you think about it.. Cost this company pennies to print stickers lol You just lost thousands over pennies and ego. smh.

Mark D
Sticker Mule played me like a fool
The site was very dishonest in the exact details when running a current special. When trying multiple times to contact the company to resolve and cancel the order, I was blatantly ignored by their custom service representatives.
In my experience I would highly discourage anyone from doing business with this shady company.

Pinchvalve
Very misleading, poor service
Their site automatically resizes your order and buries that news in fine print. You get something that is way too large! Then they argue that it wasn't their fault by showing you screen grabs that actually prove you are right, then refuse to refund your order. Plenty of other companies out there, go somewhere else.

Nicole
I don't know how but it deducted some amount from my bank account after days I ordered
I don't know how it charged me from my account without any confirmation from me after 4-5 days(even though amount was low), while I paid the total amount when I ordered the product.