Sticker Mule Reviews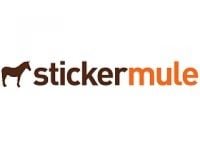 Sticker Mule is an online printing company that makes customized stickers, labels, magnets, buttons and uniquely branded quality packaging.
Founded in a small factory in New York, today, the company has a team which works remotely from 15 different countries and 12 states.
The company states its dedicated to providing fast service and an outstanding experience, both for the customers and employees. They offer great working conditions, with above market compensations and flexible working schedules, as opposed to the traditional marketplace.
Products
Sticker Mule stickers are made out of durable vinyl and coated with a special substance to protect them from the elements, washing, wear and tear. Their custom labels are also weatherproof, durable and dishwasher safe, allowing you to label your products fast and easy.
On the other hand, their magnets are precisely cut to different shapes and sizes and custom buttons are ideal additions to your clothes - they are easy to clean, wear, or sell to other customers.
Lastly, their branded packaging is made fast, looks professional, beautiful and gives a personalized feel to the products you sell.
How Does Sticker Mule Work?
When you wish to order a customized Sticker Mule product, just simply upload your logo or another design and wait for them to give you feedback - an online proof that will show you the product's final look.
The design and redesign process are usually easy and fast, as well as the production process itself. Every completed order is shipped within 4-5 days and reaches its destination fast, thanks to the organized worldwide shipping in more than 70 countries.
Cost and Price Plans
Depending on the type and size of the product, prices may vary from around $1 a piece to around $3 a piece for stickers, labels, magnets and buttons. When it comes to branded packaging products though, the price of a packaging roll is around $40.
You will be able to save as much as 90% when you buy in bulk (10,000 pieces or more) and the minimal order is set to 50 pieces of stickers, labels, magnets and buttons.
Customer Service
If you have a question, start finding an answer by searching the FAQs section on their website. However, if your concern can't be found there, reach the customer service team through an online contact form, which is also on their website. Another option is to simply tweet your request at @Sticker Mule on Twitter.
They try to maintain the high quality of their products, so the defect rate is usually lower than 1%. However, if you receive damaged goods, take a photo and contact the customer service within 72 hours from the delivery.
They will reproduce or refund the defective order within 5 days if the error is verified. Other than that, all sales are final and they will not reproduce the goods you have ordered in the wrong size, or if you have confirmed the inadequate design.
Customer Reviews & Complaints
Sticker Mule displays all of the customers' reviews on their website, without limiting only to the positive ones.
According to around 28,000 reviews, their customers are very satisfied, as the score Sticker Mule got is an excellent 4.8 out of 5 and 97% of customers would order from them again.
The most negative reviews the company got is for their branded packaging tape.
As it turns out, people expect to get the traditional adhesive tape, instead of the product that has to be wet first before applying to the packaging.
Sometimes, the colors may vary from the final digital proof as well, which causes the customer to be less satisfied.
Competitors and Alternatives
It seems that the competition on the printing market is tough these days. The main competitors are Sticker Robot, Sticker Giant and Sticker You.
When you are deciding vs Sticker Robot, or vs Sticker Giant, for example, have this in mind: they only offer stickers as opposed to StickerMule's wide range of different products.
Where to Buy?
You are able to place an order on their website and when you approve the online printing proof, your order is sent out within 5 business days.
If you're still unsure, you have the option to order a small batch of custom printed products before making the final decision to go big with your design.
To conclude, Sticker Mule is an exciting growing company that allows customers to play with their designs, transforming them into interesting products. They offer the fastest turnaround on the market and top quality results.
If you have any experience with Sticker Mule or their products, please leave your reviews below.
You may also be interested in
Sticker Mule Customer Reviews

Michael B
"Order yard signs for our company, items never arrived. When contacting Sticker Mule, the only way through email, they blew it off like it was no big deal. Had a large company job plan that we needed the signs for, and they didn't even rush us a new set of sings. Was given a $25 gift card to their store and was told the reorder signs would reach me in a week. What happen to 4 days turn around? Why would I want to use them again if they couldn't even get my order ship to me correctly. On top of that 2 days after complaining and going around and around in emails, I end up getting another order for a completely different customer of theirs. Had my company name on the box, but the signs were for a school in Washington. This company is a joke and I suggest you save your money and find a different company. Not only can they not get the orders right, but lack in customer service."

Jeeprassic
Caution when making an order through Sticker Mule
We made a sticker order last year and they charged me more than the quoted price because they had to modify the art and also make the decal stickers larger. Okay I get that.
We ordered again this year and they wanted to make modifications to the artwork. Of course that would cost more money. Instead, I asked them to use last years art order as a reprint. That brought the price back to the original quote.
Just be aware of that if you order through Sticker Mule. They do charge extra if they have to do modifications. The quality has been good and the sticker decals have fastened well and are in good shape even after a year in the weather and sun.

Noemi V
Easy. Affordable. StickerMule is all you need.
I only needed a small quantity which made StickerMule the lowest and EASIEST PRICE to calculate. The process for placing the order was short and seamless. They placed the design on the proof PERFECTLY. I didn't have to give any instructions about what the margins should be. SUPER EASY. Shipment arrived EARLY. Received extra buttons! StickerMule deserves your money. I can't wait to design more stuff to print with them.

Chris H
They do not care about repeat business
I placed an order for 300- 3x3 die-cut stickers.. They charged me $170 and I was fine with that until as soon as I hit the submit button I got a reply from another sticker company with a much better deal.. 500 - 3x3 die-cut stickers for $149 with free shipping and free proofs (which should be free anyway.) So right away I screenshot the new deal and sent over an email to Sticker Mule asking if they could match the quantity of stickers that the other company was offering for less. I got a rude response from a girl named Kristin. She told me no and just kept repeating herself about how they have the best prices... Clearly not.
So after back and forth conversations I decided I would never again order from this company. If I were a sticker company I would want to create long-term clients, not short-term... I feel like this could have been handled very different. I mean how hard is it to run off 200 more stickers and match the amount? I was not asking for a price difference I just wanted to either cancel the order or have them match the amount of stickers to the other company quote that I provided them. So moral of the story... Instead of trying to do right and match a competitor they now have officially lost a repeat customer and their competition gained one.
Very silly if you think about it.. Cost this company pennies to print stickers lol You just lost thousands over pennies and ego. smh.

Mark D
Sticker Mule played me like a fool
The site was very dishonest in the exact details when running a current special. When trying multiple times to contact the company to resolve and cancel the order, I was blatantly ignored by their custom service representatives.
In my experience I would highly discourage anyone from doing business with this shady company.

Pinchvalve
Very misleading, poor service
Their site automatically resizes your order and buries that news in fine print. You get something that is way too large! Then they argue that it wasn't their fault by showing you screen grabs that actually prove you are right, then refuse to refund your order. Plenty of other companies out there, go somewhere else.

Nicole
I don't know how but it deducted some amount from my bank account after days I ordered
I don't know how it charged me from my account without any confirmation from me after 4-5 days(even though amount was low), while I paid the total amount when I ordered the product.