SteadyMD Reviews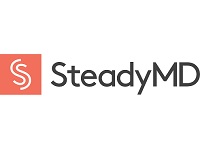 SteadyMD is a healthcare provider and technology company that offers consistent primary care services online.
Patients are able to develop personal relationships with their doctors, who provide long term preventive care that is tailored to each individual's needs, conditions, and interests.
How Does SteadyMD Work?
Because this service is offered through a highly interactive technology platform, patients and doctors can chat and collaborate through a variety of interfaces, including video chat, phone, mobile, web, text, and more.
All doctors at SteadyMD are board-certified general practitioners. They each serve a limited number of patients to avoid being overwhelmed at their jobs, and each works hard to develop strong personal relationships with his or her patients.
Each doctor has a special focus and area of interests.
As a result, they are a great choice if you have specific needs. New mom? On the paleo diet? A runner? SteadyMD has services that are tailor made just for you.
The platform is designed for patients who do not already have primary care doctors but want more convenient, accessible, and personalized care.
After taking a short quiz, you as the patient will be matched with a doctor who can focus on your specific medical conditions, like diabetes, hypothyroidism, or high blood pressure.
The doctor can also specialize on your dietary preferences, like Whole30, or your lifestyle (for example, if you like to lift weights).
You will have a comprehensive first appointment with a doctor, which will last roughly an hour. This will allow you to both get to know each other and to develop a plan that will match your healthcare needs.
Contact with a SteadyMD doctor is done entirely through text, phone, and video chat. All acute and chronic conditions can be completed entirely online.
You'll get more time and attention from your doctor than you would in-prison, and your doctor is available at your convenience- no more driving or waiting around.
If your doctor thinks you have a condition that warrants being seen in person, they will direct you to your chest specialist or urgent care facility.
Your SteadyMD doctor will then confer with the person that examined you can go over all relevant details. In many cases, you can see your SteadyMD doctor the same day.
Cost and Price Plans
To sign up with SteadyMD, you'll pay anywhere between $79 and $99 per month, depending on the doctor you choose.
The company does not take insurance - but the benefit of this is that you don't have to worry about copays or other fees. All of the payments you submit go directly to SteadyMD and its doctors.
If you're interested in a job with SteadyMD, that's an option, too. To become a virtual physician with SteadyMD, you must have two years of post-residency practice experience and board certification.
You must have an MD or DO degree and be licensed to practice. However, you'll be able to work remotely and set your own hours - plus you'll enjoy a competitive salary.
Online Customer Reviews & Complaints
SteadyMD is becoming a popular option for people who don't have the time to waste waiting in a doctor's office. You can text your SteadyMD doctor at any time, and your doctor will respond to messages at various points throughout the day. In some cases, you might be able to get in with your doctor the same day - a major benefit to people who don't have time to wait for the next appointment several weeks away.
Plus, SteadyMD doctors can prescribe all medications you might need. The only downside - and a major customer complaint - of the remote nature of SteadyMD is that doctors cannot prescribe controlled substances like narcotics and opioids - you will need to see an in-person doctor for that.
Obviously, you also cannot have any lab work or thorough diagnostic tests done with your SteadyMD doctor, either.
Customer Service
You can also sign up for the free email newsletter, through which you can learn more about how to save money on co pays and insurance.
Additionally, you'll benefit from developing a strong, positive relationship with a doctor who can provide you and your family with the healthcare you need.
You can contact anyone at SteadyMD by starting a live chat on the company's website.
There is also an email address listed at [email protected] so you can ask any questions you might have. SteadyMD also has an active social media pages on Facebook, Instagram, and Twitter.
If you are already a SteadyMD patient, you can reach out via the chat app or by emailing [email protected] You can also fax the company or call them at (314) 720-1644.
The company has headquarters in St. Louis, MO, as well as a branch in Westlake Village, CA.
Competitors and Alternatives
As more people grow increasingly frustrated with their healthcare providers, remote healthcare services are popping up all over the web. Telemedicine is the trend of the future, and there are several other names to know besides SteadyMD.
Three popular alternatives include CareClix, ConsultADoctor, and Teladoc.
CareClix was founded in 2010 and provides a wide variety of telemedicine services, such as infectious disease, home care, pediatrics, and urgent care. The service uses Skype and accepts most kinds of insurance.
ConsultADoctor does not accept all insurances, but plans start at just $35 per month. Available throughout most of the United States, ConsultADoctor offers medical services that require no in-person visits.
Finally, Teladoc was one of the first telemedicine providers in the country. With a top reputation among physicians and patients, Teladoc offers some of the quickest response times.
Expenses vary depending on your chosen plan, but most people can use health spending accounts or flexible spending accounts to cover their Teladoc services.
The Bottom Line
It's tough to find a good doctor. It's even more difficult to find a doctor who truly understands you and listens to your concerns.
While telemedicine is the wave of the future, talking to your doctor online can make it even more difficult to feel like you're communicating effectively.
However, with technology improving all the time, and the medical system getting more and more expensive, e-medicine is still undeniably useful.
If you need to see a doctor but don't want to wait weeks or even months to get in, SteadyMD could be the right choice for you. With monthly plans that cost less than many copays, it's definitely worth a try.
If you have any experience with SteadyMD or their services, please leave your reviews below.
You may also be interested in
SteadyMD Customer Reviews