StackSocial Reviews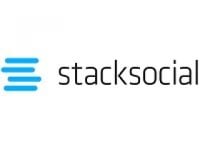 StackSocial is a part of the larger company, Stack Commerce, and is an ecommerce platform designed to help users organically discover, share, and purchase trending tech.
How Does It Work?
Have you ever been reading a cooking blog and discovered the author linked the perfect kitchen tool, right in her article?
That blogger is likely using an online ecommerce platform like StackSocial to provide visitors with organic advertisements or affiliate links that are relevant to the content they're reading.
Stack Commerce's stated goal is to enable people to organically discover products and brands they love, based on the media they engage with every day.
Their business plan centers on publishing high-quality product content on blogs and other websites that are relevant to the readers.
Most users find StackSocial by clicking through a website or blog to access the product link. Stack Social registers users whenever they buy something from the site, or sign up for a sweepstakes.
For brands, partnering with Stack Social is an easy way to garner attention and sales without investing in traditional marketing.
For online publishers like blogs, many are struggling with declining ad revenues so this affiliate program and incremental revenue stream help to support their missions without intrusive ads.
While there are a lot of great tech gadgets available on StackSocial, there are a few standout products.
You can purchase anything from kitchen accessories like air fryers to VPNs to protect your online security. An especially useful product available on StackSocial is the online courses.
You can enroll in courses from everything for "The Ultimate Microsoft Office Certificate Mastery Bundle" to "The Complete 2021 CompTIA Certification Training Bundle" to "The Cooking and Baking Master Class Bundle".
There are many options to choose from, whether you're looking to up your tech skills or improve a hobby.
There are also free courses available, like "Human Nutrition 4-Week Course". These courses are a good way to learn valuable skills online for an amazing deal.
Costs and Price Plans
There are incredible deals available on Stack Social, and they are usually limited time offers – they're low enough to make you wonder if these products are genuine or not! Spoiler alert: they are for real.
These deals are typically available in bundles due to the nature of how Stack Social structures their brand partnerships.
By eliminating the traditional marketing overhead for many of these brands, they're able to provide great deals for their users on typically much more expensive products.
For example, the "Master CompTIA Training Bundle'' course mentioned earlier traditionally retails for $5,225, and Stack Social lists the price for just $69.99.
Customer Service and Reviews
One thing you'll find online is that there are a lot of critical reviews of Stack Social and Stack Commerce.
They've been accredited by the Better Business Bureau since 2015 and on the BBB website, they have 3.92 out of 5 stars, averaged across 722 customer reviews.
So while they are a reputable and reliable ecommerce platform, it seems their customer service leaves something to be desired.
There is no customer service phone number, only a form to submit a request if needed, which has left some customers wishing for more support.
That said, most reviews of the products that customers have purchased are excellent – it seems the biggest gap is in customer service following purchase.
The other question a lot of people have is – are the Stack Social Giveaways legit?
The answer is yes, they are legitimate, and users have really won the products. As with anything on the Internet, always proceed with caution when giving out your information online.
However, this is just one way in which Stack Social advertises, since online publishers users share giveaway details garnering more attention for the ecommerce platform.
The Bottom Line
As with anything online, you should share your information judiciously – but overall yes.
You can get deals on exciting products on Stack Social that may help you upgrade your life, both personally and professionally.
If you have any experience with StackSocial or their services, please leave your reviews below.
StackSocial Customer Reviews