Spotloan Reviews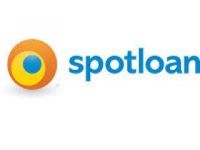 Spotloan is a short term loan provider that promises to help people borrow money when they need it without incurring the troubles and problems associated with a standard payday loan.
How Does Spotloan Work?
According to the website, payday loans create problems for people because of the short period of time they allow before borrowers are required to repay the loans. If borrowers can't repay in that time frame, they are charged large fees.
Spotloan offers up to 8 months for borrowers to repay their loans, and if you know that you'll have difficulty making a loan payment, you can just call them and make special arrangements, as long as you contact them at least two days before your payment is due.
In order to secure a Spotloan, you have to have a job or other regular source of income, an active bank account, a valid email address and phone number, and be at least 18 years old.
Cost/Price Plans
All loans come with certain fees and interest rates, but these will be determined by the amount of money you borrow, the length of time you need to repay it, and other factors, like your current credit score.
Refund Policy
Loan providers don't generally offer standard Refund Policies. Instead, they may sometimes offer Cancellation Policies, which provide a short time period in which to return the principle of your loan without any financial penalty. Interested customers should speak to Customer Service about this.
Customer Service Contact Info
Customers who would like to speak to their Customer Service team about their questions, concerns, or complaints can do so by phone at 888-681-6811, by email at [email protected], or by traditional mail at P.O. Box 927, Palatine, IL 60078.
Reputation
Unfortunately there are not many customer reviews available for this company yet, although there are some third party reviews that speak well of this lender and some others for trying to provide an alternative to regular payday loans.
Competitors and Alternatives?
There are many different short term loan companies that provide immediate loans to people who are struggling and have bad or no credit, including Speedy Net Loan and many more.
If you have any experience with Spotloan or their services, please leave your reviews below.
You may also be interested in
Spotloan Customer Reviews

Frank C
One of the best loan companies and that's a fact
I got a lone two months ago and they made it very easy to get it. The people also helped me in customer service and were great. I can only say from my experience that they took care of me.