SpotHero Reviews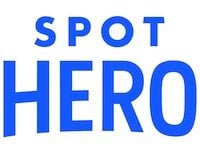 SpotHero is a mobile app that aims to help people in busy cities and metropolitan areas find the closest open parking spots at prices nearly 50% off published rates.
How Does It Work?
The SpotHero website says that customers can either visit their website or their mobile app to find available and affordable parking spots in the location they need to go at the time and date when they need to be there.
The website states that they have established partnerships with all kinds of different providers of parking, whether parking garages, guarded parking lots, unsecured parking lots, and even private spaces which can be rented out by owner.
When you submit the information you need to find a parking spot at your chosen location and time, the website or app will provide you with a variety of options and allow you to choose the one which works best for you.
Mobile Options
At this time SpotHero provides a free mobile application downloadable on both iOS and Android devices.
This app can be used to receive mobile only rate specials, directions provided directly to the spot they have reserved, and the ability to book a spot with just three clicks.
Cost/Price Plans
As mentioned above, the mobile application is free to download, and the prices you pay for your parking spot will vary depending on your city, the date, the time, the event you may be attending, the location of your spot, and many other variables.
When you search for available spots and rates, you will be shown a map with published rates. These rates are not per hour but are for the entire parking time you have submitted for your reservation.
As you change your times, the rates themselves will change. And, as mentioned before, the website promises rates that are up to 50% off published rates.
Refund Policy
SpotHero provides more of a Cancellation Policy than a Refund Policy, stating that customers who cancel their reservation more than 24 hours before the time of the reservation will receive a full refund of the money they have paid.
Cancellations made less than 24 hours before the time of the reservation will unfortunately not be eligible for any refunds of the money they have paid.
This is likely due to the agreement they have with the people and companies that provide their parking spaces – this agreement is why customers are able to reserve these spots at such a significant discount.
Customer Service Contact Info
Customers who would like to contact Customer Service with any questions, concerns, or complaints can do so by phone at 312-566-7768 or by submitting them directly to the website through their Send Us a Message link.
Reputation
Though there are not many reviews available of this website from general customers, there are many reviews of this company from the mobile application provides and these reviews are extremely positive.
In general it appears that people are very grateful to have some sort of answer to the frustrating parking situation they encounter in their city, as well as having an option that gives them the ability to make potentially expensive parking more affordable.
Competitors and Alternatives?
There are many different websites that specialize in trying to help people find parking in areas where parking is at a premium, as well as other parking mobile applications, including ParkWhiz, so customers looking for an alternative to this site should not have a problem.
If you have any experience with SpotHero or their services, please leave your reviews below.
SpotHero Customer Reviews

Vladimir K
First time experience and a bad one
Very bad experience. I reserved a parking space near Symphony Hall in Boston at 55 Saint Stephen Street for the evening concert on 11/26/22 several days in advance before the concert. When I arrived at 55 Saint Stephen St. I found 2 spots with SpotHero signs, which had been occupied. Representative on the phone could not find anything available close to Symphony Hall. My reservation was cancelled, but I was late to the concert.

Lisa N
Amazing company, and if anything goes wrong you talk to a real person

Sam
I purchased a parking spot had the bar code provided; printed and on the phone. The exact lot (yes, I'm 100% sure) didn't have a bar code reader. I even drove around the block to make sure there wasn't another entrance. Due to timing, I just pulled in and and paid $9 more than I was charged by SpotHero. So, I paid twice for parking and am awaiting a reply from SpotHero to request a refund for what they charged me.

Deb S
I have used this app many times and gotten decent prices. I used it for a recent trip to the airport.
The property purposely has SpotHero customers park in their sprinkler zone. When you retrieve your vehicle, it will be covered in stains from the well water. I called the hotel and never received a call back.
Three days later I reported the problem to SpotHero. The agent told me three times to call the hotel. He kept forgetting that I already had done this. Then, I asked him how I could write a review to warn others. He didn't know how! I have looked everywhere and see that it's not possible, which leads me to believe that the reviews are fake. That really sucks.

David W
Parking SCAM - Stay away!
Like many others I unfortunately fell for the Spothero SCAM and paid for a non-existent parking spot for a Red Sox baseball game in Boston. I spent enough time in the alley on Gainsborough Street to confirm that my numbered spot did not exist.
I eventually left and found a legitimate parking lot. The very next day I called Spothero and was told I would receive a refund. That was a lie. I should have done more initial research as I would have seen that many people online tell how Spothero has ripped them off. Stay away! The good news is the Red Sox beat the Yankees that day!

F B
I "reserved" a parking spot through SpotHero ten days before my event. I arrived at the specified parking garage on the day of, only to find there were NO spots available. Because this was a major event, I was unable to find parking elsewhere and was forced to miss the event entirely. SpotHero took my money for a parking space, provided no parking space, and refused to give me a refund. NEVER do business with these CROOKS.

Be_Careful
What you see is not what you get
Had a confirmed reservation for a garage in Washington, DC. Even received an additional reminder from SpotHero the day before. When I arrived at the location, was told that there were no parking spaces. Talked to 4 different people (including an associated lot) - still no parking space. Would never use again.

Brian M
They took my money, didn't provide me with a spot, and then ignored my emails and calls. This is an online fraud!

Dave
That this attendee should stay in this job only after he understands how to do it.
We paid in advance and got approval on our mobile phone. When came back to pick up the attendee was very rude and refused to accept the approval on the phone. He said that only paper approval is accepted. The rental ID number is SH48464763. 215 E 80 st new nork ,NY 10075. It happened on Sunday, APR 17.

Bryan B
No Service - No Response - $600 bill unpaid!
I recently had a horrific experience with SpotHero.
I paid for 6 days of parking at a lot in downtown San Francisco. The day before I was scheduled to leave, I went over to the lot to ask what time is best to retrieve my car, procedures etc.. The lot attendant had my car towed. Their only response was "There was no ticket".
I then called SpotHero support, told them what happened. I was instructed to get my car from the impound lot, and to save all documentation - send to support and would be reimbursed for my troubles - and I would be hearing from a supervisor in 2 business days.5 days later, I received an email from a supervisor stating they would be looking into the issue and getting back to me.
It is now 2 weeks to the day since the incident. I have not heard a word since last week - and now I am out over $600 in Towing fees, Uber ride to get to the towing yard, additional outlay to park at my hotel, and the 2 lost days of parking from SpotHero.
I'm a very reasonable person, but what I see is zero action by SpotHero to make this right. I'm running out of actions quickly!

Falena B
lot was full and would not accept my prepaid reservation
I am still fuming. Made a reservation yesterday morning (8/29/2019) for a parking spot by solders field in Chicago for the Bears game. Arrived a few minutes after 7 pm and the lot was full. I showed the attendant that i had a reservation - to bad so sad for me. I immediately called customer service who did apologize and said she would refund my money. The rep did mention that when we find another lot if it was more money they would refund the difference. It took us over 1/2 hour to find another open lot. I would say luckily it was less money but the wasted 1/2 hour and brouhaha from the original lot meant that we got to our seats at the stadium at 2 minutes until 1/2 time. We missed 1/2 the game.
The only saving grace is that i paid with paypal and i will be submitting a claim

EMILY
The parking kiosk would not accept the Spotify id number. So I had to pay cash to park, otherwise would have missed the Steve Jobs Opera.
When I asked for my credit card refund, I was told to send a copy of the cash receipt, which I did. They responded by saying the picture was of the Spotify receipt which it was not!! The receipt clearly said "CASH PAID" on it, yet they still gave me a hard time.
DO NOT USE THIS SERVICE IT IS A RIP OFF, NEVER AGAIN FOR ME

Tanya R
Lot won't honor your receipt
I am very unhappy with my 1st and last time using Spothero. I trusted that by giving them my money I'd be able to park at the locations they provided. Instead the lot named on my receipt refused to honor the agreement and there were even threats to call the police. They claimed that they told Spothero to remove them from the site. So I had to deal with anger and frustration at the end of a very long day AND I lost the $40 that I paid to Spothero. So I ended up having to pay a second time and I wasted in paying the Spothero service. I will not be using it again. Instead I'll go back to using the BestParking App.

Lin
This was such a great service, from the price to the ease in purchasing a reasonably priced parking garage reservation, to contacting customer service when we needed an alternative parking garage, to completing the transaction when we picked up our car. The customer service was awesome! He was so knowledgeable and treated us with such patience and respect and was so competent. All around a great experience and I would recommend them to anyone and would use them again for sure!

Chuck
prepaid for parking in downtown Los Angeles to take grandkids to Staples for the circus...but the SpotHero parking lot/address didn't even exist...only consolation was that i found another parking lot (and it was HALF the price of what i had already spent w SH)...hoping to get a refund...but not too impressed with their 'auto' response...live and learn...