South Beach Skin Lab Repair and Release Cream
South Beach Skin Lab Repair and Release Cream Reviews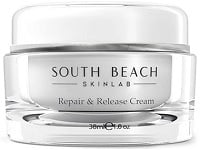 South Beach Skin Lab Repair and Release Cream, found online at SouthBeachSkinLab.com, is an anti-aging cream that the company states can increase collage production and result in reduced wrinkles and improved skin tone.
How Does It Work?
According to their website, South Beach Skin Lab Repair and Release Cream is a one of a kind cream for both face and neck which has been formulated to be the only daily cream you will ever need again.
To use effectively, customers just need to apply a dime-sized amount to their face and neck after cleaning their skin, and the website says that for best results, they recommend using it day and night.
Ingredients and Side Effects
This website does not provide a full list of this product's ingredients at this time, but their product page does mention some ingredients including: Matrixyl 3000, Argireline NP, Shea Butter, Sunflower Oil, Grape Seed, and Aloe Vera.
All of these ingredients are very common in skincare products, but customers who have known allergies or sensitivities to certain skincare ingredients will want to contact their Customer Service team to see if they can get a full list of ingredients.
Cost & Price Plans
Currently their website says that one jar of South Beach Skin Lab Repair and Release Cream is priced at $59.00, and customers who are interested in ordering multiple jars at a single time will be eligible to receive discounts on their order.
Refund Policy
Their website states that South Beach Skin Lab offers a 60-Day Money Back Warranty on all of its products purchased directly through their website.
This 60 day period begins on the date the order is shipped, and returned packages must be shipped with a unique tracking number.
Customers who want to return their purchase will need to contact their Customer Service team for specific return instructions and should know that all return shipping charges, including any applicable import/export fees, are the responsibility of the customer.
Unfortunately this company provides no information on whether a product can be opened and used before it is returned, so concerned customers will want to speak to their Customer Service team for clarification either before they submit their purchase or before they open their package.
Customer Service Contact Info
Customers who would like to contact Customer Service with any questions, concerns, or complaints can do so by phone at 877-557-6349 or by email at [email protected].
Reputation
Unfortunately neither this product nor this company have many customer reviews at this time, except for the reviews that are posted by affiliates and since affiliates earn money when a product is sold, it is difficult to tell how biased or unbiased these reviews actually are.
It is important for prospective customers to understand that the American Academy of Anti-Aging Medicine is not a medically accredited institution of health and sciences, but rather a non-profit organization of doctors and other specialists who are interested in anti-aging techniques.
This organization has been a part of several controversies in the past, as not all medical professionals agree with their approach to anti-aging products and services.
Finally, as mentioned above, this company actually provides very little detail on how to successfully obtain a refund if customers are unhappy with what they have purchased.
Diligent customers will want to contact their Customer Service team in advance of making a purchase to get a full explanation of this policy.
Competitors and Alternatives?
Most customers are aware that there are hundreds of different skincare products available on the market, including those that are traditionally formulated and those that are considered all natural.
Customers will want to research the individual products they are considering purchasing, the brands themselves, and the Return Policy if possible before they commit to purchasing any expensive skincare products.
If you have any experience with the South Beach Skin Lab Repair and Release Cream, please leave your reviews below.
You may also be interested in
South Beach Skin Lab Repair and Release Cream Customer Reviews

Deb M
South Beach Repair and Release
It's a great day cream. I use a richer formula Night Cream and still use Clarins Double Serum.
All the products (I've used them all) are very good.
The facial Cleanser is Excellent!
The Eye Serum is Excellent.

Jan S
Not a great or even good product
This product not only did not work but the refund was not available. If you still want to try this product I would recommend buying only one container. It will be enough to let you know that it does NOT work at all.
Very disappointed in their customer no service!

Ken N
Clearly a scam to lure potential customers into a never ending subscription at a higher price than than the promo. They rated an "F" from the RipoffReport.com. The product is a heavy cream that comes in a fancy package but is similar to creams selling for 1/4 the price. A money grab plain and simple. They only take returns over the phone within a short window and always require that you leave a message when calling and seem to always drop you call when the realize you are calling regarding a return.

Jennifer
Tried South Beach after listening to their very very long video
I have to admit, it was the peptides that sold me, and I am very, very happy w/ the results after the first month. I will buy it over and over again.
I (57 years old) have a few dark areas on my face and under my eyes is often dark. After a month of this regime, my skin tone is much more even, brighter, and just feels great.
I am a believer.

Katherine M
Brought 5jars so my daughters could try Ones face broke out in Welps another's face turn red When I returned3 unopened bottles postage was$12.98 and they kept $10.00 of my refund with no explanation