Sound Mind Investing Reviews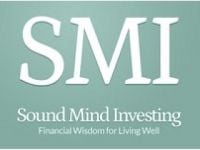 Sound Mind Investing, found online at SoundMindInvesting.com, is a company that calls themselves America's Premier Christian Financial Newsletter, "a kind of Consumer's Report for Christians" in finance.
How Does Sound Mind Investing Work?
According to their website, the creator of Sound Mind Investing saw the need to make a worthwhile source of information explained in an easy to understand format that could guide Christians through the investment process.
The goal of this company is to help their customers build a fully diversified portfolio using Biblically based principles to guide their spending and investing decisions, so their members will have a strong financial future, but also so they have more money to put toward "worldwide missionary efforts for the cause of Christ."
Cost/Price Plans
Currently Sound Mind Investing offers three different subscription choices. Members can choose to subscribe to their print publication only, which is 12 issues for $79, or to their web publication only, which costs $9.95 per month, or finally, the print and web subscription, which costs $79 plus $4.95 per month, and gives you access to everything SMI has to offer.
Refund Policy
This company does offer a Refund Policy for customers who have subscribed to their print publication, which says that members who cancel their subscription within the first three months can request a full refund of their purchase.
Unfortunately, Web memberships are non-refundable, but customers are always welcome to cancel their membership at any time, without any future charges.
Customer Service Contact Info
Customers who would like to contact their Customer Service team can submit any questions, concerns, or complaints by phone at 877-736-3764 or by email at [email protected].
Reputation
There doesn't seem to be many user or member reviews of this company, though they are reviewed in other financial publications and there doesn't seem to be any significant red flags.
Competitors and Alternatives?
There are many, many different financial newsletters and publications available online, like those from Money Map Press LLC and Money Morning, among many others.
If you have any experience with Sound Mind Investing or their products, please leave your reviews below.
You may also be interested in
Sound Mind Investing Customer Reviews

Richard M
The best place to be is IN the market with a long term view.
I have been a user/investor/student of SMI for more than 30 years. They have provided me with knowledge and advice to allow accumulation of sufficient funds to retire at 53 years of age so we could do missions work in Central America.
My wife and I have become of one mind on investing, tithing, and planning. We became debt free in the early 1990's when the debt on our home was retired. We have four kids, all of which went on to to hold advanced degrees, two are physians and two have masters degrees in education.
In all fairness, we started with Larry Burkett, who put us on the road of debt freedom and we transitioned to SMI who also provided the debt free goal and the biblical counsel of handling money. Investing is a lifetime of learning and SMI has the resource material for learning for the very beginner.
Rick Mc