SoClean CPAP Sanitizer Reviews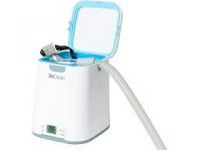 The SoClean CPAP Sanitizer, found online at SoClean.com, is a product that has the goal of "improving the health and quality of life" for people who use CPAP machines to handle sleep related conditions.
How Does It Work?
According to their website, failure to keep home CPAP equipment properly clean can actually have serious negative consequences for the users of that equipment, beginning with the risk of having their machine malfunction and ranging up to users contracting serious infections.
The SoClean CPAP Sanitizer was created as a way of giving CPAP owners a way to sanitize their equipment to a degree that simply isn't possible to attain just using standard soap and water cleaning.
To use their sanitizer, all you have to do is place your mask into the chamber and shut the lid. Their machine uses "activated oxygen" cleaning to sanitize any germs that may be lingering in your hose and mask. &nbsp
&nbsp
Their website also promises that their product connects with all available types of equipment, including CPAP, Bi-PAP, BPAP, and VPAP.
Cost/Price Plans
SoClean actually carries a variety of products on their website all intended for the maintenance of CPAP machines, so customers will be best served by looking at the specific product page of the machine they are interested in purchasing.
If you are someone who is interested in the newest version of the SoClean CPAP Sanitizer then you can currently order it for just $299, which is $50 off the traditional retail price of $349.
Refund Policy
Their website says that their Refund Policy will be different depending on the product that you purchase from their website and that not every product sold by SoClean will come with an applicable Refund Policy. Customers will want to look at the individual product page for more information.
But again, if you are purchasing the newest version of the SoClean CPAP Sanitizer you will be given a 30 Day Risk Free Trial. Customers who are not satisfied with this product within the first 30 days of the purchase date are asked to contact the SoClean Customer Service team by phone to receive a Return Merchandise Authorization (RMA) number and return instructions. Any device returned without an RMA number will be refused.
Customer Service Contact Info
Customers who wish to contact their Customer Service team with any questions, concerns, or complaints can do so by phone at 800-341-7014 or by email at [email protected]
Reputation
Generally speaking, the SoClean CPAP Sanitizer is a highly rated cleaning product that is recommended by many different blogs and websites dedicated to CPAP and related equipment. But not all of their customers are perfectly happy with this product.
Some customers have complained that using this machine left their CPAP equipment with an odd smell, which is a concern considering that you must place the mask on your face and breathe through it during the night. Other customers didn't mention a bad smell, but did say that this product stopped working after just a few months' of use.
Both of these complaints were the exception to the rule, and it seems clear that the vast majority of customers really believe this is a good quality product that does what it promises, but it is good for prospective customers to consider the experiences that some reviewers have had.
Competitors and Alternatives?
People who deal with sleep apnea and other sleep related health conditions that require the use of a CPAP machine should be able to find more information about proper machine cleaning and maintenance from the provider where they purchase their product.
If you have any experience with this company or their products, please leave your SoClean CPAP Sanitizer reviews below.
You may also be interested in
SoClean CPAP Sanitizer Customer Reviews