SnoreStop Reviews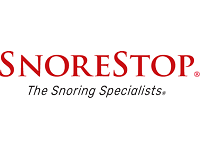 SnoreStop, found online at SnoreStop.com, is a brand of homeopathic snoring solutions and medications which promise to give customers multiple options for addressing their snoring issues.
How Does It Work?
According to their website, snoring is one of the most common problems for people in the United States.
There have been many different kinds of "snoring solutions" advocated as a way to stop snoring, including special pillows, attaching tennis balls to your pajamas, nasal strips, tongue retainers, mouth guards, chin straps, and many others.
The problem with those other solutions, however, is that they tend to approach snoring in one specific way, which may not be the right solution or the whole solution for each particular customer.
In addition, the SnoreStop website says that many of these other snoring solutions can be habit forming or have other negative side effects.
SnoreStop, on the other hand, has been creating homeopathic snoring solutions since 1995 and promises that all of their solutions are "simple to use, inexpensive, non-habit forming, free of side effects and have credible scientific evidence for effectiveness."
If you are a customer that is new to their products, they recommend their SnoreStop Kit, which combines the use of three of their most popular products: their Extinguisher Throat Spray, Nasospray Nasal Spray, and FastTabs Tablets.
Each of these products has been designed to address a particular area of the mouth and throat which has been accepted as an area where snoring vibrations occur, so that people are getting an all-around solution to their snoring problem.
Ingredients and Side Effects
Their website publishes all the ingredients of their products on the individual product pages of their website.
However, they state that all of their formulas are "prepared in accordance with the Homeopathic Pharmacopoeia of the United States (HPUS)," all ingredients are approved by the FDA, and all ingredients come from plant, mineral, or protein sources and manufactured in an FDA-approved lab.
In addition, they promise that none of their ingredients contain "any alkaloids, ephedrine or pseudoephedrine."
Cost/Price Plans
The SnoreStop website sells all of their products individually for their customers, but they are advocating the use of their entire SnoreStop Kit, which includes their Throat Spray, Nasal Spray, and their Tablets all for $19.99, with free shipping as long as you live within the continental United States.
Refund Policy
The website says that they offer a 30 Day Money Back Guarantee on all of their products, whether you purchased your SnoreStop product at a store or through their website.
If you purchased the product at a retail store, you will need to be able to provide them with the original store receipt in order to return it to their company for a refund or store credit.
If the product was purchased directly from their website, then you will have 30 days from the date of delivery in which to return your product for a full refund.
Customers will need to contact their Customer Service team for a Return Authorization Number in order to have their return accepted. Customers will be responsible for all shipping costs.
Customer Service Contact Info
Customers who would like to contact their Customer Service team with any questions, concerns, or complaints can do so by phone at 877-766-7378 or by submitting them directly to their website through their Contact Us link.
Reputation
Unfortunately it does not appear that there are many customer reviews available online for this brand and their products at this time.
However, this company has made it clear that they work hard to ensure that their products are both high quality and affordable, and they also offer a Refund Policy that is applicable after you have tried their products for yourself.
The website says that they understand that not every solution will work for every person.
So after you have tried their products for a minimum of five days and believe that it is not working for you, they ask that you contact their Customer Service team who will offer you guidance and assistance, as well as provide you with any help you need returning your product and requesting a refund.
Competitors and Alternatives?
Certainly SnoreStop.com is accurate when they say there are many, many different snoring solutions available on the market, so if this company does not have a solution that works for you, there are many others available for you to try.
If you have any experience with SnoreStop or their products, please leave your reviews below.
You may also be interested in
SnoreStop Customer Reviews

sharon t
fake products that do not ship but you are billed for.
do not buy from these people they are scammers who will not answer phone or email or live chat. Next step for me is to contact my credit card company.