Smoke Away Reviews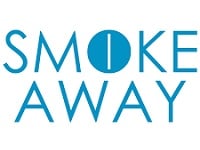 Smoke Away, found online at SmokeAway.com, is a product which the company claims has helped millions of people quit smoking over the ten year span that their product has been offered.
Smoking cigarettes is a highly addictive habit that is widely acknowledged as one of the most dangerous things you can do for your health. It has been associated with cancer, high blood pressure, blood clots, and even further health issues.
Unfortunately, smoking has also regularly been reported as one of the most difficult habits for people to break, even if they truly desire to quit smoking. This is why Smoke Away has created their system to help people quit smoking.
Their Premium Plus Kit contains all natural nutritional supplements in the form of capsules, tablets, and a spray, which are made with herbs and antioxidants, homeopathic medicine, as well as a motivational CD and booklet.
You begin their program by taking your first dosage at night, before the first full day of your program. Users continue taking their full dosage of supplements each day at breakfast, lunch, and dinner for the following three days.
On the fourth day you must assess how you feel. Users that are feeling good can begin to reduce their capsule intake, while users that are still struggling and not feeling well must continue with their full dosage for the next few days.
While maintaining your capsule program, it is also important that you continue to use the additional support and maintenance resources that have been included in your kit, including listening to their support and encouragement CD for at least 14 days after starting the program.
The Premium Plus Kit will cost new users $105.95, while the Premium Kit - which does not include as many support resources - costs $79.95, though their is currently a promotion which allows users to take $20 off their order price.
Customers who are unhappy with the product can return the unused portion of their Smoke Away kit within 30 days of their purchase date and they will receive a refund of the purchase price, less the cost of Shipping and Handling.
If you have any experience with Smoke Away or their products, please leave your reviews below.
You may also be interested in
Smoke Away Customer Reviews

Barry V
The cheap stuff has no incentive to quit, spend a lot, you will only do it 1 time
Smoked 3 packs a day for 30 years, in 1996 I bought Smokeaway for $100 which was a lot of money in 1996. I haven't smoked since, I don't know if it was Smokeaway or the fact I was only going to spend $100 one time but glad I did, oh and for the men there is 1 side effect that will make your wife happy.

Margaret S
I find I still need a lot of willpower. Because of finance and health I am more determined than ever to quit so I don't really know it it's this state of mind or the pills that have helped. I have completed the initial dose and am now on the maintenance course but have only quit for 2 weeks. I still want a cigarette!

Amanda G
My dad used it for a week and he quit smoking completely after 30 years of smoking 2 packs of Marlboro reds a day. That was 20 years ago and he never touched another cigarette.

Linda R
I paid for it but it hasn't arrived yet and its been about 2 months. How long does it take to ship here? I live in Texas.