SmartDOT Reviews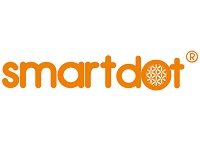 How much time do you spend everyday with a cell phone held up to your ear or with your eyes fixed on a computer screen?
Experts estimate that most adults spend about eleven hours per day with devices that expose them to EMF (electromagnetic field) radiation, a worrying statistic as evidence shows links between EMF exposure and cancers like glioma and leukemia in addition to day-to-day health problems like sleep disruption and mood-related troubles.
Unfortunately, when you live in an ultra-connected, technology driven world, it is difficult to avoid using the everyday items like tablets, laptop computers, baby monitors, and cell phones that may pose risks to our health.
In fact, there are approximately 5.11 billion global cell phone users who would certainly balk at the idea of giving up their mobile devices.
The company, energyDOT states they believe they have created the perfect solution: the smartDOT, an EMF harmonizer that offers EMF protection to consumers.
How Does SmartDOT Work?
The smartDOT is a small sticker that you can attach to any device that emits EMF radiation.
What is the smartDOT made of?
The company states its made up of a miniscule magnet that uses the process of entrainment to counteract the detrimental ramifications of radiation.
So, does it really work?
Experts do not believe that devices like this are effective and the Federal Trade Commission has warned that the anti-radiation market for cell phone EMF protection is chock-full of scam products.
Cost and Price Plans
You can purchase one smartDOT for $29.99, a three-pack for $59.98, a five-pack for $89.97 or a ten-pack for $149.95.
Customer Service
For technical support and questions about your order status, you can e-mail [email protected]
Online Customer Reviews/Complaints
Reviews of the smartDOT are mixed. The energyDOTS website features positive reviews of the unit, along with their other products. Unfortunately, aside from the company website, reviews from US-based customers are limited.
However, the product earns mixed ratings from Amazon customers in the United States, although it has not been widely reviewed.
Some customers claim that the product did not work and was a scam while others stated that it helped with headaches and that they were optimistic about the potential for radiation protection.
The website, MobileFun, also has a few reviews of the smartDOT from customers who were satisfied with their purchases, stating that they enjoyed everything from the quality of the product to the customer service. Again, however, there were only seven reviews available.
UK reviews for the smartDOT have a more positive consensus, with Amazon customers giving the product a 4.1/5-star rating and praising it for helping to decrease nuisances like headaches and offering great protection against EMF radiation. UK reviewers also had great things to say about energyDOT, claiming that their products proved effective.
Competitors and Alternatives
As concerns about the link between device usage and cancer grow, so too do the number of companies vying to develop solutions to protect technology users from the dangers of EMF radiation.
Similar products include the 5g Radiation Shield from Hedron Life Source and the Quantum Radiation Shield from Keeper All. The 5g Radiation Shield is the more expensive option, priced at $39.99 for one unit, while the Quantum Radiation Shield costs only $15.24 for a six-pack.
The 5g Radiation Shield claims to be effective at neutralizing radiation whether you attach it to your devices or carry it with you in a purse or pocket, while the Quantum Radiation Shield is like the smartDOT in that it is a sticker that should be attached to devices.
Both the 5g Radiation Shield and the Quantum Radiation Shield have earned mixed reviews from Amazon customers. While some reviewers claim that the products are effective, easy to use, and have helped combat fatigue and headaches, others are skeptical.
Many reviewers claim that these anti-radiation devices are a scam, have had no effect on them, are a waste of money, and are too good to be true.
Perhaps the best alternative to the smartDOT and similar products is to take preventative measures that have been scientifically proven to combat the negative impacts of EMF radiation. Organizations like the Federal Drug Administration and the Federal Trade Commission have warned consumers against the use of radiation blocking shields, stating that there is no scientific proof that such devices work.
Studies have also shown that radiation shields simply have no effect on radiation exposure. Instead of falling prey to products that seem too good to be true, experts suggest that you can utilize the speaker function on your cell phone or send a text message rather than holding the phone up to your ear.
You can also choose to use your cell phone only when the signal is good, as poor signal strength is correlated with increased radiation exposure. Additionally, you could limit device usage whenever possible.
Where to Buy?
You can purchase this product through their website or on Amazon.
Does smartDOT Really Work?
We believe the answer is probably no.
While the smartDOT has gotten some positive customer feedback, experts do not believe that these types of devices truly offer protection against radiation and we tend to believe the science.
While scientific research demonstrates that EMF radiation may be dangerous, it does not show any proof that solutions like the smartDOT are legit or effective.
Instead, we suggest that you take precautionary measures that have been proven to help limit radiation exposure including decreasing time with EMF-emitting devices, distancing yourself from your cell phone while on a call, choosing not to carry your phone in your pocket, and opting to send more text messages rather than making cell phone calls.
If you have any experience with the smartDOT, please leave your reviews below.
You may also be interested in
SmartDOT Customer Reviews