Slim Cycle Reviews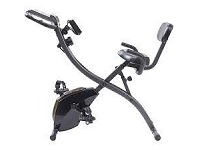 Slim Cycle creators claim to have created the perfect exercise bike to help users get an amazing workout and great results without ever having to leave their home.
How Does Slim Cycle Work?
The fitness bike is easy to use and allows you to choose to get a super intense workout in the upright bike position or a more relaxed workout with the recumbent bike position.
It also monitors your heart rate and has eight levels of resistance so you can always get the perfect workout for your needs.
The dimensions of the Slim Cycle bike are 42 inches (height) by 21.5 inches (width) by 43 inches (length), but don't worry about it taking up too much space - the bike is foldable so it can easily be stored away until your next workout.
Slim Cycle claims to be completely silent, so if you are worried about making noise and disturbing your kids or neighbors during your workout, this might be the perfect bike for you.
Cost and Price Plans
The company currently offers two pricing options depending on which package you would like to purchase. Their limited time offers allow you to get the best price for your bike.
The as seen on TV offer includes a Slim Cycle bike plus a Slim Away belt for $199.95. You also get free shipping with this package.
The Deluxe package includes a bike, Slim Away belt, water bottle holder, padded seat cover, protective floor mat and two-year extended warranty for $279.90. This offer also comes with free shipping.
Customer Service
If you have questions about the product, your order status, delivery time, shipping costs, or anything else, you can call customer service line at 1-855-306-1425 or send them a message through their website.
Please note that SlimCycle's refund policy allows you to receive a full refund or replacement within thirty days of purchase.
Online Customer Reviews Complaints
The Slim Cycle earns generally positive reviews from customers, with reviewers stating that the Slim Cycle is quiet, compact, and easy to use.
Of course, there are pros and cons to every product, and this is no exception. Some customers state that they feel the bike is too small and doesn't feel supportive enough.
Overall, however, the product boasts mainly positive reviews and satisfied customers despite it's pros and cons.
Competitors and Alternatives
If you are looking for a great at-home exercise bike, there are other options on the market.
For example, you might consider purchasing a bike from FitNation Flex Bike. FitNation's mission is to help people get high-quality equipment for at-home workouts.
They sell a range of exercise equipment including ellipticals, treadmills and fitness bikes. FitNation sells its Flex Bike Express for $219.99.
This bike allows you to work out in the upright or recumbent positions, monitors everything from your speed, distance and calories burned to your pulse. It also folds up, is easy to clean and comes in a variety of colors including red, blue, black, purple, and teal.
Another extremely popular exercise bike is the Peloton. The Peloton bike was created because the founders wanted to help busy people get the workout classes that help them stay fit and challenged.
The Peloton bike is quiet and compact and comes with a class membership that allows you to choose from a variety of live, themed classes and classes from an on-demand content library.
The Peloton membership costs $39/month while the bike itself starts at $2245.00 including delivery and assembly. The Peloton bike has gotten positive customer reviews.
Finally, you may consider buying a bike from ProForm.
ProForm strives to make affordable, accessible at-home workout equipment and combines their products with trainer-led fitness classes to help their customers stay in shape.
A ProForm Studio Bike costs $1999 and includes a one-year iFit membership so that you can get access to interactive training, streaming workout classes, and fitness tracking services.
The ProForm Bike is well-reviewed in the blogosphere, with reviewers praising it as an appealing mid-priced option for home gyms.
If you have any experience with the Slim Cycle or their products, please leave your reviews below.
You may also be interested in
Slim Cycle Customer Reviews