Sleep Slim Tea Reviews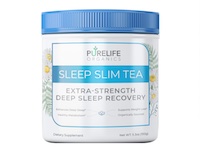 Sleep Slim Tea is a nutritional supplement whose creators claim their recipe can get people more effective and restorative sleep. Their core belief is that as a result of better sleep, users can shed weight without additional diets or exercise.
According to MyDeepSleepTea.com, Dan Garner created PureLife Organics Sleep Slim Tea due to his belief that weight loss difficulty may be linked to not enough time spent in a proper sleep cycle.
He believes that when individuals don't have an appropriate amount of rest during each cycle your body can trigger various hormonal responses that eventually lead to weight gain and a host of other issues.
How Does It Work?
The company website states that any sleep disruption will make you hungry and have less impulse control. Unhealthy sleep also triggers hormones that put your body into overdrive. Sleep Slim Tea has the necessary ingredients to set your body up for a successful night's sleep, which in turn allows your hormones to remain stable and helps you to eat a healthier diet.&nbsp
&nbsp
They go on to claim that by drinking one cup of tea each night, 30 minutes before going to sleep, your body will recalibrate to the correct cycles, and healthy habits will come from having better rest.
Product and Ingredients
Their product label states that ingredients found in Sleep Slim Tea are organic, GMO-free, Soy-free, dairy-free, gluten-free, and vegan. The key ingredients include the following:
Magnolia Bark Extract
Magnesium
Calcium
Turmeric
Ginger Root Powder
Ashwagandha
L-Glycine
Cinnamon Bark Powder
Cardamom
Chamomile
Black Pepper Extract
Many of these ingredients are found in herbal sleep teas and have been used in traditional medicines for a variety of ailments.
For instance Ashwagandha has many purported benefits and is considered to be an adaptogen - category of herbs/roots that help the body deal with stressors. In small studies it has been shown to aid in the reduction of stress, anxiety, and lowering cortisol levels.
However, despite its popularity in the health and wellness community more research is needed to draw broader conclusive results. Further, you should research potential side effects of Ashwagandha as it's not recommended for pregnant and breastfeeding women, those with autoimmune disorders, or people on Thyroid medications.
If you are in a high risk group or have any concerns consult with your primary care physician before starting a new supplement regimen.
Cost and Price Plans
To purchase Pure Life Organic's Sleep Slim Tea, you can buy in singular bottles or bulk. To get the best cost savings, it is advised to buy the three or six-bottle package.
One Bottle - $59
Three Bottles - $39 ($117 total)
Six Bottles - $29 ($174 total)
There is free shipping for the three and six-bottle packages. However, the one-bottle option also has a shipping charge.
Customer Service
Sleep Slim Tea's website has specific contact information for product support and order support.
Product Support Email: [email protected]
Order Support Website: https://www.clkbank.com/
Physical Address:
1444 S. Entertainment Ave.
Suite 410
Boise, ID 83709
There is a 100% money-back guarantee if you are not happy with your purchase. Most products sold through the ClickBank platform come with a 60-day money-back guarantee. However, that is not confirmed on mydeepsleeptea.com. So if you're unhappy with your purchase, try to get a hold of customer support as soon as possible.
Where To Buy?
The only place to purchase Pure Life Organic's Sleep Slim Tea is on the company website.
Online Customer Reviews/Complaints
PureLife Organics is not registered on the Better Business Bureau (BBB) website. Having previously sold their products on Amazon, there are a few reviews regarding Sleep Slim Tea on that platform.
Overall, the rating is 3.5-stars, many people report that the tea did not help them sleep any better, that the taste was not good, and that when purchased through Amazon PureLife Organics did not hold true to the money-back guarantee.
There were positive reviews listed as well, that did claim the product worked as a sleep aid.
FAQ
When you are purchasing health products, it is best to do your research to get a complete picture of the company and its items.
Here are some of the top questions asked about PureLife Organics and Sleep Slim Tea.
Does Sleep Slim Tea have any side effects?
Although the company website does not state any specific side effects, some reviews have said it caused excessive bathroom use. Also, as stated above some of the herbs in this formula do have potential side effects and should be researched more thoroughly, especially if you're on any medications or have preexisting conditions.
Is Sleep Slim Tea Legit?
Some customers have found success in using the tea once daily over a long period. However, others have reported no change in their weight or sleep patterns.
Where Is Sleep Slim Tea Located?
The headquarters for Sleep Slim tea is in Boise, Idaho.
Competitors and Alternatives
Weight loss products are a hot commodity, and there are many alternatives available besides Sleep Slim Tea.
Sleep Slim Tea vs. SkinnyFit: With the same price point and both products coming as a tea, Sleep Slim and SkinnyFit are very similar. However, SkinnyFit also fights inflammation, bloating, and stress.
Sleep Slim Tea vs. Night Slim: Night Slim has a lower price point than Sleep Slim and includes lemongrass, chia, and spearmint.
Sleep Slim Tea vs. Naturewise NightTime Slim: Instead of a tea, Naturewise offers a pill that you take at bedtime to increase sleep quality and boost weight loss.
Is Sleep Slim Tea Worth It?
Losing weight is a struggle that many deal with, and it can be tough to find a solution that works and works well.
While Sleep Slim Tea contains some potentially effective ingredients for sleep enhancement, there is little evidence to suggest that it works as a weight loss product. The idea that you can lose weight while you sleep, without altering your diet or exercise habits is too good to be true.
That's not to say this product may not help people at all, but expectations need to be reasonable. Lack of sleep or disruptive sleep can have very real and very negative impacts on your body such as: weakened immune system, poor focus, mood swings, increased blood pressure, weight gain, and more.
Thus, addressing poor sleep is a high priority that, if remedied, can have a positive impact on your weight in that it can slow down additional weight gain.
Overall, due to the lack of research and some of the poor reviews we're hesitant to recommend this product. You may want to try a lower priced natural sleep aid combined with lifestyle changes first.
If you have any experience with Sleep Slim Tea, please leave your reviews below.
You may also be interested in
Sleep Slim Tea Customer Reviews