Skylight Photo Frame Reviews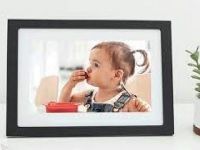 About Skylight Photo Frame
Looking for a memorable gift for Mother's Day or Father's day? If so, look no further than the Skylight Photo Frame.
This photo frame isn't just any old frame. Instead, it takes photography to the next level because it lets you share hundreds of photos with those that you love.
Ready to learn more - for instance, how does Skylight Photo Frame work? We'll tell you everything you need to know about this unique digital photo frame in our review.
How Does It Work?
At first glance, the Skylight picture frame might seem like every other digital photo frame. It can be preloaded with pictures so that you scroll through it to view your favorite memories.&nbsp
&nbsp
However, what sets it truly apart is that anyone in the family can email photos to the frame from anywhere in the world. The photos will automatically upload to the frame within seconds! It also comes with a touchscreen that makes it user-friendly and easy to operate, with no odd remotes or buttons that you'll have to play around with.
The instructions couldn't be simpler. To send photos, all you have to do is open an email application, like Gmail. Write an email with the photos you want to include as an attachment and send the email to your Skylight address. They'll appear within a minute!
You can set your own privacy settings for the best possible security, too. You control who has your email address so only those you want to send photos to your frame will be able to do so. Your frame can be designed as public or private to keep its contents safe, too.
While the frames were initially designed for only viewing photos, you can now upload and view videos and text captions, too. You'll submit them to the frame in the same way. Videos can be up to one minute long and captions can be anything under 300 characters.
With dimensions of 10.7"x7.4"x0.9", the Skylight Photo Frame has a sleek design that will fit into any style of decor. It has 8GB of storage (more than 8000 photos!) and can be delivered right to your front door in as little as three business days. It accepts all kinds of common photo files, including JPEG, BMP, PNG, and GIF, displaying them all with the crystal-clear clarity of a 1280x800 IPS display.
Cost and Price Plans
The frame costs $159. You can customize your experience with a subscription plan. While the basic membership will allow you to send photos from your email at any time or anywhere, the Plus subscription, which costs $39 per year, gives you a bit more flexibility.
Not only does it allow you to send photos by email, but you can also send and play videos and even add text captions. All of your photos will be backed up to the cloud and you'll get online access so you can view, download, and share photos from any location. You will also gain the ability to send photos from your smartphone.
Competitors and Alternatives
As you may have gathered, this isn't your only option when it comes to digital photo frames. Three other options to consider include the Nixplay, Aura, and Pix Star photo frames.
When comparing Skylight vs. Nixplay, the main thing to be aware of is that Skylight also allows you to play videos along with your photos. This frame is more expensive, coming in at $264, but you'll be able to play videos without having to purchase a separate plan. Plus, you can qualify for discounts if you purchase frames in bulk.
Next, you might compare Skylight vs. Aura. Aura Frames can be purchased on Amazon, are more expensive than skylight Photo Frames but let you instantly share photos from the app to the frame.
Finally, take a look at Skylight vs. Pix Star. Pix Star sells WiFi digital picture frames that work similarly, but there are various options in terms of frame size. Again, you can get a discount for buying in bulk.
Online Customer Reviews/Complaints
The product has received excellent reviews from customers all around the world. It has a straightforward set-up. All you need is plug it in, make sure you have a good Internet connection, and go. The touchscreen is easy to use and makes an excellent gift.
It's also backed by a generous replacement guarantee. If you don't like it, you can replace it within 30 days for a full refund or replacement.
Customer Service
Having trouble getting started? You can visit their website for a quick answer, where you'll find an easy troubleshooting guide. There is lots of information here to help you set up your account and it will even walk you through how to set up an account for someone else, too.
If that doesn't answer your question, they have active social media pages on Facebook and Instagram. You can get in touch with other questions by calling (415) 233-6761 or emailing [email protected]
Where to Buy?
At this time, you can only purchase from the manufacturer as well as on Amazon.
Is It Worth It?
This device is a great way to share memories with your loved ones - especially if you can't be together in person. This frame is a wonderful gift for a birthday, Mother's Day, or even "just because." Capture all of your favorite memories and share them with your loved ones all across the country in a snap with the one-of-a-kind Skylight Photo Frame.
0 'Skylight Photo Frame ' Reviews