Sizzlefish Reviews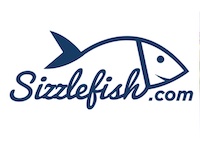 Sizzlefish was born when the owner was inspired on a training run to deliver quality seafood to people with active lifestyles. He realized that the company's seafood may be the ultimate performance fuel for athletes or anyone trying to eat healthier.
The company was already providing seafood to premium grocery companies, for over 30 years, so it was an easy expansion into the direct to consumer business model.
Products and Ingredients
The company provides untreated premium quality fish that can be integrated into people's healthy meal plans.
Each shipment contains 14 4 oz portions that are frozen and shipped directly to customers, who simply need to transfer the fish to their freezer.

Most of the fish are caught wild. However, the Atlantic salmon, rainbow trout, and catfish are farmed species.
Customers who prefer wild-caught fish can choose among several types of fish and packages including the Wild Ocean Blend, CTS Endurance Pack, salmon, and sablefish.
Fish and seafood are excellent sources of omega-3 fatty acids, which have a variety of benefits, particularly for athletes, that include the following:
May Helps heart, lungs and arteries function better, which helps athletic performance
Can Lower blood pressure, lower risk of cardiac disease, lower risk of stroke and provide a faster return to a resting heart rate after exercise.
Cost and Price Plans
Sizzlefish offers a variety of quality fish and seafood such as rainbow trout, Korean BBQ salmon, and sea scallops that range from $73.95 to $92.95. Shipping is free on every order.
Customers can also sign up for the following subscription plans:
Sizzlefish Prime Box - 14 - 4 to 6 Oz Portions Per Box -$125.86 per box/$8.99 Per Serving. You can build your own box.
Wild Seafood Favorites Box - 10-14 -4 to 6 oz Portions Per Box - $119.95 Per Box. This is a curated selection of wild caught fish and shellfish.
Sizzlefish Prime Plus Box - 14 - 4 to 6 oz Portion Per Box - $139.86 per box/$9.99 Per Serving. This option lets you choose your own seafood.
The company also routinely runs specials depending on what they have in stock and offers discounts to new subscribers. Check their website for the latest options.
Customer Service
Contact the company at [email protected] or (833) 603-0888. You can follow updates on Facebook, Twitter, Instagram, Pinterest.
If you receive fish products that are thawed, damaged or have other issues, the company will replace your products free of charge.
To request a replacement, contact support with details within 7 days of receipt of the products. If it is possible to photograph the problem it makes it easier for the company to resolve the issue.
If you need to cancel your subscription, reach out to customer service and they will handle the request for you.
You can also skip orders if you are on a monthly plan. If your order has already been processed they can not issue a refund.
Customer Reviews & Complaints
Food and health bloggers consistently give Sizzlefish high praise for the convenience of having quality fish delivered to their door, great flavor and the ease of preparing the fish. They also found the fish versatile for many types of dishes and recipes.
From independent customers you can find some online complaints.
As with all food delivery companies there are the occasional issues with lost/misplaced/damaged orders. In some rare cases people reported their packages arriving thawed out.
Other customers complained when they were enrolled into a monthly subscription when they were under the impression that they were placing a one off order.
And finally you can find the occasional complaint about the seafood itself, with some folks not being pleased with their order's size or taste.
For the most part, SiizzleFish reviews trend positive and it seems that the company has an active customer service team that replies to online complaints.
Competitors and Alternatives:
There are other many companies that deliver fresh seafood with sustainably-caught seafood options including Catalina Offshore Products, Vital Choice, and Honolulu Fish Company.
Other popular companies include: Wild Alaskan Company, Alaska Gold Brand Seafood, and also ButcherBox - Primarily a meat delivery service but they do put together seafood boxes as well.
Where to Buy?
You can order all of the products on the Sizzlefish website.
Is Sizzlefish Worth It?
While there are many options for higher quality seafood, there is no company with a flawless record.
If you look online you'll see that virtually every business has their share of complaints, down to your local whole foods grocery store.
Sizzlefish makes an effort to service the highest quality seafood.
On their website you can find their explanations for how they're addressing the sustainability crisis in seafood, and which of their options are wild caught vs farmed.
We recommend trying out the company with a small one time order to see if they live up to your expectation in taste and service. Then you can decide if you want to commit to one of their subscription plans.
If you have any experience with Sizzlefish seafood or their products, please leave your reviews below.
You may also be interested in
Sizzlefish Customer Reviews

Toots
BAD Deals Not what you pay for!
Received our order today, and was unpleasantly surprised to see that our order of over $300.00 had only three small pieces of salmon, six cut in half walleye fish, and one small bag of what should have been jumbo shrimp, small shrimp.
Extremely disappointed and will never, ever buy from this company again. Don't be fooled by the IG, FACEBOOK, or any other social media outlets raving about Sizzlefish. False advertisement to say the least. He purchases his products from seafood suppliers and in turn sell to the public. Talk about fast money making. Disgusting!!!
Sneaky non authorized subscriptions!!
They sign you up for repeated 'subcription' orders even though you intend on one purchase. Don't notify you at all and charge your card for an order you never wanted. Beware!
Sneaky non authorized subscriptions!!
They sign you up for repeated 'subcription' orders even though you intend on one purchase. Don't notify you at all and charge your card for an order you never wanted. Beware!

Mark H
I placed my first order on August 30, well before my family's Labor Day's bbq. I was in charge of getting the best quality fish. On September 8, my order was still not received. When I called Sizzlefish, they were quick to say, it was not their issue, it was the fault of the delivery service. I understand that there shipping issues and products don't sometimes get delivered but my discussion with Sizzlefish was frustrating and disappointing. Yes, they were willing to refund my money but I did not need the attitude from the service department. It was completely unprofessional.
I would not recommend using this service. It just not worth the aggravation.

Allan B
DOUBT IT WAS EVEN CHINOOK. SMALLEST SALMON I HAVE EVER SEEN. TASTED LIKE FALL RUN. SIZZLEFISH FISH WEB SITE TURNED MY 1 STAR RATING INTO 5 STAR. SCAM!

Jennifer L
White shrimp are inferior to royal red shrimp
Before I placed my order with Sizzler, I asked the representative if they had shrimp equivalent to gulf shrimp found in shrimp cocktails at good restaurants. He indicated that the shrimp they were selling were the ones I described.
For the record, Sizzler's shrimps are not the beautiful orange colored shrimps you may find in a shrimp cocktail. Sizzler's shrimp are a different species. They are a very translucent white shrimp with little texture or flavor. If you boil them for less than 2 minutes in less than 1/2 inch of water, the remaining water cannot be used as a stock. There will be no flavor. These shrimp are not suitable for shrimp cocktails and are not even suitable for a linguini seafood recipe.

Shirley H
Would never order from again. Customer service very rude and unwilling to resolve problem.