Shapr Reviews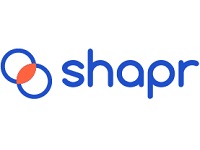 Shapr is an iOS and Android mobile networking app that provides a platform for people to network easily. It was made to create a networking society that can interact on a daily basis.
Many people spend a lot of time browsing names and profiles for connections. The main approach of Shapr has been to provide quality connections by just swiping through a few profiles, thus saving on time.
The experience has been made easy, valuable and enjoyable for users where they can now connect with their matches even when they are offline. This makes networking meaningful and beneficial and leads to long-term relationships with the people connecting.
How Does Shapr Work?
The platform provides a place for people from various professions to interact, share, and explore ideas with other professionals and experts in their medium. The goal of Shapr is to foster collaborations, projects, and allow users to nurture relationships between people with common interests.&nbsp
&nbsp
To get started and become a member, you need to download the Shapr App, create an account, and personalize your homepage. Through the platform, you can follow your favorite authors and publications.
In general, the app has a set algorithm that utilizes your tagged interests depending on the information that you fill upon signing up. This includes the location as well as your career experience. It then suggests 15 to 20 profiles of people that it feels matches what you need and might be interested in meeting.
This can either be a meeting for mentorship, collaboration for a business opportunity or interview purposes in case you are looking to hire or be hired. The swipes are usually anonymous until you and the person suggested both want to meet.
In the event that a match is made, you can get in touch with your match and decide on the best time to connect.
Cost and Price Plans
By joining Shapr Pro or Shapr Plus and becoming a member, you will be charged either $19.99/month or $99.99/year.
This provides you with an unlimited access to expert stories from top writers, freed of ads, downloadable audio versions of popular stories and offline reading as well as curated selections from leading media outlets. You will be allowed to swipe 1 to a maximum of 20 profiles.
For those that want to swipe more than 20 profiles, you will have to subscribe to the Premium version: Shapr Plus. Shapr Plus which costs more comes with additional benefits which include swiping up to 50 profiles per day.
This subscription also comes with an extra feature teleportation, where you can swipe profiles who are in any cities by manually changing your location.
Another great feature is Boost, where your profile is proposed more often and visible to more users. This gives you more chances to match with people within your interests.
Customer Service
Get in touch through their contact us page or by emailing them at [email protected] or [email protected] in case you are faced with any challenges using the platform.
Issues related to subscriptions and canceling of subscriptions are managed through the Shapr app. Depending on the plan that you choose, you can cancel your plan through your medium settings page.
For iOS users, you have to go to the iPhone's App Store settings. Cancelation of the automatic renewal of your subscription will entail going to your iPhone' settings.
You then select: Your name at the top of the screen -> iTunes & App Store -> Apple ID -> View Apple ID -> Subscriptions, then tap on "Shapr Plus" and cancel the automatic renewal.
Partial months' payments are not eligible or refunds or credits. In case you would like to receive an invoice, you will have to get in touch with the team at [email protected]
Online Reviews/Complaints
A few users complained about the app not working but most of the reviews were positive. Many were happy and satisfied after being able to meet collaborators and professionals through the platform. The app was also easy to use and users that wanted to hire found recruits fast.
Competitors and Alternatives
Several apps provide the same services as the Shapr app with the top being the Ripple app,
The beehive.bumble.com and Weave on Apple iTunes.
The Ripple app is another professional app that lets you connect with a professional network, making networking a simple and fun way to stay in touch.
Bumble Bizz and Weave make it more comfortable to connect at your own time and pace for professional success.
Where to Buy?
You can subscribe to the Shapr plans by downloading the Shapr app through the Apple Store or on Google Play.
Bottom Line
Shapr has benefited thousands of people, enabling them to narrow down to a list of potential professionals within their interests. Their algorithm and intuitive interface simplify the entire process, making it fast and efficient.
If you have experience with Shapr or their services, please leave your reviews below.
Shapr Customer Reviews

PeeBee
Sadly I've met a ton of scammers on Shapr. After being scammed - I started to ask for more proof. I am in NY - and ironically the majority of people on the app all claim to be from NY also -- so I'd say, "oh - where about in NY are you?
Let's meet for coffee to discuss (whatever)?" - then they say "Oh I'm not in NY right now -- I'm away for a few months, etc," -- I can't speak for everyone on the app - but the majority of people I've met (for business networking) were BS