ScreenKlean Reviews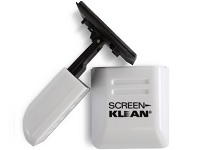 ScreenKlean aims to offer customers a modern spin on screen cleaning cloths and materials.
Based on the same cleaning technology that is used aboard the International Space Station, ScreenKlean offers a product that they claim has a number of advantages over the traditional microfiber cloth or spray-cleaning liquid solutions.
How Does ScreenKlean Work?
The main objective of ScreenKlean is to keep its customers' devices in the best shape possible by offering a product that avoids some of the negative side-effects of cleaning, such as micro-scratches, liquid damage, smudges, and an overall lack of proper cleaning.
ScreenKlean consists of a small cleaning sponge that is encased by a small plastic container.
The sponge itself is a small square that is fitted to perfectly get into most corner spaces on your screened devices. This allows you to keep the screen or phone protectors on if you choose.
When you're ready to use the sponge, simply pull it out and clean whatever screen it is you want to clean.
Then, when you're finished, you can slide it back up into the plastic case and protect it from getting dirty due to any outside debris or liquids.
The container for the ScreenKlean comes in many different colors, such as: purple, pink, blue, green, and black. The sponge, however, stays the same color.
Cost and Price Plans
There are a number of price plans that are available for customers who are interested in buying a ScreenKlean. They tend to get cheaper per unit the more you buy. They are as follows:
To buy one single ScreenKlean, it'll cost $27.38 Canadian + Shipping and Handling.
If you buy two, you get the third one 50% off. This comes to $22.81 Canadian each, or $68.43 Canadian + Shipping and Handling for all three.
If you buy three, you get two for free. This comes to $16.43 Canadian each, or $82.13 Canadian + Shipping and Handling for all of them.
Lastly, if you buy four, you get four for free. This comes to $13.69 Canadian each, or $109.50 Canadian + Shipping and Handling for all eight. This, in terms of individual unit costs, is the best value.
The cost for shipping varies from location to location, so if keep this in mind if you're shipping the ScreenKlean domestically in the United States or internationally.
Customer Service
If you'd like to reach the people who run and are in charge of ScreenKlean, below is a number of ways you can get in contact with them, as well as their returns/cancellation information:
Email them at [email protected], visit their Contact Page at CarbonKlean.com, or phone them at 1-888-615-2155.
Refund/Cancellation Options: Send your product back to the warehouse where it was shipped from with the ScreenKlean in the original package, unopened, and not tampered with.
You must include the invoice with the return. When this is done, they will get in contact with you and further the return process. The refund makes take up to 14 days. If there are any questions, be sure to contact them ASAP.
Online Reviews and Complaints
The reviews that came out regarding the ScreenKlean were sufficient. The positive ones highlighted how the small little sponge was amazing for removing smudges, dirt, and finger marks on any screen, regardless of the size of the screen or device.
As well, many claimed that the life of the sponge lasted a while and they only needed to buy one every couple of months. As for the price, many said that it was reasonable considering the high quality work it does.
However, on the complaints side of things, customers contradicted everything the positive reviews had said. Some claimed that the plastic was cheap and broke very easily, the sponge scratched the screen or would rip apart as soon as it was used for the first time.
Other people claimed that the ScreenKlean never actually removed smudges or dirt, but rather moves it around and creates streaks up and down your screen. In short, it is not worth the money.
This all being said, it isn't safe to say that the ScreenKlean is a good product or poor product.
Competitors and Alternatives
To give you a better idea as to how the ScreenKlean compares to other products and companies in the screen-cleaning industry, here are three alternatives to consider:
iRoller
The iRoller is very similar to the ScreenKlean in the sense that it focuses on cleaning off dirt, oils, and dust from the screen of your devices, but it is different in a number of ways. Instead of a sponge, the iRoller is a small sticky tube that is covered by a plastic case.
When you open the case, you continuously rub the iRoller over the screen until it is clean and clear. When you want to wash it, just run it under water and use it again. In terms of price, it is a little cheaper than the ScreenKlean.
Stalogy Cleaning Roller
Stalogy has designed a roller that focuses on cleaning screens, just like ScreenKlean. However, their approach is much different. Unlike ScreenKlean, Stalogy uses small, adhesive sheets that remove all smudges, dirt, oil, and dust from your screens.
And, similar to a lint roller, when you're done with the sheet, you simply take it off and rip it off, revealing a new, fresh adhesive surface.
Targus Cleaning Pad
Targus aims at solving the same problem all of these solutions are resolving, as well: clean your screen. Their device is a large pad that fits in the palm of your hand, allowing you to wipe your screen until all of the dirt, smudges, oil, and dust are cleaned.
Its pads are fairly large, but they are made up of a soft material that is aimed at avoiding scratches or other damage to your screen. The price is a little cheaper than the ScreenKlean.
Where to Buy?
The ScreenKlean is only available on their official site. If you do find the ScreenKlean on another website, keep in mind that the company can't confirm or guarantee that what you're receiving is the real product.
The Bottom Line
Overall, the ScreenKlean may offer a very good solution to a problem that can be quite annoying in the 21st Century.
While it may seem promising, it is important to keep in mind that, due to some of the negative reviews, you will need to do some extra research to see if it's really for you.
If you have any experience with the ScreenKlean, please leave your reviews below.
ScreenKlean Customer Reviews