Sample That Reviews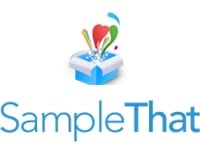 Sample That is a company that states they offer users free samples from major brands, as well as more obscure and interesting deals from small companies.
How Does It Work?
This may sound too good to be true and you may be thinking to yourself "Does samplethat.com work?" Or "Is samplethat.com real/safe?"
What samplethat.com wants is to give you, their loyal customers, amazing sample offers. They say all you have to do is sign up for Sample That.
They will send you daily emails about samples that you may take interest in, unless you opt out of the daily email updates.
Once you create an account, you may be free to browse through all the offers they have.
If you find something that you like, all you have to do is click the "Get Sample" Button and you will be guided through what you have to do next.
However, even with a membership, they do not guarantee you will receive the offer you requested.
There may be many reasons why:
It could be that the offers were revoked back by the company/service that provided them in the first place.
Take note that all the third parties that provide these services and/or products are not affiliated with samplethat.com in any way and that these third parties are also the ones who ship out the product.
It may also be possible that they ran out of what you asked for or the offer simply expired but don't let this setback make you think that samplethat.com isn't legit in any way.
They just do not have monopoly over all of these companies, they just promote offers for them.
Products
Sample That offers a wide range of freebies you can choose from such as beauty samples, health samples, baby samples, and even household samples.
Here are a few examples of how diverse Sample That freebies can get:
Free Slurpee at 7/11
Free Cell Phone Accessories
Free Homepathic Samples
Poise Pads Sample Kit
Free Pet ID Tag
Free Sunless Tanning Session
Reebok Product Testing
There are many coupons, offers, specials, deals, surveys, contests, giveaways, samples, and sweepstakes available on Sample That to choose from.
Cost and Price Plans
Signing up and requesting for freebies from Sample That is 100% free and they will NEVER ask you for payment information for the products.
Some of the products they ship out may require a shipping and handling fee that users will be charged for.
Online Reviews/Complaints
Numerous websites that provide you with a complete overview of other websites to warn you whether they are safe or not have given a cautious greenlight on samplethat.com.
The legitimacy and safety of this freebie website checks out and has been branded as trustworthy and secure as it has not been blacklisted or shown any signs of viruses or malicious content in its 3 years of operation.
Technicalities aside, there are no reviews from actual users available online so you may really have to try the website out first if you really want to know how interesting it actually is.
Competitors and Alternatives
While samplethat.com is starting to sound like the website you'd like to receive freebies from, there are still a number of other websites out there that offer the same service such as freeflys.com, samplestore.com, and samplesource.com.
In essence, they are all the same website as they offer the same services but there are still a few differences that stand out and make one better than the other.
Freeflys.com offers free samples from food, beauty, children, and health categories. The website is a bit iffy with an unattractive web design but it has been branded as secure.
Samplestore.com, however, has the most aesthetically pleasing web design which may make you trust it more; it also has a more complex, well-explained and secure method of how to receive your freebies.
Samplesource.com also has a fun web design which includes a thorough "How Does It Work" on the first page and it's the only company that promises free shipping for the product you want to receive.
Other sites include RetailMeNot.com, and Coupons.com.
Where to Buy
Since this is an online freebie website, the only place you can get these products is through them at samplethat.com. Once you sign up, you will get daily emails and updates about which products they have in store for you.
You may then go on their website and choose which one interests you the most or may be of most use to you.
The Bottom Line
Everyone loves receiving free things. Samplethat.com is a website dedicated to giving people the best offers on free things, the only thing that may cost you is the shipping free which, let's be real, is a small price to pay.
However, keep in mind that there have been no reviews from actual users yet so don't put too much hope into this website.
Try it out first for yourself before you rejoice and praise the internet for giving you an opportunity to get free stuff you actually want.
If you have any experience with Sample That or their products, please leave your reviews below.
You may also be interested in
Sample That Customer Reviews

Jim T
I'm really surprised by the way you do things and the way you treat us. Thanks but NO thanks, I don't need or want anything from you. I'm totally disappointed, seriously I am.

CSmith
They send you an email saying you get free samples and you have to click on the button to redeem. When you click on the button you then take a survey where from my guess they send your info to other company's to try to market you. At the end of the survey they want you to click on more deals/discounts. No free product just a looped survey... ain't nobody got time for this