Saatva Mattress Reviews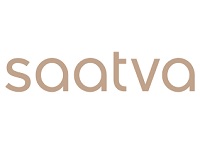 Saatva is a mattress company which advertises itself as "America's best priced luxury mattress," and promises to bring high quality mattresses to the public at affordable prices.
How Does Saatva Work?
According to Saatva.com, the ceators of the Saatva Mattress wanted to eliminate both the costs and the waste that came with the traditional mattress market, like rent, commissions, inventory inefficiency, and utilities.
Once these unnecessary costs were stripped away, Saatva Mattress was an online only retailer that was able to provide their customers with high quality products at nearly 70% off the price of comparable mattresses in traditional brick and mortar retailers.
They also have chosen to incorporate eco-friendly options into their mattresses, saying that their foam is never processed with formaldehyde or other irritating solutions, and that all their foams are tested and certified to meet environmental, health, and safety standards.
Their cover fabric is made with organic cotton blended with hypoallergenic fabrics which meet flame retardant laws while still remaining gentle.
Cost/Price Plans
Their mattresses range from $799 for the 'Saatva Classic', to $1999+ for their 'Solaire Adjustable' mattress. But the website does say that a mattress of the same quality and size sold at a traditional retailer would cost significantly more – they estimate around $2,400 for their comparable mattress priced at $899.
The website also says that they recommend purchasing the additional mattress foundation they offer, but if you have a sturdy box spring or foundation in good condition with no sagging, you are welcome to use it and your mattress warranty will remain valid.
Customers are also given the option to request for the delivery team to take away your old mattress for just a charge of $39.00. All you need to do is check the box next to "Mattress Removal" when placing your order.
Refund Policy
Customers who purchase one of their mattresses have 180 days from the date of delivery to try their mattress for themselves before deciding whether or not they would like to keep the mattress.
If you decide you are not satisfied and would like to return the mattress, simply contact them and they will arrange to come pick up your mattress and refund all your money, less the original delivery charge.
Customer Service Contact Info
Customers who would like to contact Customer Service with any questions, concerns, or complaints can do so by phone at 877-672-2882, by email at [email protected], or by submitting them directly to their website through the Contact Us link.
Reputation
While there are not very many reviews of this mattress from individual customers, there do appear to be a large enough number of websites and blogs reviewing this mattress to get an idea of its quality.
Generally speaking, these reviews are extremely positive. The reviewers speak highly of the quality of the materials, the comfort of the mattress, and especially about the cost of the mattress when the quality is taken into consideration.
Because of this positive reviews and their 75 day trial, it appears that customers who are interested in the Saatva Mattress should feel confident in trying this product for themselves.
Competitors and Alternatives?
There are many other mattress stores that make promises regarding their special materials, their special design features, and the improved quality of sleep their customers will experience, including Tempurpedic and others.
If you have any experience with Saatva and their products, please leave your reviews below.
You may also be interested in
Saatva Mattress Customer Reviews

SusieQ
Good product at a good price
I have been sleeping on one of these for 3 years now and I like it. I ordered the Luxury Firm in Queen size. At first they mistakenly delivered the Plush Soft which I didn't at first know and was absolutely miserable. When the error was discovered they made it right.
Also, you need to have adequate center support on your bed for an innerspring mattress to be comfortable sleeping on. The wood slats laid across bed rails are really not adequate in my opinion. Even though we are not large people (Hubby is 220 pounds/myself about 145 pounds) adequate center support makes all the difference. Hubby built a "platform." Problem solved.
I would buy from this company again but I would change it up a bit. I ordered the 18-inch mattress and the short box spring. Next time I would order the short mattress and the tall box sprint. Saatva claims there is no difference in comfort, just aesthetics.
It is difficult to change the sheets on this tall mattress; you really can't pick up the corners of the mattress to put the sheets on. If there is no difference in the level of comfort, I don't know why I chose the tall mattress but I think it is just trendy right now for mattresses to be thick. Overall, this is a really good product at an affordable price.

Sally
After less than 2 years we have deep deep sleeping cavities and a big hump in the middle. We do not want a replacement which they do offer. After the fact I have done more research. They do not manufacture their own product. They contract with many different factories. They use recycled steel, some recycled steel is an oaky product some is not and will break down quickly. Since they contract to other manufacturers they do not have the final quality control of the components. They tell me I must have received a defective one.
What a drag for me. I do not feel like playing a guessing game to see if I will get a good one. Doing a mattress dance with them is not how I want to spend my time. My advise is to keep looking.