Ruled.me Keto Academy Reviews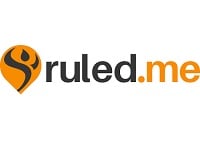 Ruled.me is a blog, as well as a forum and community for people that are interested in learning and living a Ketogenic lifestyle.
The site is where creator Chris Clarke attempts to enlighten and entertain readers with his articles, recipes, and books.
How Does It Work?
The information and programs are designed to guide you on how to live a Ketogenic lifestyle.
It also teaches news things in the ketogenic community such as different recipes to make dieting more interesting, as well as offering recommendations for cooking utensils, supplements, recipes, books, and exercise routines.
What is a Keto Diet?
According to Diet Doctor, a ketogenic diet (keto) is a very low-carb diet, which turns the body into a fat-burning machine.
With a Keto Diet, the body will go through a period where it adapts to using fat as your main source of energy as opposed to carbohydrates.
A byproduct of this reversal of fuels is that, if done right, you may lose weight as your body burns the excess fat you already have.
To increase these effects many keto plans encourage intermittent fasting and counting macros. Basically keeping track of each macronutrient you consume per day.
Some people claim to experience many benefits following this way of eating including weight loss, health, and performance.
However, you may also go through some potential initial side effects as your body makes the transition.
Products & Prices
Ruled.me offers many different items for purchase through their website.
For example, the site offers a ketogenic calculator to determine how much one should eat using a variety of information the user provides.
But the main items that Chris Clarke promotes is his line of books and the keto app.
The Keto Academy - a comprehensive Keto plan that includes 1,000+ recipes that are custom tailored to your specifications.
The meal plan also allows you to customize recipes to your preference and you can swap out meals that you don't enjoy.
The Keto App - takes all the features of the Ruled.me meal plan and puts them in one easy to use place, allowing you to create shopping lists and stay on top of your meal calendar from your mobile device.
The app has several different price plans:
1-Month $4.66 /wk
3-Months $3.50/wk
6-Months $3.11/wk
Keto Slow Cooking Made Easy - Chris Clarke says "Keto slow cooking is an art". There are forty unique recipes geared towards the keto diet plan.
Each recipe is made with simple ingredients most people use every day and have a nutritional breakdown for every recipe. This book costs $9.99.
Keto-Fied! Comfort Foods Made Low Carb - Chris says that Keto-Fied! goes "From natural sweeteners to specialty flours, we use what we have available to really boost what we put in front of us".
This book goes in depth of how to make keto comfort foods. This book costs $9.99.
Cooking by the Ruled Book - "Ranging from breakfast to dessert to snacks, this will cover the basis for almost all your needs and then some" according to Chris. All of the recipes in this book can be made in advance. This book costs $7.99.
30 Day Ketogenic Diet Plan - The 30-day plan is a step by step guide to help in loss of body fat and accelerated weight loss using the ketogenic method.
Side Effects
Side effects from the keto diet plan may include leg cramps, bad breath, and loss of energy.
This way of eating is not for everyone and as always you should consult with a healthcare professional before making drastic changes to your diet and eliminating large amounts of food groups.
Customer Service
There is not a return policy listed on their website.
To contact support at Ruled.me, customers can get help by sending the company an email from their website at www.ruled.me/contact-us/. They also have Facebook, Pinterest, and Twitter accounts.
Online Reviews & Complaints
Ruled.me has many positive testimonials on their website saying how people have had great results losing weight and found delicious recipes to try.
They also have lots of before and after photos of their customers displaying their success.
However, there are also lots of complaints online that are very critical of the app claiming that it's difficult to use, poorly organized, and generally not a quality product.
Ultimately users' biggest complaint is that there are no refund offered for trying the app.
Those who had difficulty setting it up, complications with their meal plans, or simply didn't enjoy the recipes were not able to get their money back.
Overall the unbiased reviews found here and on other independent review sites are mostly negative with the consensus being that most of this information can be found online for free.
Competitors and Alternatives
There are many blogs online dedicated to the keto diet plan. One is the Keto Diet App which is for iPhone and iPad and costs $6.99 in the app store.
Casey Durango has a similar blog discussing how he lost weight and got healthier with the keto lifestyle. To receive results, he offers video coaching starting at $25.00 and phone coaching from $20.00.
Ketogasm offers meal plans and courses starting at $17.00. Other resources include the Keto Summit and the Keto Beginning.
The Bottom Line
We don't think that this resource is the best path to start your Keto journey. We recommend doing some general online research first and reading about the diet.
There are many dedicated blogs and authors who can break down the key points of this way of eating for you.
There are also countless cooking blogs that have Keto recipes that you can try ahead of purchasing any cookbooks or meal plans.
Since the popularization of this diet there has been an influx of marketers trying to cash-in in the form of supplements, fancy apps, and guides.
There is more than enough info and resources available online for you to start this way of eating and see if this will be a long term weight loss/health improvement approach for you before paying for something.
If you have any experience with Ruled.me Keto Academy, please leave your reviews below.
You may also be interested in
Ruled.me Keto Academy Customer Reviews

Geri
What are you remembering 6 months from now?
Be very careful and know ahead of time that you are signing up for an auto-pay subscription. A 6-month subscription (instead of the usual annual type.) No pre-warning or notice that your account is about to be charged; no option to cancel, no nothing.
Yes, the ultimate responsibility is on me, however, the subscription service was never realized or made clear. And the owner of the service refuses to cooperate. Great service in this time of Covid and job losses. Thanks, Bud.

Dana
Bad service and horrible app
What a waste of time and money. Spent the whole morning of my day off emailing back and forth to fix a bug. I was promised to be refunded for my effort.
The corrected the bug and never refunded me. Then it took 5 attempts to get my auto renewal canceled via email.
Very bad customer service and don't keep their word. Buyer beware buggy app and very un-user friendly … what a horrible way to spent my Christmas money

Paul
Very misleading and very poor customer service, Unable to get a refund.
They don't have a real app, it's just a web link that you put on your phone. Very few recipes and only really can be used by 1 person. It's not organized well and it resets every time you want to make changes to your profile setup. I knew it wasn't good a couple of hours after paying for it and tried to get my money back but they refused. Do not get caught up in this scam. There are way better products out there.

Jude
Like many people on this site I bought the 3 month app and right away realized that I didn't like most of the recipes, it was complicated to use, and didn't give me the options to sort that I wanted if I wanted to change a recipe suggestion. Plus it didn't take into account leftovers. I contacted the site right away and was told not refunds. It seems like a scam to me.
I did cancel the recurring payment; I hope that works. I have never heard of a no refund policy for something like this, which is very sketchy. It was my fault for not doing my due diligence, so don't make the same mistake. There are much better programs out there for the price.

Sarah
If you want simple, this is it
I've used the Keto Academy meal planner for 2 months now and I'm down 30 pounds so far. It is the easiest meal planning app I have used by far. You can generate a meal plan or build one yourself. I build my own because I like to eat leftovers of meals that I like. No more tracking macros, just easy weight loss by following along with a plan! Very happy and hope I can lose 15 more pounds!

Kate H
No more tracking macros!!!
I read other reviews first to see what people had said but I think they are missing the point. I have been using this webiste for over 3 years and have been using ruled.me's recipes for a majority of my cooking. When I need a new recipe there is always something new on here. I was not a big cooking person before keto but they give photos for every step of the recipe which has helped me out so much.
The recipes on ruled.me are free and you can create a meal plan from their recipes if you want to. My problem is I don't like to plan and I haven't had to motivation to plan my meals for the last few months which has put me off track. The best part about their program is that it creates meal plans for my macros.
Macros, macros, macros is what I am constantly told whenever I get off track and I dont like to use the apps to track everything I eat. I don't have the desire to edit/change/look through recipes that will always fit my macros. This program does it FOR ME.
They provide lots of free recipes already, but the recipes arent always easy to fit into my macros and this has been the perfect solution. I filled in what I wanted and how much time I had to cook and it gave me a plan and shopping list to follow.
I dont understand why people are so upset that there are recipes in this meal plan. I dont know how you would follow a meal plan without recipes? The biggest timesaver for me is that I dont have to track everything anymore. I can get free recipes on pinterest but they wont always fit my macros or even have the nutrition information listed. The meal plan is already made to fit my macros. Im so happy I got this program, it saves me so much time and frustration!!

Lin P
Within a few hours after I signed up and paid I tried to cancel. Strict no refund policy. This site was not special. Only gave recipes and meals. Nothing I couldn't have gotten for free on internet. Do not bother buying this.

Jackie
Love the recipes and meal planner!
I wouldn't usually do this, but I stumbled across this site after weeks of googling keto recipes. The collection they have here is marvelous! So many great things to cook. I took a leap and joined the meal planning tool they offer and it's so much better than the one I used before.
I am new to keto so I don't always understand what I should be eating and the meal plan app gives meal for me that fit my macros. I think it's very difficult to put a meal plan together with the recipes alone so this has been a life saver and the shopping lists make it even easier. I'm already down 5 pounds and I can't wait to see what happens by this time next month!

dissatisfied b
Another scam site that offers recipes one finds on the web for free but charges $19.99
Within a minute of paying I asked for a refund once realizing their site was not at all what I was expecting, and the owner Craig Clarke said too bad. Even in this current pandemic! I hope no one else falls for their fantastic marketing, I feel like such a sucker.

Christine B
One of the Best Keto Websites Out There!
This is my favorite site on keto. I have been using it for 6 months now and have not found another website that goes into as much depth with the information. I have tried a lot of their recipes and I haven't found one I didn't like yet. 2 months ago I decided to purchase their meal plan called Keto Academy and it's helped me lose another 15 pounds. I'm down over 40 pounds since starting! My doctor has taken me off of my blood pressure medication and I'm in the normal range now. I don't get as much acid reflux as I did before and my blood sugar is going down as well.
I saw the other reviews and they are correct. There are no vegan or vegetarian recipes in the meal plan that they offer, but on the page where you purchase the plan, it shows recipes with meat inside so I am not sure why they are confused about it.

Timon
Unfortunately I fell into the same trap as the reviewer before me explained. I used their guide for a vegetarian keto diet. I really liked the calculator that breaks down all the nutrients I need on a daily basis based on my data and goal. It even says then that the plan to purchase would have a specific plan based on my needs. After all, there are only random recipes, not vegetarian or vegan friendly and not based on the individual amounts that were calculated!! One star is to much.

GracieZG
Extensive, useful info on keto
I have spent a lot of time on the Internet trying to find help on exactly what keto is--for instance, the whole subject of sugar, what is okay, what is not okay, what are the substitutes. So today I searched for "rules on keto" and landed on ruled.me. This is the best website for I have found for keto information. And the more I explore, the more amazed I am at how extensive the information is. So thank you for that.

Justin
Totally misleading product and sneaky business practices
In short, I found a great article on ruled.me breaking down how best to realize a ketogenic diet while remaining vegan. The article linked to ketoaceademy.com to explore meal plans and recipes. I bought the downloadable product for $54 and found not one single vegan recipe. Not one.
Also, on their homepage there is no contact link to ask beforehand, nor is there any info available regarding refund policy until they email a purchase confirmation. Lo and behold, I am not eligible for a refund bc the product didn't fit into my lifestyle. Only in cases of non-delivery are refunds issued. Bull-fucking-shit. I'm furious. I only bought the thing to begin with because they linked to it from their own vegan guide- totally misleading.