Ruggable Reviews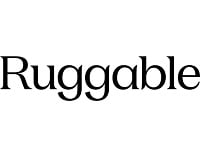 Ruggable markets a washable rug with a non-slip rug pad underneath, creating a waterproof barrier in the rug cover so that liquids are unable to get into the non-slip rug pad.
This technology allows stains and odors to stay on the surface, which can be easily washed away by using a washing machine.
Products
For the woven covers, there are three layers. The first layer is 100% woven polyester top, then there is a 100% polyurethane internal barrier in the middle for waterproof, and lastly, there is a 100% polyester knit surface at the bottom.
Regarding shag covers, they are made of a synthetic fiber called modacrylic. This material is naturally flame resistant and the product has met flame resistant testing standards.
For rug pad, their rug pads are made of recycled fiber; while the nonslip side of the rug pad is made of thermoplastic resin. If you have not heard of Thermoplastic Resin, you probably have, at least, seen them as a synthetic material for making yoga mats.
Using thermoplastic resin is a good way to protect the environment because almost zero waste is created during the manufacturing process.
Also, it has the patented "Cling Effect Technology" that makes it difficult to separate the rug cover and the rug pad.
When printing the rugs for Ruggable, water-based, non-toxic ink was used. All the beautiful designs on the rugs are created by textile designers based in New York, Los Angeles, Europe, and Turkey.
The print rugs from Ruggable is made and packaged in Los Angeles. Their products are made of sustainable materials from certified suppliers from Korea, Germany, Mexico, and China.
When choosing a supplier, Ruggable ensures that the suppliers met the ethical, environmental, safety and social standard. They also made visits to the factories from time to time to ensure the quality of their products.
How Does Ruggable Work?
When you received the products, simply unroll both cover and pad, then line them on top of one another.
Because of the patented technology, the underside of the cover and the top of the rug pad will stick together. It should take you about 10 minutes from unboxing to putting everything together.
To ensure you have a smooth assembly process, you may want to start by keeping the edges straight. After that, slowly line the cover-up starting from the short sides. Once you are able to keep the short side straight, press along the edges and let it cling.
Cost and Price Plans
Ruggable's products have a large variety in order to match your needs.
Four different sizes are available for you to choose, such as 3"x5", 2.5"x7", 5"x7" and 8"x10". A wide range of colors, ranging from neutral, warm color, cold color and multicolor are available.
Further, you can pick your favorite pattern for your rug. You can easily make your home chic by using the modern or geometric pattern, or you can match with the Spring weather with the floral pattern.
There are also different collections including the Moroccan, Coastal, Bohemian, Children and Shag. All products are ranging from $99 to $399.
If you sign up for their newsletter online, you will receive a 10% off for your first order.
Customer Service
In terms of return policy, you can return Ruggable's products within 30 days of receiving your purchase order.
To start the process of product return, you can contact the Ruggable's customer service at [email protected], or call them at 1-877-784-4225. After receiving an authorization from the customer service representative, you can request a FedEx shipping label and send your undamaged item back.
The shipping fee for return is free, but the shipping fee for the purchase will not be returned. Upon receiving the return items, it takes about 6 weeks to process your return.
Similarly, you can use the contact information mentioned above for a product exchange within 30 days of receiving the order.
It is important to note that if the item that you return is damage, Ruggable will charge you an additional 25% as damage fee.
Online Reviews & Complaints
There are many positive reviews for Ruggable.
Netizens claimed that this product is great. Not only does the rug look beautiful and elegant for a home, it still looks new after washing for a couple of times.
In terms of the patented "Cling Effect Technology", many users said it works and the rug does not easily slide around in the house.
Competitors and Alternatives
Apart from Ruggable, there are many other companies that offer good-quality and beautiful rugs to decorate your home.
Many people might compare Ruggable with Wayfair. Similar to Ruggable, you can pick your rugs by color and patterns on Wayfair.
If you prefer soft, plush rugs, Wayfair also allows you to make your selection by feel. The price is ranging from $24 to $680, depending on your choice.
Another place to look for your dream rug is Lorena Canals, they sell washable rugs ranging from $18 to $435. Apart from being able to pick by size and shape, they offer a lot of different patterns to match with different occasions. For example, they have a series of rugs for back to school.
If you prefer a big believer in environmental protection, Hook & Loom may be a good match for you. You will be able to find affordable and beautiful hand-woven rugs made of eco-cotton in their stores.
Where to Buy?
If you are interested in making a purchase at Ruggable, you can place your online at https://ruggable.com/
The Bottom Line
Ruggable offers affordable, stylish, washable rugs for your home. It has many happy customers who used their rugs to brighten their home. You can learn more about their products on their website at Ruggable.com.
If you have any experience with Ruggable or their products, please leave your reviews below.
You may also be interested in
Ruggable Customer Reviews

flower70
Great Rugs especially if you have pets!
We have two older dogs and a cat. I bought these rugs because I could wash them. After paying a carpet cleaner (several times) to come out and clean my previous rugs because one of the dogs threw up and I couldn't get it clean with just spot cleaning, I needed a better solution! I found Ruggables. I purchased an 8x10' rug. I have several now... the dogs have thrown up on them, but I just wash them and they are ready to go again! NO stains, no expensive carpet cleaners! I read some of the reviews about the corners, I haven't had a problem with that. There is actually a pocket on the bottom of the rug at the corners to tuck the pad into so that they stay flush. I also have a runner that is 2.5x7' that I put outside for Halloween, it worked perfectly! I will be buying a plaid one for Christmas to put outside too! I love that I can wash them and they still brand new! I have had my Ruggagles for over a year and I continue to buy them! Highly recommend if you have pets, or just want clean rugs without paying someone to come to your home and "clean" them!!!!

Kathi P
never buy from this company
If i can give it no stars i would. I brought three long runners and an area rug. My thought was what a great concept I have two dogs and a toddler that run around my house. they arrived and I was extremely excited I placed them all down and that was where it all turn to the worst decision I ever made.
After about two days the sides and ends started to curl up. The dogs would trip the toddler fell over them a few times. I then tried to wash them thinking ok maybe they are to new but nope as soon as they were back down the same thing happen. I tried believe me a few times to either wash them put them closer to the ends of the Velcro mat but nothing would work.
It gets worse I pulled them all up and rolled them and put them away. I sent numerous emails to the customer care with please take pictures I indicated on several occasions that I pulled them all up because of the tripping hazard for a toddler and did not want her to get hurt. They said well you had them to long we cant refund you any money.
If they would have even said they would refund half of the money it would have been better than nothing. I know have four rugs that i can not use and cost me a pretty penny as you are all well aware. NEVER EVER BUY FROM THIS COMPANY STAY AWAY!!

Darlene H
I love the look but it can't be safely used d/t the corners curling up.

TonI
Within a few weeks, this rug began curling up at the corners. Now, a few months after purchase, both ends are completely curled. (There are only 2 people living in the house, and there are no pets or children. This rug is not getting super-high traffic!) Nothing but a tripping hazard.

Sue G
I purchased 2 Ruggables last May - an 8 X 10 and a 5 X 3. I was a little disappointed by the lack of pile, however, they looked nice and I kept them. In August, the larger one started to curl on the edge which had the most traffic. I washed the rug and re-positioned it on the pad, and within a few days, it started to curl again in the same place. It has become a real tripping hazard. Recently, the 3 X 5 rug in my bedroom has started to curl on both ends, and it has very little traffic. I contacted Ruggables, they asked for photos which I sent. They apologized, and offered to replace the covers for no cost, except $40 for shipping or refund 25% of my purchase price. They did admit that curling was a problem and they really had no remedy for it.I settled for the partial refund since there is no guarantee the new ones won't also curl.

Edwin L
My home was being remodeled when my $400 ruggable rugs arrived, so I went beyond the 30-day return period before I was able to put them down. The rugs are thin--no padding whatsoever. However, my biggest complaint is how they roll up at the edges, making them a trip hazard for my 83-year old mother, grandkids, and pets. They are hard to vac, also, even at the lowest setting on my vac--leaves wrinkles all in the rug that are impossible to smooth out. Finally, after washing two of the 4 rugs I ordered, the larger one was impossible to dry. I had to place it outside on my patio to dry and it took 3 days! It looked even worse after putting it back down on the floor. There are a lot of positive reviews on this rug--it's a great concept, but based on my experience, I cannot recommend it