Ruby Lane Reviews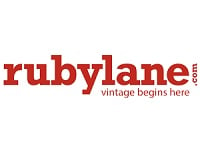 Ruby Lane is a company that states its the world's largest marketplace for vintage products and antiques, saying that they are home to thousands of independent shops which showcase quality items.
How Does Ruby Lane Work?
Shoppers can simply go to their website and begin browsing through their inventory, either by specific shop or by item category, including Antiques, Vintage Collectibles, Dolls, Fine Art, Furniture and Lighting, Glass, Jewelry, Porcelain & Pottery, Silver, and Vintage Fashion. Shoppers must create a free account before they can make a purchase.
Shop owners who are interested in selling their items through Ruby Lane must go through a very detailed process, where their marketplace's team will pre-screen items sold through your shop to make sure you meet quality and professionalism standards.
Cost/Price Plans
Since this website is host to many different shops that carry many different items - and items which can be considered rare and sometimes especially valuable - there is no way to quote a specific price range for what you will find.
Refund Policy
RubyLane.com says that all their shop owners agree to honor a Return and Refund Policy as long as the customer contacts them with their complaints within 3 days of receiving the item.
You must contact the shop owner within three days, and they will contact you in return. All items must be shipped back within 3 days of the shop owner's acknowledgment, and shipped according to the instructions laid out in their Return Policy.
Customer Service Contact Info
Every shop featured on RubyLane.com will have its own contact information, and customers should use this information when contacting a shop with questions, concerns, or complaints, or about a potential refunds.
Reputation
This company seems to have positive reviews from both customers and third party independent reviewers - they have been given awards for their Customer Service as well.
Competitors and Alternatives?
There are other online marketplaces that also provide access to unique or specialty, as well as vintage or antique items, like Etsy.com or Storenvy.
If you have any experience with Ruby Lane or their products, please leave your reviews below.
You may also be interested in
Ruby Lane Customer Reviews

Dennis D
Use any other site to buy and sell
Attempted to start a shop on Ruby Lane. Was given a list of things I needed to change to get my shop opened.
Most of which I can understand but they said I should have an average of 75 words to describe an item.
I told them I did not have time to write 75 words for each item I have to sell. Was told "well you don't need 75 words but it's a good idea." I told them to cancel the review of my shop.
Do yourself a favor and go to Ebay, Mercari, Poshmark or Etsy. They make it easy to setup a shop.
Ruby Lane seems to think they are doing people a favor. RUBY LANE WE ARE THE CUSTOMERS AND WILL TAKE OUR BUSINESS ELSEWHERE. I also don't like the response to some of the negative reviews from Ruby Lane. Remember who the customer is. We don't need Ruby Lane...

Cheryl
Very Satisfied with Ruby Lane
I love Ruby Lane and trust the sellers on it. I have never had any problems with the items I have bought and have never had issues with the sellers either. Ebay is good for buying certain items but I would never trust ebay and the sellers on there that list antiques as anyone can sell on ebay without being checked out as to if they are a legitimate seller or if their items are authentic or not.

Jodi D
I have never had any problems with purchases through RubyLane although, I've never felt the need to deal with returning an item so I'm not certain as to that area.
I receive it in a timely manner, properly packed and shipped. I also enjoy eBay but RubyLane has a great offer, (most stores)
by providing the option of layaway!
eBay absolutely doesn't and so I simply miss out on items completely from them, whereas with RubyLane, I secure the item with a down payment and make payment arrangements!
I also love how detailed and descriptive their item information is.
I have found some items more pricey than eBay. And yes, I always compare just in case
Shop owners have always been polite and helpful.
I love antiques too so it seems to be convenient that I'm dealing with people who only really sell antique and vintage items and generally specialize to some degree depending on the store.
I browse for hours online.
It's a look into the past.
It's great!
Real Problems w/ Ruby Lane
No due process in dealing with customer service issues. Ruby lane ignored my issue as a legitimate user of the site. Brash, impulsive, corporate behavior that is nothing short of shameful, picking on legitimate buyers and sellers. The site contains many faked, forged, and falsely signed items, yet they rely on these same sellers to monitor their sight and "flag" items. This misused and abused feature creates a shopping experience vulnerable to manipulation, and exempts Ruby Lane for taking the responsibility in authenticating items their site represents. Stick with ebay....at least they offer seller protection against all the fakes on their site.
Terrible Experience on Ruby Lane
Very Dissatisfied with Ruby Lane and its (total lack of) customer service. Given the overpriced items and high number of reproductions of the site, sellers beware if you attempt to do business with the sellers on this site. You're on your own, no money back guarantee, like ebay offers, and 10 times the price of the same items on ebay. I'm sure that's where RL dealers are getting their inventory. Just cut out the middle man and go straight to ebay for a safe, affordable shoppinx experience.