Rocket Mortgage Reviews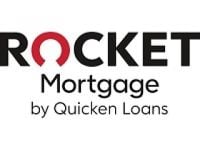 Rocket Mortgage is a company stating they offer a new approach to securing mortgage loans provided by Quicken Loans, which allows people to completely secure a mortgage entirely online, including through the use of a mobile application.
How Does Rocket Mortgage Work?
According to RocketMortgage.com it's goal is to "put the power in your hands" when it comes to either getting an initial mortgage approval or a refinance of your existing mortgage
Customers will be able to submit bank statements and pay stubs without requiring paper copies of anything, and Rocket Mortgage will pull your credit score at no financial cost to you.
While there are many other mortgage calculators online that can show people what to expect when applying for a mortgage loan, the reality is that many of these calculators take the numbers and information you supply and make assumptions when providing an estimate of what to expect. But that is not what Rocket Mortgage does.
This mobile application allows their customers to submit their real information directly to their Quicken Loans database where it will be assessed the same way an underwriter would. When rates are provided for their customers, they are not estimates, they are real mortgage loan offers.
Cost/Price Plans
Using RocketMortgage.com to receive a mortgage quote is completely free, but certainly the cost of accepting a real estate loan depends on many different factors.
The first and most obvious is the amount of you plan to borrow, combined with the length of time you take to pay it back, and the interest rate that is being applied.
In addition, borrowers will want to pay close attention to agreements that will apply additional fees or charges during the term of your loan for actions like late payments, loan extensions, and more.
Refund Policy
Loans do not have Refund Policies, but they may have periods during which they can canceled and the borrowed money can be returned without any payment of interest or penalties.
Customers should speak directly to the lender or check to see whether this information is included in the terms of the loans that are provided to you.
Customer Service Contact Info
Customers who would like to contact Customer Service with any questions, concerns, or complaints can do so by phone at 800-251-9080 or through the Quicken Loan's Live Chat feature whenever it is available.
Reputation
Rocket Mortgage is getting fairly positive reviews at this time, with a lot of people being excited about the kind of transparency this online process is bringing to the loan industry.
There have been some criticisms of this system, with some people saying that while the mortgage loan process can be long and drawn out, condensing the process into ten minutes is not necessarily the answer, especially since many of the other aspects of securing a mortgage can't be sped up.
This means that while your mortgage offer is ready in ten minutes, securing your actual mortgage can still take a week or more.
However, since Rocket Mortgage customers are always welcome to take advantage of the Quicken Loans team for any help and assistance they may need.
Competitors and Alternatives?
There are many other mortgage companies that promise an easy and convenient way to receive a mortgage loan, including Better Mortgage, LendGo, and many others.
If you have any experience with Rocket Morgage or their services, please leave your reviews below.
You may also be interested in
Rocket Mortgage Customer Reviews

Danielle L
Worst experience buying a home. My file was switched between three mortgage bankers and all gave me completely different stories and rates.
Prices changed weekly all the way to closing. The bankers did not know what they were doing and each time my file was moved I had to explain to them what was going on with my file the last I knew. I had to provide them with everything but a dna sample.
One day everything was good and the next they couldn't do the deal. I was on pins and needles for over 45 days. I will never ever use this company again and I dont recommend anyone else use them either.

Chicago B
Extremely horrible experience, from rebate promises for using Rocket Homes, to a non existent VA department.
I paid $100's, spent unnecessary time and time off work to have inspections and fees paid on a property that never even met VA requirements.
I continue to get "Passive" responses from the Escalation Team who states I get no rebate because I was given a closing credit. What's funny is, that credit was due to the horrible experience, lies and total lack of competency during the process. In no way was I ever informed this credit was in lieu of canceled out anything additional I was promised; why, because they have no proof or correspondence that they was told to me.

Lynda M
Unfriendly processes and unnecessary fees
Absolutely terrible. Refinanced with them and suffered through long tedious process that never ended. Basically you would supply all info and then they would delay and they due to their delay they would require a new paystub and more info and this would go on and on.
Now that our mortgage is finally with them, I went online to change our recurring monthly payment to new bank. Somehow the next mortgage payment still went to old bank that didn't have the funds. I called them and the new bank info was added, but not the recurring payment which was still defaulting to old account, so lady fixed it and we did a one time payment to new bank.
She said a 2nd attempt would be made on old bank automatically, even if we did a payment to the new bank now to resolve. She said call up my bank and put a stop payment on it. I called my old bank which says they cannot do a stop payment on an automatic debit.
The 2nd attempt was made even though the mortgage was paid and still on time. So now I have two insufficient payment fees with old bank. On top of it Rocket sends me a letter saying that a fee for the 2nd unsuccessful attempt has been applied to my account.
Upon calling them up, they will not waive this new fee, even though I resolved the payment immediately over the phone days before the 2nd attempt was made. Their processes are terrible and designed to fee you to death, their online system is not user friendly as could not even process a change of bank on recurring payment properly. Even though the whole issue from the beginning and 2nd attempt at withdrawal to old bank is their issue not mine, they sure are happy to apply fees to us.
Frustrated with them and will not refinance with them again. As a very financially savvy person, I can tell you this has been just a nightmare of u-customer friendly processes and systems that do not work.

keith c
High costs and low service : do not use quicken / rocket mortgage
Worst experience ever!
Quicken Loans and Drew Nossaman | Senior Banker are NOT recommended.
I was given a preapproval and then 2 days later when I was in contract the approval was retracted. I have another loan with the same banker and loan company and am dissatisfied.
The cost of the loan was HIGH and interest rate not very good. There were numerous issues and costs associated with the loan. This company has successfully wasted several thousand dollars of my money and hours of my time. DO NOT USE.

Al C
On Refinance: TERRIBLE!! The same thing, as #1 - especially the continuing of asking for the same documents. After months, denied because allegedly the underwriters would not approve the flood policy held by the 800 unit condominium association. Sometimes it additionally, seemed like they were intentionally being dismissive and pretend not to understand. RIGHT!.

amy c
We applied for a house loan in April, it was on a new build, so it was to switch over from construction loan to home loan. We were pre-approved quickly. We sent everything in promptly as required. From the start they kept asking us for the same things over and over.
And in July we got a payoff from the bank and then they couldn't set a closing date because they kept needing the same things over and over and then too much time would pass, and they would need another payoff. Then there were at least 5 more payoff dates, but they wouldn't set a closing date. "Oh, we need your bank statements again, ETC. Closing costs kept escalating and then suddenly they needed us to have another $6,000 in the bank on top of closing.
They kept asking for statements from a 2nd mortgage. We told them from the start there was no second mortgage. Then they said we hadn't made our house payment. We said again and again we didn't have a house payment, because the bank was waiting on closing as it was switching from a building loan to a house loan. AND IN FACT, we had already settled that matter BEFORE the closing date was set.
So finally, they set a closing date and then AFTER setting a closing date they say, "Oh wait, we got a flag saying you haven't made your house payment." The bank loan officer even talked to them and told them we didn't have one to make yet and were not behind. So then it took them another 2 weeks and then they denied the loan, because they said we were behind on house payments that we didn't have.
This was the worst experience ever. It took 6 MONTHS to get turned down. We had passed a final inspection. There was no communication between people there, so they kept having to ask stuff and ask for stuff over and over. If it weren't for a guy named David that helped us, we'd still be sitting here waiting. He was very helpful and tried his best, but the underwriters were just horrible. So, when it went beyond David after the denial and on to an appeal, they had the facts of the circumstances and still turned us down.
IF I COULD GIVE NO STARS I WOULD! To make a long story short, I know they have some good reviews, but I see a lot of bad ones from people with the same issues. They simply cannot handle anything besides a plain old basic run of the mill loan. They couldn't figure out that we didn't have house payments, that it was a construction loan, and we didn't have a home equity line of credit or a 2nd mortgage.
This was an FHA loan, and we were recently told by another loan place you can't get that type for what we were applying for-If you have a building loan and are switching to a home loan, with some other stuff that were particular to our loan circumstance.
We suspect that somewhere along the way, after we were months into this someone figured that out (we didn't know it- we're not loan experts) that they weren't supposed to do this kind of loan, and they waited until we hadn't made a house payment to the bank over 60 days, and then used a false flag to deny so no one got into any trouble that works there. You should run the other way if you are getting a loan for anything other than a basic easy transaction.

Steven R
They really haven't "revolutionized" anything. Al they've done is build a database of all of your public financial records, so that they can pre-populate some of the material that is typically required in a mortgage application. Then the "magic" happens. In my one and only experience, the first quote was ridiculous. They were telling me I needed PMI, even though it was a conventional loan with 20% down. So someone started on-line chatting with me, and said "let me see what I can do". Then he came back with at least a realistic quote. Nevertheless, the rates were ~1/4 point higher than others, and the fees were completely out of line. When I told him that, his response was, "well we're the biggest lender in the country, so we must be doing something right." Then he started up with "whats it going to take to get you to sign today? No thanks. good-bye.

Jakie K
Absolute disaster. Same experience as above. Contrary to their advertising, they actually take significant'tly LONGER than other mortgage companies to get the job done. The mortgage process for us has dragged on and on despite us having provided every single thing agent asked us for (some things twice) weeks ago. Chose this company because of obviously false advertising claims about the speed of obtaining the mortgage. Inept handling of information, empty promises, repeated stalling tactics. Can't reach our agent on multiple occasions, sometimes for several days on end. Absolutely unacceptable level of customer service.

Patricia H
I refinanced a loan back in 2014 (?) everything went smooth, took a bit to long to go to closing but I was happy with the service. I think now Quicken Loans has gotten to big for themselves. I went thru Rocket Mortgage to start a new loan process to get a new house. Jay was helpful and available to answer all questions. And he was there for us in the end when our closing agent couldn't be reached. They have compartmentalized so much that you don't know who is working on your loan. I dealt with 6 different people during my loan process to get a new home. No one knowing how to answer questions because "its not their department". In the end they lost my trust and cost me more money because someone failed to finish the job before leaving for the day. My closing date had to be changed, messing up the moving date, everything had to be stored for three days, pets had to be boarded and we had to find a place to stay. The whole thing was a nightmare and 4 month later they have done nothing to compensate for our added expenses.