Rival Smart Watch Reviews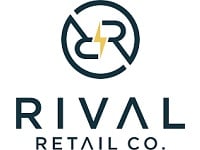 Rival Smart Watch Review: Legit or Scam?
The Rival Smart Watch promises users the benefits of a fitness band, digital watch, and health tracker, all in one affordable package.
How Does it Work?
We've reviewed a number of similar watches on Reviewopedia and they seem to often follow very similar advertising and sales patterns.
In previous cases, these smart watches mostly don't live up to the advertising hype in terms of quality or functionality.
Below we take a closer look at the Rival Watch to see if it's any different from other budget direct-to-consumer smart watch products we've reviewed previously.
The company website states that the Rival Smart Watch:


Tracks 11 Health Parameters
Provides sleep and hear monitoring 24/7
Counts steps and calories burned
Pairs with your phone to offer smart notifications


Unfortunately the company does not go into much detail about how their device actually functions. They do go over the watch's method for measuring blood pressure.
They state that it uses an optical heart rate sensor which detects the time it takes for your pulse to travel between the heart and wrist.
This time reading is known as Pulse Transit Time (PTT) and will help the watch determine if your blood pressure is too high or low.
There are mixed opinions on how well this works, with some studies stating that PTT alone cannot provide an accurate and reliable measurement of blood pressure.
This is because it can be influenced by many additional factors such as arterial stiffness, vessel compliance, heart rate, and other physiological variables.
SpO2 is another metric that many health trackers now measure. This reading shows blood oxygen saturation levels, low levels of which can pose a serious health risk.
Medical professionals use a pulse oximeter along with other tests to measure SPO2.
Smartwatches use infrared light and photodetectors to estimate blood oxygen levels, though these readings can be affected by skin tone, movement, and ambient light.
The data from a smartwatch can be a useful resource.
However, if you have serious health conditions you should consult with your physician to determine which medical grade tools you may need at home.
The seller states that the Rival SmartWatch is compatible with any Android 5.0 + device and iOS9.0+.
The watch works with the "DaFit app" which users can download for free from Google Play or Apple App online stores.


Is The Rival Watch Legit?
In their advertising the seller states that because the Rival Smart Watch is a direct-to-consumer brand, they can offer cheaper prices versus brick and mortar stores who up-charge their customers to cover operating costs.
While it is true they have no retail locations to support, in reality, Rival is no different from other unscrupulous online retailers.
They are simply buying smart watches wholesale from overseas manufacturers, rebranding them with their logo, and selling them at inflated prices.
These watches are listed on popular wholesale websites where anyone can purchase them in a bulk order.
Here's an example: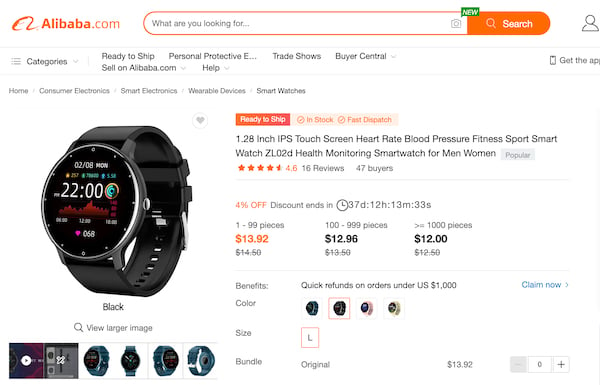 ( An unbranded smart watch that looks identical to Rival's sold for much cheaper on Alibaba )
While there is nothing inherently wrong with this business practice (most big brands work with overseas manufacturers), the issue is that sellers like Rival sell cheaply made products and do not provide adequate customer support or other infrastructure to support these products.
In addition to research and development costs, a major benefit of purchasing a product from an established company ( Apple, Google, etc.) is the ongoing software and customer service support.
An established company has a vested interest in keeping their customers happy, as they are planning to be in business for the long run and want to maintain a good reputation.
In contrast, products like the Rival Smartwatch are cheaply made and often have issues down the line, by which time the seller has often closed up shop or moved on to selling a different product.
For example, the Rival Watch website has only been online since March 2023.


Customer Reviews & Complaints
At this time there is not much legitimate online feedback for the Rival Watch. Most of the search results for reviews are filled with promotional articles from affiliate marketers.
However, similar watches that we have reviewed on Reviewopedia do not have good reviews.
There are a plethora of issues ranging from technical to simply poor customer service. Furthermore the app that is recommended to pair with the Rival Smartwatch also has largely negative reviews in the app store.
In the app store, users have complained of issues such as:


Watch becomes disconnected from the app or will no longer connect
Not receiving notifications
Overly sensitive pedometer
Data not syncing properly
Inaccurate readings
Doesn't keep a history of data or provide comprehensive summary reports
Customer Service
Phone Number: +1 (866) 832 9341 by
Email: [email protected] or online contact form.
There is no return or company address listed on the website. The customer must contact the company to receive the returns address.
The website states that they offer a 90-day money back guarantee.
Their return policy states that items must be in the same condition as you received them in and in the original packaging. Customers are responsible for shipping costs.
The policy also states that they "reserve the right to charge a minimum of a 15% restocking fee to process your return."
Competitors and Alternatives
At $89 the Rival Smartwatch is not necessarily such as cheap alternative to other, more established brands.
Spending a bit more can open up a lot of possibilities in the fitness and health watch market.
While these options cost more than the Rival Watch up front, you can be assured of proper customer service should any issues arise.
Apple Watch Series 8
For example, the Apple Watch Series 8 has an FDA-approved ECG sensors, as well as other top-of-the-line features.
The Apple Watch Series 8 holds an impressive 4.7/5 rating from over 5,000 customer reviews on Amazon.
Fitbit Sense 2
The Fitbit Sense 2 also has FDA clearance and offers a variety of health tracking features.
The company has been a leader in the wearables sector since the technology came out and offers a robust ecosystem of apps and support for all their products.
It has many positive reviews on Amazon with a score of 4.3/5 from over 1,500 customer reviews.


Fitbit Charge 5
The Fitbit Charge 5 is another great, and less costly, option. It is a 'NY Times Pick' and best seller on Amazon.
It boats an advanced health tracker that measures a variety of movements with a built-in GPS and a plethora of advanced features that let you track your sleep, heart rate, and includes a stress management tool.
The Fitbit Charge 5 has a 4.3/5 rating from over 30,000 customer reviews on Amazon.
Is The Rival Smartwatch Worth It?
When compared to other direct-to-consumer smartwatch sellers we've reviewed previously, Rival does some things well.
For instance, you can find the watch manual posted on their website and they also have a helpful FAQ section.
However, it is concerning that Rival Smart Watch do not post a business address for the company.
The Rival watch does have a lot of features for the price, but because of the technical issues that often develop with these types of products, we do not recommend the Rival Smart Watch.
Instead, we suggest that it's best to go with a well-known brand that offers superior quality products and can provide ongoing customer support.
If you have any experience with the Rival Watch, please leave your reviews below.
You may also be interested in
Rival Smart Watch Customer Reviews

Kirven W
Worst smart watch I've ever seen
Very cheap and flimsy feeling. Very thin rubber band. Does not measure BP or pulse accurately, which were the two measures I needed. Like I'm on the treadmill and my heart rate is 115 on the treadmill, but watch says my heart rate is 73. Have to hit crown to light it up. This is what I get for being too cheap to buy an apple watch.

Kathy V
Watch is on the metric system
The watch is all in the metric system. There is no way to change the weather readings to Fahrenheit.

Mel
After 2 days it won't hold a charge
The Rival watch was easy to set up. I received mine with a screen saver so the crystal of the watch is protected. It does its job. As I got into it more I do carry the instructions that came with it around. The blood pressure reads higher than a normal blood pressure cuff and seems to be stuck on 140/60 My blood pressure has never been 140. Again, it does NOT hold a charge.
And has many features that I wanted. Once I figured out how to go from feature to feature I thought it was great. Until the wear time is only 1 to 2 days the charge will hold. And that is with ALL FEATURES SHUT OFF. I'll save my money and by a watch from a legit company.
The Rival watch touts that it goes 5 days without charging. Mine does 2 days. I can't use the "extra" apps without this watch needing to be charged everyday. I've figured out how a lot of watch works. But still when I asked to get a refund I was met with no replies. So, I gave up. I'll be shopping at legit companies that stand behind their product. I wish I had seen this before I bought it. I won't be purchasing from Rival again. Zero stars! It's lacking a lot. Buyer beware.

Cathy K
Terrible purchase and I bought two
If I could give it less than 1 star I would. It keeps time but nothing else is accurate. I don't know what else to say other than it's junk.

Vicki
Like the watch except you have to push the side button to see time. Not what I expected and no notification if you have a call or text.

Diana W
Keep calling and leaving messages
After multiple frustrating attempts to return the watch (it was too large for my wrist)over a 10 day period, I finally threatened to report them to BBB as a fraudulent company. I received a full refund to my payment account. I still have the watch in the box, and they never asked for it to be returned.

Jeff P
no warranty, no pride in there product
Bought about 4 months ago . liked the watch . After 4 months one of the 4 mounting posts broke off and band fell off. i called the company and said it was only covered for 90 days...

casa26687
$90 paperweight after 90 days
After 4 months, the watch has stopped charging. The USB connector get quite warm, but the watch doesn't charge. When I contacted Support to get a replacement cable, I was told that after 90 days. they were unable to provide a replacement cable, apparently wouldn't even sell me one.
So, $90 paperweight after 90 days.

stewart d
No Response for request to return
I purchased this watch to get the blood pressure feature. I found it is not very accurate and there appears to be no way to make adjustments. I've contacted the seller several times to return it and have not received a response. Bottom line is I do not recommend this watch.