Rich Dad Poor Dad Reviews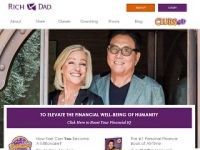 Rich Dad Poor Dad is the first and most popular book written by Robert T Kiyosaki. Its success has led Kiyosaki to expand his literary and business career into his own company CASH FLOW Technologies, Inc.
Rich Dad Poor Dad was written by Robert to be an all in one guide to wealth. The book has a motivational aspect as well as financial advice and strategies devised by Kiyosaki.
Essentially, Rich Dad Poor Dad tackles financial mentalities through two perspectives that Robert saw growing up. One through his biological father who was a hard working Superintendent yet had no net worth. The other was through his second "Dad", the father of a close friend, who had money and was constantly making more through successful investments.
One of the main goals of Rich Dad Poor Dad is to help people see the world of finance from the eyes of the rich dad. Specifically, to not only earn money but to learn how to let money earn for them.
Rich Dad Poor Dad has been successful in helping everyday people establish themselves as entrepreneurs and has given them courage to enter the business world.
However, many people have questioned the validity of his financial advice and its applications in the real world. Most of the concepts in Rich Dad Poor Dad deal with tax advantaged investment vehicles like asset investment and real estate, ventures that require money to make money.
Furthermore Robert Kiyosaki's company has several board games that they sell which teach business and finance. The most popular games, Cash Flow 101 and 202, run dangerously close to oversimplifying wealth building in their effort to entertain customers.
Rich Dad Poor Dad succeeds as a motivational product yet lacks specific real world financial answers. Its tendency to brush over concepts without going into detail subsequently hurts the audience.
You may also be interested in
Rich Dad Poor Dad Customer Reviews