RenttoOwn.org Reviews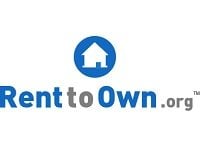 RenttoOwn.org is an online marketplace specializing in listing for for rent to own homes.
The company states the have over 2 million rent to own home listings in the US as of October 2023.
How Does It Work?
Rent to own is a home buying structure that has actually been around for decades, and RenttoOwn.org says that when it is structured correctly, this arrangement allows home buyers to invest in their home by turning lease payments into equity ownership.
The website states that because of recent changes to lending standards within the United States, this is an attractive and popular way to buy a home.
If you enter into a rent to own agreement, it is important that you know that you will have a FICO score that supports qualification for a mortgage at the time the rental period ends.
Most of these agreements run about three years, giving people a chance to repair their FICO score while they are renting.
RenttoOwn.org allows visitors to come their website and put in the zip code of the area in which they are interested in living.
They will then receive a list of results of properties that are registered for rent to own in the area in which you are looking with information like the number of bedrooms and bathrooms, so you get a very general idea of the property, as well as a thumbnail picture of the property usually from the street view.
In addition, customers who are interested in doing so can use their website to get access to services that will provide them with their credit scores, as well as credit repair and credit consultation services if you feel that you may benefit from those.
Reputation
First, it is important to point out that the entire concept of rent to own homes is far more complicated and nuanced than RenttoOwn.org makes it seem.
There are many pros and cons on the 'rent to own' type of homebuyer structure. Aside from whether this type of home buying structure is right for you, there are some other issues with the RenttoOwn.org.
There are many negative reviews for this company for a few different reasons.
The first is that once you submit your phone number to this website, people complained that they would get as many as seven phone calls in a day from realtors wanting to talk to them.
But a much bigger issue is the one they have with billing.
Multiple customers complained that they were billed repeatedly after they cancelled, and they were refused refunds for the money that was billed after they cancelled and was taken out of their account by error.
Customer Service
Customers who would like to speak to their Customer Service team about their questions, concerns, or complaints can do so by phone at 888-556-3889 or by submitting them directly to their website through their Contact Us link.
Cost & Price Plans
Visitors are welcome to use this website for a general search to see the number of properties that are available in their desired area, along with the general information mentioned above.
However, in order to see all the details of a property, including photos and the price, you will have to sign up for a paid account.
Customers can receive a 14 day trial of their website for just $1.00, and at the end of the 14 day trial if you have not cancelled your membership, you will be charged $49.60 per month until you successfully cancel.
Refund Policy
This website does not offer a Refund Policy because they provide their customers with the fourteen day trial of their services before you ever incur a full charge, and customers are welcome to cancel their membership whenever they choose and not receive any further charges.
In addition, if you do use this website to find credit counseling services, that will be considered a third party service and you will need to go to that website and provider to find out about any applicable policies.
Competitors and Alternatives?
There are many different rent to own websites, but as mentioned above this is a tricky home buying structure and buyers will likely do better by working with a licensed realtor who has dealt with these kinds of structures rather than relying on a website.
If you have any experience with RenttoOwn.org or their services, please leave your reviews below.
RenttoOwn.org Customer Reviews

Ron B
This site is more of a scam than anything. They claim that to view a house cost $1 and then you pay for it and see the house details. Apparently they are claiming that buried somewhere in their TOS that you are subscribing to a $49.60 per month subscription service. Upon calling them they are very (NOT) helpful and say it will take 10+ days to cancel this thing that I never agreed to do in the first place. It was not made clear that this was the agreement or I would never have spent the first $1 on these clowns.

Kobi
This company took money from my account for over two years without my knowledge. When I called I spoke to Josh and then Melvin.( a supervisor)....they won't even offer the company's address or legal name. I Just have to file a Civil suit to get my money......A total Scam.

John M
Annoying phone calls, can't unsubscribe they hang up on you
Constantly calling from unknown numbers, ask him to remove my name from their list and they still call 3 4 5 times a day. Very annoying hang up on you when you want to be taken off their list. I would recommend staying away from them.

Angela
I decided to use this site to help me look for a home and I got it the 13th and called the number that was on the website when I signed up on the 19th and canceled. I was still charged 29.95 for the credit and 49.60 for the RTO.org crap. So I called on the 21st and I was told they didn't cancel the credit services part of it but don't worry because the pending amount of 49.60 would not be withdrawn. Said there was nothing to worry about. They gave me confirmation numbers both times. So today is the 22nd and I look and yes they did take 49.60 out of my account. So this time I called the number on my bank statement for RTO.org and they tell me I have NEVER called. All they can do is give me 25.00 back. So they took my money after 7 days even though I canceled and refused to let me speak to someone in charge. This is the worst website I have ever experienced. I would never tell anyone to give this BS company your card number. And who knows what other charges they will decide to take out and I wonder is it really honestly even canceled yet??!! This has been horrible