Rejuvenate Products Reviews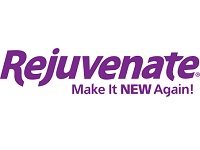 Rejuvenate Products, found online at RejuvenateProducts.com, is a company specializing in high quality cleaning products for home cleaning and restoration.
How Does It Work?
The goal of Rejuvenate Products was to create some of the best quality home care and cleaning products available, and, according to their website, they were not interested in creating ordinary products, which is why their slogan is "Don't just clean it, Rejuvenate it."
Their website says that they began with their first product, their Rejuvenate Floor Restorer, which "has consistently outperformed the competition" and quickly became a leader in the floor care industry.
They have since expanded their home cleaning and restoration offerings to include Floor Care Products, Kitchen Care, Bathroom Care, Leather & Fabric Care, Outdoor Care, and Automotive Care. The website says that they have already sold millions of products.
They also offer their customers who shop online access to their Platinum Rewards Program, which lets all members earn points toward future purchases.
For every 100 points you earn, you will get $1.00 off your order, and every purchase you make on their website earns double points. Points never expire, and they can used in combination with any available coupon codes.
Cost/Price Plans
A company like this that sells so many different products in different volumes and packages are going to have a variety of prices; customers will need to look at the specific product page in order to find the price options for their chosen item.
Customers also need to realize that these products are sold through many different retailers that you may find yourselves at when shopping, and therefore you may find different prices for these products, especially when sales and promotions are taken into consideration.
Refund Policy
Unfortunately this website does not provide a standard Refund Policy that covers all of the products that they create and sell at this time.
Once you've purchased one of their products, you are welcome to submit their order number to their website's Returns page and they will provide you with the information you need to return the specific product you have ordered, if returning it is possible.
Also, as mentioned above, since these products are available to purchase through so many different retailers that customers will need to adhere to the specific policy in effect at the retailer where they made their purchase.
Customer Service Contact Info
Customers who wish to contact their Customer Service team with any questions, concerns, or complaints can do so by phone at 877-959-1234, by email at [email protected], or by submitting them directly to their website through their Contact Us link.
Reputation
As with any company that sells a wide variety of products, customers are always best served by searching for the reviews of the individual product they are considering buying.
That being said, this company does appear to have a good reputation within the home care industry, and they do say that more than one of their individual products has won awards for its high quality and superior performance.
Competitors and Alternatives?
Certainly there are many other cleaning products on the market.
Customers will be best served by considering the specific product they are thinking of purchasing from this company in order to find the best alternative.
If you have any experience with Rejuvenate Products, please leave your reviews below.
Rejuvenate Products Customer Reviews

Irene L
Waste of money and time. The cutting lube is a tiny packet and not nearly enough to use for more than maybe one minor scratch. I also purchased the cleaner/polish. The pump dispenser broke on the first try. I contacted Customer Service (online chat). They were no help and rude as well.
Did it remove the scratches? It did lessen 1 scratch a little bit. I found a MUCH better product: Scratch-B-Gone. You can find it at https://www.barrysrestoreitall.com. It worked so much better. You still have to put a little time and effort to remove scratches but it is time well spent. Instructional videos are there too. Important to apply the cutting lube WITH the grain of the stainless steel. My sink has the shiny luster back that it had when it was brand new.

Jean R
The cleaner worked great on my tile and wood flooring. I am very impressed with it. I have tried other products that did not remove the dirt and oily grime from the kitchen tile floor.

Elmont W
This is a piece of junk, used it one time and when I tried to use it a week later the trigger for the sprayer was frozen up and the nozzle was plugged up, don't buy this

Joe D
I purchased 2-32 oz bottles of this cleaner thru Home Depot website. Followed all instructions on the bottle and the product did not lift even the surface dirt. I would appreciate a return credit to my card.
Joe Darragh
201 Ethel Street
Valley Stream NY 11580.

Louqnn
Nothing more tan old fashion wax that leaves a build up that grabs dirt. It took 2 bottles of ammonia to get it off my floor. I still have to go over it one more time to get back he floor clean.