Regus Virtual Office Reviews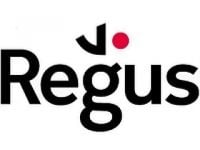 Regus Virtual Office is a flexible workspace company that states they have over 1500 locations in 600 cities across 100 countries.
Their business centers have products and services that are more cost effective for companies. Regus is afforded with the opportunity to provide customers office space, virtual offices, meeting rooms, mailing addresses, receptionists and much more.
At Regus you can rent office space per hour, per day, per month, or yearly. If you are in need of an office at minute notice they can make it happen.
They have staff on duty at all times at all of their locations to assist their customers. Regus receptionists will answer calls on behalf of your company and their staff can type, fax, bind, copy documents if you need them to do so. Other services offered are to arrange couriers, rental cars, flower deliverer, dry-cleaning, and set up catered lunches.
In addition, their offices have the latest technology and nice furniture to make it feel like an office where you want to be and where you want others to visit.
Online complaints against Regus are primarily centered on hidden fees that are listed in their contract. They also have been known to increase rent with each new lease your sign.
This may be an unavoidable situation for Regus as they do not own the buildings they occupy. While some of their offices have long term leases and have created some sort of partnership with the property owner, there are some that do not hold that same advantage. If the property owner increases their amount of their lease rent they will pass on the increase to their customers.
Read through the entire contract and lease information before signing it and make sure that you have thoroughly reviewed the fees and have a complete understanding of their fee structure.
If you have any experience with the Regus Virtual Office or their services, please leave your reviews below.
Regus Virtual Office Customer Reviews

Steve H
My company singed up for Regus services last August. In my due diligence I requested a copy of a fully-executed agreement binding my company. They refused to provide such saying that the on-line "sign-up" constituted a formal binding agreement.
In Florida, where I am located a party must provide a copy of such upon request - however they have refused. I will be filing a law suit against Regus - others should do the same! Buyer Beware!

steve d
Intentionally designed to prevent you from ending contract. Neither the local office or customer support can help. Happened to me last year despite many calls, and the same thing is happening again this year. Google "Regus reviews" and you'll see half the complaints say the same. It's like a horrible maze w/no exits and I must believe it's intentional due to hundreds of reviewers having the same experience.

Keey H
To whom this may concern, please be aware and read carefully. I was only like 2 weeks late on getting Regus their monthly payment and they treated me as if I was 2 months behind because they instantly sent my account to collections.
So make sure if you're going to start a contract with this company make sure that you are able to pay on time with no exceptions because your situation will not matter no matter the history that you have with this company even if it has been good.
They have no courtesy for tenants. This could explain why their office floor is so empty. First off one of the collection agents I spoke with insulted me with a statement saying if I would have read my contract then etc... which I explained to her that I clearly understand the contract but the issue that I am having has nothing to do with the contract.
I explained to her that I noticed that no representative ever checks the account before reaching out threatening a tenant to see if a situation has changed. The system shows that the issue is resolved but Regus still try to pursue legal action even after a situation has completely been resolved, one of the collection agents I spoke with a couple hours before this person said she could see where I made the payments, she can see that I am current and she can see that the payment was made days before prior to the email I received from Regus threatening to take legal action.
So I reached out to see why Regus is threatening to take legal action knowing that they can see the issue resolved and she brought up the contract to diminish my concern. I mean if one representative can see it that means everyone can, correct?
YES! I've been with this company for 2 years and I've been late before but never experienced this type of treatment. Out of the 2 years of being with this company I've only been late 4 times making this situation the 4th due to the slow period of my business which all companies have slow periods. I'm an independent company so I'm guessing that's why I have been treated as such.
Even the receptionist at the Regus office front desk stated to me that this happens to independent businesses all the time at Regus so if for any reason if you can't afford it anymore I could just move out and she could terminate my contract, send it to collections, take me to court and put it on my credit. WHAT? What type of courtesy and care for a tenant who's been 95% of a contract paying on time is this?
They treat me as if we have constant issues. She went straight in if I can't afford it which is not the case at hand. Communication is key, something I see that Regus nor its representatives have for tenants. Regus and its employees need to work on addressing situations with loyal tenants.
After so many years or months of current payments you would think to have a little more courtesy with tenants instead of threatening to take legal action without even knowing the tenants' situations.
I would never recommend anyone to this company ever and once this binding entrapped contract that this company has in place expires I will be more than excited to move my business elsewhere. I will be taking this review to Google, Yelp, Bing, etc... and any other social spot that I could leave a review on this company. I thought Regus would be better at resolving issues such as mine but I was completely wrong.

LaShaunna K
DO NOT CLICK ON ANY LINKS TO THIS COMPANY!! You will regret it. Their business tactic is unethical!!
I have not entered into a contract with them and yet they have billed me for $ 1000.00. for inquiring about the virtual office service!! I did not authorize this contract! I have not used this company or their service NOT 1 day. I inquired about the services, I still had questions that I needed more information on, I did reply. Yes, I was looking for a virtual office service. Did I enter into a contract with them? No!! Unfortunately, their online app requires you to input your information to get the through their site and to have an agent to contact you! (This is their devil den...right here.... don't fill in the app!!!!)
or you'll be right here with me!
Trying to warn others, while working with the BBB and other legal councils. taking time away from your building business to fighting those trying to bully in theirs!! lessons Learned!! Defiantly check with the BBB and company reviews FIRST!!! FRAUDULENT!! UNETHICAL!! SCAM!! DISHONEST!!

Justin P
Fraudulent Company! Changing contracts with white-out!
Regus changes contracts with white-out behind your back! Always get copies.
A little back story - Had to transfer to a different location because current location (plaza 600) was a joke. 6 months never received my mail, couldn't leave voice messages because Voice mailbox was always full. Contacted area managers/HQ's for over 4 months but never heard anything back. Good luck trying to receive contact from anyone from Regus until you threaten to leave. "Then you're affecting their pockets"
I requested a transfer to a different location, signed a new contract, moved all mail and stuff over to the new location. Little did I know they pulled a fast one a couple days later. They took white-out to the new contract and added funds, then charged me.?. Oh, I called Regus out and showed my original contract. They stated, nope this new white-out contract is a binding contract because the person who did it put there initials beside the corrected area...??..
At this point I was done; I would never stay with a company so dishonest and full of scams. So, I sent an email out stating affective immediately I was terminating my service with Regus. This was the response I received
"As outlined in your T&Cs + House Rule, No less than 1 months' notice from the 1st day of any calendar month, termination made this month will end agreement March 31, 2022". Plus, transfer fees.
I put my email out in January. So they're making me pay for February & March for a contract they forged.
This fight is not over, I'm reaching out to legal. If anyone is already fighting the battle with Regus please let me know how this or I can help you.
See for yourself, I've attached old & new contract, exactly the same besides the white-out areas. Sorry I blacked out personal info.

James Z
Regus won't refund for Covid-19 concerns
- I tested positive for Covid
- I notified Regus in advance of that reservation that I needed to quarantine per CDC Guidelines
- And they said sorry that's not a valid concern, that's outside the scope of our Guidelines and refused to refund the money
I am a trained medical doctor and entrepreneur and this is absolutely unacceptable. We issued a chargeback on Regus and we'll never use your services again.

Joe E
The Most Petty Company Ever
I needed a Google compliant office. The person I talked to assured me that it was Google compliant so I signed up. An hour later I was advised that it was not Google compliant and I called them back to cancel. Was led on a journey through many different people who said some other department could take care of it, until eventually, 2 days later I was told it could not be cancelled because I signed agreement, but I could be upgraded to a Google compliant office.
This really soured me on them but they have kept on harassing me for this $56 a month office like their lives depend on it, and they keep bringing up the signed agreement, but never respond when I tell them for the millionth time that I signed having been given the wrong information by the agent. They had a chance to keep me in another office, but their pettiness turned me and my whole country-wide company off to using them ever again.
Don't ever trust their word. They are the most petty company I have ever run across.

Joe W
After various unauthorized charges and an absentee approach to the Coronavirus, it's clear everyone should avoid Regus
I worked at a dedicated desk at Spaces (Near North Chicago) for about five months, then signed for a private Regus office at 605 N Michigan Ave.
Both buildings were nice changes of pace for me, as a freelance writer who wanted more human interaction. But in that short time, several problems occurred:
- After two months, Troy Trevino (Area Sales Manager Chicago) asked to renew my contract. I felt I had just moved in. It was January. He wanted me to sign for a May renewal, for another 6 to 12 months.
- That renewal had a $50 rent increase. I asked for reasoning. Troy replied, "I can reduce that a bit for you..." It felt like working with a car salesman. No explanation. Only weird, baseless haggling. Regus seems to sneak in rate increases/fees, taking advantage of busy lives.
- In February, I moved offices. I asked Troy Trevino twice if the new $308 rent would increase later. It was comical watching him avoid the question, looking down and mumbling, half shaking his head and walking away. (I'm thinking, okay whatever, I'll decline if they increase it again.)
- Troy Trevino only gave me two pages from the "House Rules." I later found the actual contract is 12 pages.
- Regus charged an unauthorized "restoration services" fee when I moved offices.
- This one's my favorite. Regus has a coffee machine at 605 N Michigan. It costs $30 per month to use. I told Troy and Iwona (the nice receptionist) that I don't drink coffee. Don't charge me, please. Every invoice since then has included that $30 coffee charge. I finally got it removed for one invoice. But guess what? After the Coronavirus hit, the coffee charge was on my invoice again.
Finally, the Coronavirus.
I understand everyone is in the same boat, but Regus failed to address the virus in any civilized, human way. There was no outreach. Instead, Regus opted for silence and to keep locations open. My lawyer said it's because if they close doors they must stop invoicing.
Regus eventually made "offers" after many tenants scolded them online.
I asked for a brief rent pause. This is my biggest expense as a freelancer and Regus can't uphold their part of the contract. Regus replied with this offer: Extend my agreement for three months. In exchange, they'll cut the next two month's fees by 50%. I mulled this over, and came to the conclusion that Regus is, in fact, attempting to profit off a global crisis.
Let's break that down. My rent is about $300 per month. They're saying that if you pay us $900 more in the future, we'll save you $300 now. Even during normal times, that's a horrible deal. That's almost the exact definition of profiteering.
I'll end with advice for other Regus tenants (given by my small business lawyer):
- Block credit cards from Regus.
- Write online reviews to warn future tenants and get Regus' attention.
- Go to the press. I've contacted WGN and the Chicago Trib. Journalists are writing stories about the good/bad companies of the Coronavirus.
- Don't accept an offer that extends your lease.
- Keep an open, communicative mind, even if Regus doesn't.
- DON'T PAY REGUS until they agree to one of YOUR offers.
- It's probably not cost-effective for Regus to sue for non-payment. The lawyer said they'll probably send you to collections. She said you're often better off dealing with collections. It may ding your credit, but that's fixable. Collections agencies negotiate. They may accept a few hundred bucks to settle.
- Document every potential way Regus breached the contract.
Overall, Regus facilities are nice. Unfortunately, Regus seems to embrace an archaic billing system, along with predatory sales practices and minimal customer service.
Pair that with the absentee approach to the Coronavirus and it's clear that I'll never pay for a Regus office again.
Please stay away from Regus. Spend your money designing a beautiful home office or to support a smaller coworking spot. Good luck to all current Regus tenants! My email is mail (at) joewarnimont (dot) com if you'd like to reach out.
Double billing, hidden charges, staff turnover, no responses from corporate, and leaving is just as bad. They will forward your mail, but for a small fee of $60 a month. Really have nothing nice to say other than it was a convenient location.
I would Give Them No Stars
Don't do it. Don't use them. I put up with the garbage for 6 years and even trying to leave them is horrible. They won't release my phone number and want to charge me $60 a month to forward the mail. And I am leaving because they are shutting down my location.

Tresa C
STAY FAR FAR AWAY- THEY DOUBLE BILL
I travel around western Washington state as a mediator and though using Regus offices in various locations where I would conduct foreclosure mediations was a good idea. I quit using them almost four years ago because they would try and book me twice at two different times of the day for the same mediation and then try to double bill me. I now rent conference rooms at law firms- very handy. My account at Regus had a zero balance at the time of my parting ways with them.
A few weeks ago, a Regus representative started calling me on my business phone and has been harassing regarding four alleged invoices that just suddenly appeared and claiming that I owe them $196. Their "proof" is an Excel spreadsheet. As is common with foreclosure mediations, often the parties will come to a resolution in the days prior to the mediation session and I would cancel my conference room reservation with Regus. I believe that these suddenly surfaced invoices were from sessions that canceled 48 hour in advance for which there was no billing and now they are trying to bill me again. The Regus representative has been so aggressive I had to block the telephone number with Verizon. She also told me I had to prove I paid them - my online bank has no records from four years ago. I told her they had to prove that I was there and used the conference room. I am now doing my part when mentoring law students to inform them against using Regus offices when they graduate and begin their own practice. Doing my part to save future victims from this horrible business.

Jim L
Stay away from Regus!!! They have never ending fees. I have been a Regus member for over two years and needed to terminate my agreement due to a move. Since I missed a email (they send some advertisement everyday) they claim since I did not object they extended my contract to 2020 with no way to cancel!
Beware, this company is a bunch of frauds. There are many other office offerings at lower cost, better service, and honest practices.
Jim
Regus account number 7598924

Matt
Regus is worse than used-car salesmen. Extremely sketchy, unprofessional. Stay Away!
Regus is worse than used-car salesmen. Extremely sketchy, unprofessional. Stay Away!
I was setting up a new business, and just wanted to purchase a business mail address while I still figuring some other details, like co-working office space. I thought I was purchasing a month-to-month business mail address.
First, the sketchy salesperson NEVER explained they had any options for term length: month-to-month, 3-month contract, and 12-month contracts. She told me the monthly rate and could waive one of the two month deposit fees (they call them "retainer" fees, which is bogus; you aren't retaining them for service. It's a deposit fee). So I paid for a one-month deposit and my first month of the agreement when I signed up for the Virtual Office Mail Box.
Second, I only agreed to the price because the sketchy salesperson made it sound like mail service also included phone reception. At $60+/month that would have been a good deal. It isn't. She mentioned they had that service *also*, but for that service, it's $220/month. $60+/month for only a mailbox is a terrible deal. But I since I figured I would get a more permanent office space solution with a co-working center and planned to then change my mailbox address, I let it slide. I shouldn't have.
Third, two days (just 2!) after I signed up and entered my credit card info, I got a nasty-gram email from Regus saying my invoice was past due. What? How on Earth could that possibly be? I just paid them two days prior. I complained and they said "oh sorry...that was auto-generated". Not professional. Not a good customer experience.
Four, I logged into my account to end the agreement after I found a suitable co-working space, and click through the screens to "Terminate the Agreement." They even sent me an email titled "Confirmation of Termination". But as I find out two weeks after receiving this email, it's only confirming that my agreement will terminate.... at the end of 12 months!
Five, I get a notification from my bank that I've been billed after I thought I cancelled my agreement. I call Regus to find out what's going and on and discover for the **first time ever** that my agreement is for 12 months. The customer service representative tells me that they have month-to-month agreements, 3-month agreements and 12-month agreements at this time. NEVER BEFORE was this mentioned to me at all.
Six, their contract terms (the ones you never read) state you must notify Regus, in writing, 3 months BEFORE your contract end date if you wish to cancel --- OR it automatically renews on you for the same term. That's right: You didn't know you were in a 12 month agreement, and failed to state in writing you want to cancel by month 9 -- guess what: you're on the hook for another 12 months!!
Seven, their contract also says that Regus may cancel the contract on you at their **sole discretion** and if they do, you still owe them ALL of the money for the entire contract length, as if you hadn't been cancelled.
It's one thing to provide the client options and let them choose with full information; it's another to try to trick people into deceptive contracts. Regus is the later.
Like I said: sketchy and unprofessional. Stay away from Regus. They're worse than used-car salesmen.