RecordGone.com Reviews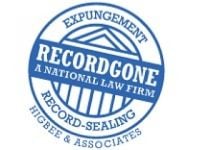 RecordGone.com is the online home of the record expungement and criminal record removal services of the law office Higbee & Associates, who claim to deliver high quality services for unbeatable prices.
How Does it Work?
RecordGone.com promises that all their attorneys are licensed to operate within their state, have graduated from top law schools, and have maintained great reputations within their field.
If you have a criminal record that you are looking to have expunged or removed, RecordGone.com provides a free Eligibility Test on their website to see if you qualify for services.
After taking their brief test, you learn whether or not you're record is qualified to be cleared.
If so, RecordGone.com will provide you with an estimate of the cost of their services, as well as a comparison of what they claim another law firm would likely charge you for the same services.
The cost of their services depends on how many cases you are looking to expunge, the type of cases, and the state or states you are trying to clear records in, but it is likely to be upwards of $1000, which they claim is only a fraction of what another firm would charge.
In addition to helping you expunge your record, for another $150 fee, RecordGone.com will provide you with their Expedited Criminal Database Update to ensure that the leading background check companies reflect the legit changes to your record within 14 days.
If you have complaints about the service you have received, RecordGone.com also provides a money back guarantee on their services, the details of which can be found on their website.
If you have any experience with RecordGone or their services, please lease your reviews below.
RecordGone.com Customer Reviews