Real Eats Reviews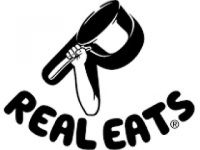 Real Eats, found online at RealEats.com, is a company that states their aim is to help customers find a meal solution that doesn't require them to trade off healthy eating for convenience.
How Does It Work?
According to their website, most people have realized that eating "real food" isn't as easy as it sounds.
It can be difficult to find the time to pick up groceries, chop, prep, cook, then clean up afterward. Most people end up eating fast food or quick prep food that isn't very good for them.
Real Eats decided to provide people with a solution to this problem by creating a meal delivery service where the meals they ship to you are vacuum-packed into food-safe recyclable pouches which only take about six minutes to heat up and be ready to eat.
Their website promises that all you have to do to prepare your RealEats meal is to take their vacuum sealed pouch and place into boiling water.
This heating method ensures that food is warmed evenly and thoroughly each and every time; in addition, because of the vacuum sealing their products can be kept in the refrigerator for up to 7 days.
Unfortunately their website does say that their service cannot currently support any vegetarian, vegan, or specialty diets, nor can their customers choose which meals to order, but they do promise that they offer a fixed but rotating weekly menu, that's over 450 unique recipes so their customers won't get bored.
Finally, customers should also know that this company currently only ships their meals to the Northeastern US region and deliveries will only be made on certain days.
Cost & Price Plans
This company provides their customers with four different meal plan options at this time. The first and most affordable is their 4 meals per week plan, which is priced at $60.00 per week.
Customers can also choose a 6 meal per week plan, an 8 meal per week plan, and a 12 meal per week plan, which is their most expensive plan priced at $153.00 per week.
Refund Policy
This company says that, unfortunately, due to the freshness of the food they sell they cannot accept returns of any kind, but they do say if there is any problem with your subscription for any reason to please contact their Customer Service team by phone or email.
Though they do not have a published policy regarding refunds, they do say that they take quality "very seriously."
Customer Service Contact Info
Customers who would like to contact Customer Service with any questions, concerns, or complaints can do so by phone at 855-695-6387 or by submitting them directly to their website through their Contact Us link.
Reputation
Because this service is still fairly new and is only available to a specific area of the country, there are not that many customer reviews available for this product at this time.
The few which are available are very positive, however, so customers who are comfortable with not having much control over the meals they are sent may be interested in trying this service for themselves.
Competitors and Alternatives?
There are many, many different meal delivery services available for customers depending on a variety of factors, including where they live, what types of meals you are hoping to order, your budget, and more.
If you have any experience with Real Eats or their products, please leave your reviews below.
You may also be interested in
Real Eats Customer Reviews

Scott P
We tried RealEats at the beginning of the year. The food quality was good but the portion size for the cost wasn't what we needed. I contacted them in Feb. and told them I didn't want any more meals.
At the end of Aug. (on a Friday) I found a charge from them for $168 on my account. I reached out and left a VM for customer service and also e-mailed them telling them this was an error and that I wanted a refund.
On Monday I received an e-mail with tracking info. stating the meals had been shipped. On Tues. customer service contacted me and told me they wouldn't issue a refund since the meals had shipped. Even though I didn't place the order. They offered me a credit. I responded and told them that I still wanted a refund.
I received no further response from them. I never received the meals and tried to reach them again for the refund with no response. I've now disputed the charges and put a stop payment on my account to ensure they don't charge me again.

Tita R
Coconut Daal with Garlicky Supergreens and Brown Rice
Very disappointed when I opened this type of meal the packaging was wrong. There's 2 bags of frozen rice, 1 pack of veggies, and 1 pack of nuts something is missing because the color of the soup is yellow so that yellow package is missing, they placed 2 packs of rice instead of that soup base.
Crazy now I have to think of another quick lunch instead of this mess.

T V
Not as described. Very deceptive.
I just received my first package of meals, today, in the afternoon of Jan 20th. The paper inside the box a states meals should be consumed by Jan 24, which is only 4 days from now.
The website states "Your meals will stay farm-fresh for up to a week". And then they modify this by "but you can always check their best-by date insert in your box". They only give me 4 days??? If the website states that food received can be refrigerated for seven days, then that's exactly what I expect to receive.
Then I contacted Customer Service through their website and they advised that I should freeze these meals however, "that this may cause some textures and tastes to change". The whole point was to order fresh food, not to freeze food because they sent you food that expired before a week.
And not even an apology for the reduced time.
I ordered real eats for my weekday breakfasts and for lunches at work. One delivery is all they are getting from me.
Requested refund but not holding my breath. I noticed people complaining of being charged after suspending their accounts, so I've revoked the PayPal authorization.

Melissa
The food is delicious and is perfectly done when you follow the instructions. Portions are large. The only negative for me is that you can't choose a different side, such as substituting rice for quinoa.

Cyndy B
I was a Realeats customer until recently. They discontinueD a breakfast choice that was a favorite. I thought they could accommodate me and put my breakfast selection back on the menu.. They did not. Why?? This was not an entree choice..

Bayleigh P
This information is inaccurate. You CAN choose your meals, fully manage your subscription (frequency of shipment, pause, cancel at any time).

Chris B
I found the food to be excellent. I like how easy it is, just boil. And for 1 person it's great.

Janet D
If you are going to try this plan, order 1 week, put 2nd

Cindy B
Signed up a couple of weeks ago and picked 4 meals to be delivered on 3 July. Realized a couple of days later that I would not be home to receive it and returned to the website to cancel the order. Was told that I had no orders yet. Got the same result several times. Figured there had been a screw-up and that I was okay. Package was delivered on 5 July, completely thawed, warm even. Have tried contacting customer service numerous times via email, phone, and live chat. No reply and my credit card has been charged a second time. You've been warned.