Real Plans Meal Planner Reviews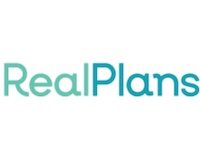 Real Plans is the creation of popular natural health blogger (the Holistic Squid blog) Emily and her husband. Through her blog Emily has helped thousands of people reach their health goals with whole food recipes, nutrition advice, and a wealth of information on fertility and pregnancy.
Through years working on her blog she developed a series of weekly meal plans that her readers found to be very helpful. Now through Real Plans they have turned that practice into a fully functioning monthly meal planning service.
How Does Real Plans Work?
The idea behind this service is simple: they will help you plan home cooked meals more efficiently and relieve you of the burden to constantly come up with new and enjoyable recipes.
Through the Holistic Squid Blog they were able to generate lots of feedback from meal plan subscribers that they've used to make their paid version inline with what people requested.
Real Plans customers are able to customize menus, easily adjust for portion sizes, modify recipes, create iPhone shopping lists - with notes and pictures, and plan for customized time frames. You can also scale up your recipes whether you're cooking for 2 or hosting a dinner party.
The recipes are user friendly and designed to save you time while feeding your family wholesome and nutritious foods. When you subscribe you have the choice of meal plans based on your dietary preferences and restrictions.
You can dial your plan in based on the following: meat eater, vegetarian, gluten free, paleo, AIP, whole 30, or Dairy + Gluten free.
Cost and Price Plans
They offer several pricing options allowing you to pay $14 per month on a monthly billing cycle, $11 per month quarterly, or $6 per month annually.
Customer Service
The company offers a 1 time 10 day money back guarantee on subscriptions purchased through their website. However there are no refunds offered on renewal fees, so if you started with your trial period you need to cancel before your billing cycle begins.
Real Plans recommends canceling your subscription at least 2 days before it is due to give them enough time to process your request.
If you have any questions you can reach support at [email protected]
Online Customer Reviews/Complaints
Overall reviews for Real Plans are mixed across a broad range of issues that the service provides. There are many detailed online reviews posted from food bloggers. They go through the whole process of using the app and show you how to set it up for optimal results.
Some of the pros that they point out include:
Limiting food waste because the meal plans factor in what to do with leftovers
The shopping list is convenient and more efficient for shopping
Overall savings since your shopping is based on exactly what you need and not impulse buys at the store
That being said, it's important to note that a lot of these bloggers get paid if you use their links to sign up for Real Plans. This doesn't discredit their reviews but can be one reason why their reviews skew more positive.
On the complaints side of things, the majority of issues seem to be with the way the company handles its billing and auto renewal. Some people found it difficult to cancel in time since Real Plans doesn't offer phone support for customers. Others were equally upset because the company did not send them a reminder that their subscription was set to renew.
As for the recipes themselves, they are more subject to personal tastes with some people enjoying them and others not rating them as highly.
At the time of this review Real Plans has a 4.2/5 rating on google play.
Competitors and Alternatives
There are many food bloggers that offer meal plans so it's simply a matter of choosing someone whose food tastes are similar to yours. You can also piece together your own meal plans from a variety of sources but that is more time consuming than subscribing to one centralized resource.

Some other popular meal plan providers include: PlateJoy, Paprika, and emeals.
Where to Buy?
You can sign up directly from their website at RealPlans.com or download from your Itunes or Android app stores.
Is Real Plans Worth It?
You can try out the service through their 10 day trial period and see if it's for you. Just pay attention to your start date, and if you know you want to cancel your subscription make sure to contact them ahead of time.

If you have any experience with the Real Plans Meal Planner, please leave your reviews below.
You may also be interested in
Real Plans Meal Planner Customer Reviews