PureFormulas Reviews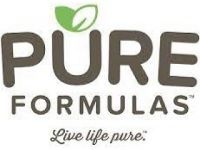 PureFormulas is an online provider of healthcare supplements that promises to give their customers the same quality name brand products that they would find at their healthcare providers' for cheap.
How Does it Work?
PureFormulas.com states they stand behind the authenticity of everything they sell, saying that the products they offer on their website are the top selling brands on the market, but simply at lower prices.
If you find the same product elsewhere online for a cheaper price than you found it on PureFormulas.com, they state they will match that price for you, allowing you to get your product for cheaper and still take advantage of their policy of Free Shipping anywhere in the US.
In addition to their Free Shipping policy, PureFormulas.com also offers their clients no sales tax and free shipping if they should need to return anything to their warehouse at any time.
If you should have any complaints regarding your order, they're website says they offer their customers a 100% satisfaction money back guarantee which says that if your products don't arrive in perfect condition, you'll get a full refund.
PureFormulas.com also has a rewards program where you can earn points for making purchases, for writing reviews of products you've previously purchased or had experience with, and for referring friends and family members to their site.
One hundred points is equal to one dollar, and these points are redeemable for money off future orders on PureFormulas.com.
If you have any experience with PureFormulas or their products, please leave your reviews below.
You may also be interested in
PureFormulas Customer Reviews

Riggs
Cardio-Lyph-Chelate Tablets are very obviously spoiled. Pureformulas.com refuses to accept responsibility even after I sent a photo of discolored, stinky tablets.

Natalia b
Missing items from my order, no one answers call service ever, it has been over a week and nothing has been done, horrible customer service, never buying from this site again, they stole a hundred dollars from me

Robert N
Horrible customer service
I've purchased from PureFormulas for quite some time. Fast shipping and good selection of products.
Whoa to you if you have to return anything. Horrendous customer service. I have since gone on numerous other review sites and have found that I am not the only one who has been lied to and led on without any help whatsoever. Do yourself a big favor and do not purchase from this company.
They have lost a long time customer over a $34.00 product. EXTREMELY STUPID on their part. I will tell everyone I can to not deal with this company every chance I get.