Pura Diffuser Reviews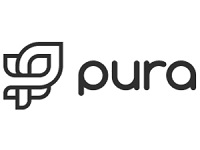 The Pura Diffuser is a smart device that the company states lets users customize the scent of any space using a smartphone app.
How Does it Work?
The Pura Home Fragrance device is a smart fragrance dispenser that allows you to control the aroma of your room from anywhere you might be. You can do everything from your smartphone so that you can arrive home to it smelling sweet and clean.
There are plenty of different fragrances to choose from, too. While Simply Lavender offers relaxing, rejuvenating scents of lavender with pine and eucalyptus, Yuzu Citron is a refreshing blend of yuzu flowers and Japanese yuzu citrus. Everything can be controlled directly through the smart fragrance app.
What's truly remarkable about this diffuser is that you can customize your scent schedule and save your fragrance preferences. Every device uniquely holds two separate scents, but it will only run one at a time so your nostrils aren't bombarded with multiple fragrances at once.
The device only runs when you want it to. All the refills come prefilled and premeasured so that you don't have to invest in additional messy refills. You can change your scent intensity and it even comes with an ambient nightlight with thousands of different colors.
The Pura even has a digital fence so that your device will only operate when you are at home! It can also be integrated with Alexa.
All of the ingredients used in the Pura Home Fragrance device are responsibly sourced and natural. They are pet-safe, too.
Cost and Price Plans
The Pura smart device is just $39 when you buy online. It comes with free shipping, 30-day returns, and even a one-year warranty.
You can purchase additional scents, such as Volcano, Moroccan Amber, and Sea Salt Grapefruit, for just $16 a bottle on the company's website.
Competitors and Alternatives
When it comes to smart home fragrance diffusers, this is just one of the many options on the market.
Another one for you to consider is the Moodo Smart Home Fragrance Diffuser. This one does not plug into your wall but instead is battery-operated. You can load this diffuser with up to four scent capsules at a time, choosing from dozens of different fragrances. Like Pura, the Moodo can be controlled from your smartphone. You can even mix and match the fragrances!
This device can even be paired with Amazon Alexa, Google Assistant, and Siri Shortcuts. However, the Moodo diffuser is much more expensive.
Another option is the Aera Smart Home Fragrance. This diffuser offers subtle, even coverage, and lasts ten times as long as a typical candle. It's sustainable and hypoallergenic, but also relatively expensive- one diffuser starts at $150.
Online Customer Reviews & Complaints
Customer reviews of the Pura Home Fragrance device are, for the most part, positive. Amazon reviews claim that the product has a nice scent, is easy to use, and is a good value for the money. Because you can customize the intensity of the fragrance, what you do with it is truly up to you.
There are a few complaints to mention, however. Some customers complain that it needs to be reconnected to your phone via Bluetooth each time it is moved to a new outlet.
Other customers, though appreciative of the device's built-in ambient night light, don't like that it does not have an ambient light sensor to turn off automatically.
If you decide that this is the right choice for you - and want to earn some rewards - you can sign up to become a Pura ambassador.
To do this, you will need to fill out a Brand Ambassador application so that the company can learn more about you.
Then, you'll share information about Pura with your family and friends to be eligible for rewards, swag, and other gifts (including commission and a 30% discount!).
Customer Service
Need to get in touch with customer service, whether to initiate a return or ask questions about your order? You can do this by emailing [email protected] You can also chat with a representative on the Pura website.
There is no customer service phone number listed online, but the company does have an email newsletter. Subscribe to it, and you'll receive regular updates, access to exclusive deals, and more. Pura also has social media pages on Facebook and Instagram.
Where to Buy?
You can purchase a diffuser directly from the manufacturer as well as from retailers such as Amazon, Ulta Beauty, Sephora, Nordstrom, Nest, and Macy's.
Is It Worth It?
The scent of your home can say a lot about who you are. Unfortunately, a great-smelling home often comes at a price.
Candles can be dangerous to use - especially if you're not at home to keep an eye on them - and diffusers or other scents often come with expensive, difficult-to-change refills.
Whether you prefer a woodsy scent, a floral aroma, or a fresh, citrusy fragrance, the Pura Home Fragrance Diffuser might be the right choice for you.
Although it does have some customer complaints, we believe the benefits far outweigh the negatives. With so many different scents to try - along with a generous refund policy - there's no reason not to give it a try.
If you have any experience with the Pura Diffuser, please leave your reviews below.
You may also be interested in
Pura Diffuser Customer Reviews