Public Goods Reviews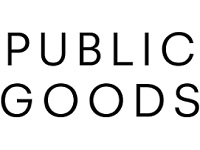 Public Goods is a household consumables products company that focuses on health, transparency, and sustainability. Buying Public Goods products requires joining a membership program with a yearly fee.
Public Goods Products
Public Goods sells a variety of household and body care essentials and other items.
All products are made from the purest of ingredients and feature simple artwork that is meant to complement and enhance all types of household settings, instead of the usual colorful and clashing designs on other brands.
With so many harmful chemicals and additives being allowed in our everyday products, it is wise to start taking care of your body and your family by using healthy and safe items.
Public Goods design is as simple as it comes but is elegant at the same time and is not designed to manipulate your mind into buying the product for its bright colors. Some items come in travel size convenience which is perfect for on the go trips or for products to carry inside your purse.
Click on any item for complete and detailed descriptions of all ingredients and what risk factors are eliminated. You can also see where the product was made and the cost.
How Does It Work?
The process is quite simple. You only have to register your membership and then order the products you desire. You will receive it all directly to your doorstep, hassle free.
Cost and Price Plans
The Public Goods Yearly Membership costs $79 per year and comes with a free 14 day trial.
Free shipping is available only on orders with a subtotal above $45. Free shipping is also limited to shipments within the contiguous U.S. Orders are processed and shipped the next business day.
All placed orders should arrive within a two to eight day business time frame. All shipments are given a tracking order number and will typically be sent via USPS or UPS.
Customer Service
The best way to contact Public Goods is through their email address: [email protected] All return policies are valid for 30 days after purchase, not when the product was received.
The company states that they do not accept returns at this time.
If you receive defective or wrong products in your shipment order, you are eligible to receive a full refund (product price and shipping as well) within 30 days.
You will also be charged a $10 restocking fee, which can be deducted from the total of your refund. Refunds take about three to five business days to arrive.
All memberships can be canceled, but once you follow through with a cancellation, you cannot reopen or re-subscribe to Public Goods.
Read the full Terms of Service section to learn more about the regulations. You may also choose to email for any questions about the products, service, or issues encountered.
Online Reviews & Complaints
Public Goods has an outstanding review average on almost every website we encountered. They are acclaimed for their wonderful and working products, along with the eco-friendly and health conscious ingredients.
The only cons that were found were due to small sized products, which means more frequent ordering than if bulk options were available.
Also, the bamboo razors and toothbrushes could use an update. All customers raved about the simplicity of the products and the ingredients, which means less mess and fewer harmful ingredients.
Where to Buy?
You should limit all purchases to the main website of Public Goods for safe purchases. However, you can find them on third party websites if you wish to test them out for a tad cheaper price.
Competitors and Alternatives
Public Goods vs Brandless: The difference between these two companies are the variety of products available. Brandless includes a lot more, such as kitchen supplies, food and even stationary.
Other than that, service and health conscious products are also the intention. Other competitors and alternatives to Public Goods is No Name and M/F People.
Both offer a one time discount if you subscribe and place your first order. All three offer organic or healthy ingredients in everyday products that are mainly focused on beauty care.
The Bottom Line
What you use on your body and for your body is all up to you. Only you know what works and what doesn't.
It's important to start making more environmentally and health conscious decisions about what and how we use products, for our own health and to help preserve the world we live in.
Test driving a few products that are deemed safer and purer may just be the head start we need for improvement. Investigate and read up on which brand is the right one for you, your family and your pocket and take a shot at being a healthier person.
If you have any experience with Public Goods or their products, please leave your reviews below.
Public Goods Customer Reviews

Jack
I bought a reusable bag and a few weeks later was charged $79 for an annual membership I never confirmed on or wanted.
Beware, they automatically add the $79 membership at checkout for your first order and don't allow you to cancel before billing. I sent them an email and it was ignored. Very slimy tactics, will be throwing my bag out avoid promoting their brand.

Bonnie F
DO NOT ORDER FROM THIS WEBSITE!!! TOTAL SCAM!!!! I ordered 2 products and immediately got charged with a $79 membership fee that I did not sign up for. Emailed them a bunch of times and kept getting a generic response. I don't know how this company gets away with it but the only way to stop them and put them out of business is not to order from them, if you read this review I repeat DO NOT ORDER FROM THEM!!!

Melanie E
I wanted to try these food and cleaning products really badly. But no matter what my order wouldn't go through. I saw a membership trial was to be started with my purchase so I wasn't surprised by that, what did surprise me was that the submit button just didn't seem to work no matter how hard I tried so I gave up and figured it would work on a computer the next day.
The next morning however I saw that even though my order did not go through they charged my card 7 times! That was a LOT of money so of course I wrote to them and got a generic oh I don't see an order for you I'm sure the charges are just a hold and will clear in 5-10 business days.
Well wow that sucked but I get it was a technical glitch I suppose so I let it go and once all my money was released I tried one last time and the same exact thing happened so I again reached out to them but this time silence, and the charge went through on the debit card EVEN THOUGH I HAD NO ORDER!
Thankfully my bank stepped in and took care of it. But I highly recommend steering clear of this crappy company, ethical product sold by an unethical company!

Jeff H
Don't do it sneaky $79 "membership" charge
Shady wish I would have read the first review before doing anything. I purchased their noodles off a youtube add (I know dumb decision) noticed how they sneak that $79 "membership" fee right after you purchase the $1 noodles with no prior informing that they will charge you $79. Sneaky. I immediately emailed them and told them to cancel my membership along with my order. I will also be contacting my bank to inform them to block any charges from this fraudulent scammers.

Cynthia
Do NOT Order From This Company
They are a scam. I ordered two food items only. The items shipped and were ok. But a few weeks later I was charged $79 for a yearly membership I knew nothing about and certainly never would have signed up for if I had know about it. Since they don't list a phone number on their website, I had to e-mail them. They said they would cancel my membership and refund the money. No they did not.
I had to keep after them about cancelling it. They finally sent me an e-mail with a link to where I could cancel it. I did that, and then received an e-mail confirming the membership had been cancelled. I had to keep e-mailing them and bugging them about giving back my $79.00. They said it would take 5 to 10 days. It's been more than that, and still no refund.
My bank cancelled by debit card and gave me a new one, and assured me if public goods were to refund the $79, they (the bank) would see that occur and would deposit it to my account. I've continued to e-mail public goods. Just today they told me they would need me to create a password. What???
They also told me they don't have phone service. What legitimate company doesn't have a phone? I then demanded they mail me a check for $79. They ignored that e-mail. I forwarded all these e-mails to the gentleman I met with at my bank, and he's sent them on to the bank's fraud department. I'm still waiting for that $79 to be taken off my account, or else be refunded. Do NOT do business with Public Goods.

Bella A
Junk. Stay away. Not worth a penny, much less a 'membership fee'.

icanimagineeverything .
Ethically Sourced and great product with room for improvement.
Very Transparent in sourcing and ingredients and very good selection for many high quality products if you can afford shipping.

crystal s
I haven't even gotten to the point of being able to buy or try their products despite having paid for a lifetime membership at the end of last week. Technical issues continually keep me from creating an account and buying their products that none of their support staff seems to be able to solve. my guess is that they have to put a support ticket in with Shopify and involve those people and by that point if I cancel my membership I'll be charged a prorated fee.
in the end their products May taste good but the taste I have in my mouth over this experience I'm sure it's worse. I'll have to go to my bank and dispute these charges and cancel my car and wait 7 to 10 days for a new one and be put through the inconvenience of resetting up all of my merchants and auto-pay accounts because these guys won't address or acknowledge my request for a refund.

Darlene L
It's not a scam but products are low quality
Hand wash is hard to wash off. Castille Soap doesn't clean at all (but suds nicely - all show). Detergent doesn't dissolve properly so leaves pieces of white clumps all over the clothes. Dishwashing soap needs a lot to clean just a few plates and bowls that weren't even that dirty. Love the idea. Hate the execution. It's not worth the money. Don't fall for it.