Curcumin Triple Burn Reviews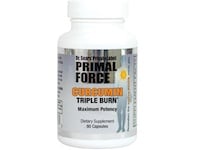 Primal Force Curcumin Triple Burn is one of many products from Dr. Al Sears. His company has been producing nutritional supplements for many years specializing in natural health and anti-aging products.
This latest supplement aims to unleash all the health benefits of turmeric in one easy to take pill.
Product and Ingredients
The health benefits of turmeric have been documented for years with many cultures employing the spice in many aspects. On his website Dr. Al Sears MD lists the potential benefits such as:
Improved memory
Reduced mental fatigue
Enhanced mood
Increased lifespan
Radiant skin
Anti Inflammatory
Supports healthy blood sugar levels
Improved blood pressure and triglyceride levels.
Supports joint comfort and mobility.
Better Digestion
And Much More…
Dr Sears claims that one of the major drawbacks to supplementing with Turmeric is that most options on the market have poor bioavailability; meaning that your body does not absorb all the nutrients and therefore you don't get the health benefits.
He claims that Curcumin Triple Burn overcomes this issue by ensuring that his supplement uses the right kind of curcumin at the proper dose of 1,000 mg per day, it features a proven delivery system, and incorporates additional plant roots to boost its effectiveness.
The ingredients include: Bioperine (black pepper extract), concentrated Ginger, Galangal, and Holy Basil. According to Sears these additions help enhance the positive effects of Turmeric and improve absorption.
Cost and Price Plans
There are several payment options when ordering from Primal Force.
If you join the Curcumin Triple Burn VIP program you will get free shipping and save 30%, this includes an auto ship membership for 3 months. You will get 3 bottles shipped every 3 months for 29.95 per bottle, a total of $89.85.
Your other option is the trial offer of one bottle of Curcumin Triple Burn for $42.95 plus shipping and handling. Each bottle has 60 capsules which equates to 30 servings.
If you sign up for the autoship option they say that you can cancel at least one day before the next shipment.
Customer Service
Primal Force products come with a money back guarantee and if you are not happy with the product you can send the unused portion back for a refund within 90 days.
If you have any questions or concerns you can reach a representative at [email protected] or by phone at 1 (866) 895-8555.
Customer Reviews & Complaints
While there aren't many independent reviews of Curcumin Triple Burn specifically, there is lots of online feedback for Primal Force.
On Reviewopedia and other websites there are mixed reviews with the primary complaints focused on customer service issues.
Others have complained about the higher costs of Primal Force Supplements.
Competitors and Alternatives
These days virtually every supplement company has some form of Turmeric/Curcumin supplement. Also you can simply incorporate turmeric spices into your cooking and meals if you do not require a higher concentrated dose.
Other supplements include Longvida RD Curcumin and Purathrive Turmeric Extract.
Where to Buy?
You can purchase Curcumin Triple Burn directly from www.PrimalForce.net.
If you have any experience with Primal Force Curcumin Triple Burn, please leave your reviews below.


You may also be interested in
Curcumin Triple Burn Customer Reviews

Tinman98
I was impressed with the flyer from Dr. Sears and was all ready to do the big money-saving order with auto-delivery and everything. But I have learned to not be so hasty and I decided to do an Internet search just to see what would show up.
Low and behold, a great many of the other brands of Curcumin/Turmeric ALSO have the same primary ingredients that aid in absorption (such as black pepper), just missing the weird ones no one has heard of, like galangal and holy basil. My guess is, they can be found separately and added.
The most important thing I learned though, is that many of these other brands only cost half as much or less, AND they contain up to TWICE as much of the main ingredients, such as Ginger and black pepper. And at least some of them are made in the USA as well. No worry about Chinese adulteration.
Bottom line, do your homework and due diligence before you jump in with the most expensive product on the planet. Or at the very least, try one of the cheaper brands first to see if it works for you, then if you think Dr. Sears product can do more for you, go for it.

Dave
Need to know how many milligrams of Curcuminiods per tablet
My question is how how much curcuminiods does each pill have? This product Triple Birn has 1000mg of turmeric root but of that 1000mg how much is that curcuminiods? 1mg? 10mg? 500mg? Yes this has other products to help you absorb the available curcuminiods but you have to know how many milligrams of curcuminiods not just how much turmeric root is used. When you compare this to a brand called Terry Naturally their product called CuraMed they state how many milligrams of curcuminiods per pill which is 500mg. They also state that their product is 500 times stronger than pure turmeric and that it has other ingredients that aids in absorption. They also use non GMO turmeric. Just like Dr Sears formula they use ingredients that enhance absorption.. CuraMed claims 1 pill of their product is like taking 500 tablets of turmeric. Dr Sears please show this since 1000mg of tumerric root really doesn't show how much curcuminiods your getting. Need to compare apples to apples.

Joann T
I have been using Primal Force Triple Burn for over one month and found many benefits all ready. I have had pain in my left shoulder for months and thought I may need a shot in my shoulder. Just two weeks after using Primal Force Triple Burn the pain was almost gone. Now going into the fifth week I can use my shoulder with no pain at all. I have been taking blood pressure medication and find my blood pressure is almost too low now. I'm in hopes my doctor will take me off the medication during my next visit. I'm experiencing other things which would take too long to talk about. I highly recommend this product.

Paul S
A liposomal type delivery system is so much better. I am not impressed...

EVELYNE M
PLKEASE CANCEL ANY FURTHER SUPPLIES. RETURNING TH3 CONTAINERS 28/3/17.
PLEASE REFUND BY RETURN THANK YOU
ORDER ID.15744322