Power Pod Reviews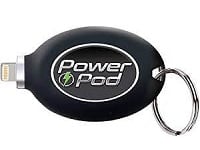 The Power Pod Charger is an emergency phone charger that the company states is compact, durable, and can provide hours of power for both Apple and Android mobile devices.
The device was created to act as a backup in case your phone dies in a situation where you don't have access to power or your charger is not available.
Unlike other some other mobile battery bank options this one is small enough to carry with you at all times.
How Does It Work?
The company claims that what makes their product effective is its unique built-in micro high Velocity Charger.
According to the company it has 800mAh of power and a single charge can give an average phone around 2 hours of emergency power.
For reference, a breakdown of different wall charger's capacities looks like this:
9V/3.0A Quick Charge / USB Type-C Charging
5V/2.4A Fastest Standard Charging Speed
5V/1.5A Less Slow
5V/1.0A Slow
The Power Pod itself is reusable and is said to fully charge off a Micro-USB cable in around 90 minutes. They say it can hold this charge, without use, up to 3 months.
The company claims the device itself should last 10 years or around 500 charge cycles.
If you're not regularly using it, you should still check the charge every so often to make sure you won't get stranded with a dead unit in case of an actual emergency.
The Power Pod charger is compatible with USB-C & iPhone devices, be sure to make the correct selection when ordering.
Troubleshooting
On their website they state that if your pod is not working, check to see that the charging tip is completely extended. You'll need to push it fully forward for it to work.
They also recommend checking and clearing the port of any debris. A light should come on when the Power Pod is Charging.
Cost and Price Plans
Currently the company is selling 1 Power Pod for $19.99 with a $6.99 shipping and handling charge. They also have a promotional offer for 2 units at the same base price but double the shipping fee.
Note that the double offer only applies to Power Pods of the same charging style.
Customer Service
If you have questions about Power Pod or need help with your order, you can reach out via e-mail at [email protected] or via phone at 888-227-3414.
If you are unhappy with your purchase the company offers a 60 day money back guarantee. This offer does not cover shipping, processing, or handling fees.
You'll have to reach out to customer service to obtain a return authorization number first. The Power Pod is distributed by:
Ontel Products
21 Law Drive
Fairfield, NJ 07004
The company is not accredited by the BBB, and has a 1/5 of rating with them from 33 customer reviews.
Power Pod Reviews
If you are looking for positive reviews of the Power Pod Charger, you will find plenty of them on their website, where customers have great things to say about the product.
They rave about the ease of use, convenience, and size of the Power Pod.
Unfortunately, Amazon customers have a different perspective and give the Power Pod Charger mixed reviews and only a 3.5/5-star rating.
While some reviewers on Amazon say great things about the product, dissatisfied customers offer criticism regarding the amount of charge that the PowerPod offers, the consensus being that it is slow to charge, often stops charging, and is generally a poor quality product.
Where to Buy?
You can purchase a Power Pod Charger from their website or Amazon.
Competitors and Alternatives
If you are looking for products that can help ensure that your phone is always charged, there are other options besides the Power Pod.
For example, you might consider taking the iWalk Mini Portable Charger with you wherever you go.
This handy little device allows you to forego your charging cable and still charge your phone easily while out and about. It is incredibly easy to carry along with you, as it is only the size of a lipstick.
You can buy this product for $25.99 on Amazon, where it earns excellent reviews and a 4.3/5-star rating.
Another option is the Chargetab Emergency Phone Charger, an environmentally friendly emergency phone charger.
Chargetab has products available for both iPhones and Androids. A three-pack costs $19.99 and allows you to get up to four hours of charge.
All Chargetab products use non-toxic batteries that have been recycled and repurposed, so you can be sure that your purchase will help not only yourself, but also the planet. Chargetab gets a 4.5/5-star rating on Amazon
Finally, you might consider buying a Belkin Portable Power Bank Charger, which provides up to 35 hours of extra battery life for your phone and allows you to charge multiple devices at the same time.
This product comes in three colors: black, white, and rose gold. Additionally, Belkin offers a 2-year warranty on this item.
You can buy a Belkin Portable Power Bank Charger for $29.99 on Amazon, where it earns a 4.6/5-star rating.
The Bottom Line
The creators of Power Pod aim to make an easy-to-use, small, and convenient device that could solve emergency phone charging problems.
Unfortunately, while the company can boast some satisfied customers, it appears that many people have had issues with the product.
This makes it difficult to recommend the Power Pod Charger, especially when we know that other companies have successfully created similar products that have been well-reviewed by customers.
If you have any experience with the Power Pod charger, please leave your reviews below.
You may also be interested in
Power Pod Customer Reviews

Very u
Not worth the money or hassle!
Certainly wished I would have researched these before buying. Thought they would make great Christmas gives so I bought 11 for friends, kids, and family including for myself. Boy am I glad that I bought for myself because these are worthless. They give like an 18-20% charge and then they stop. And yes they are being used properly. In my opinion they definitely are not worth even a $1. I will be asking for a refund and am disappointed that I will be charged for shipping them back. Do not buy!! Not worth it!

Lisa
I waited 2 months to receive when I paid an extra $17.00 for fast shipping. Today I tried it for the first time....what a complete FARCE! My pod after 2 hours charging, showed ZERO sign of life when put into my phone. This PISSES me off! Do NOT purchase from this scam!

Linda P
Used it on a recent trip to Peru! The piece broke off in my iphone and was useless!

Brenda z
It did work good until...
I bought one of your power pods and it was good until the piece that goes into the phone broke off and the back of it swelled up and the power pod popped the back off and it does not go back on because it's swollen...So the money I paid for that was a waste.

Linda C
Interestingly, after 2 months, the metal opening where you insert the cord, dropped down inside the Pod. Can't take apart to retrieve it. Worthless.

ThelmacTeijeiro
I was glad to find where to get them
I purchase 4 of power pod, one box was missing a charging cord to re-charge the power pod. Could you send me one so I can give to the person I given too.
I was glad to find where to get them, they ur are not in stores, I do use some of your products thank you for sending so fast. Thank you again, will be hearing from me again. ALOHA!

Shannon
These chargers do not work well at all!!! Total waste of money.

Tony O
The Power Pod Keychain Is Not Functioning
After charging the power pod, and plugging it into my iPhone, the power pod is not functioning. How can I return the ordered products to you?

William D
Rip off! Does not fit micro USB android Samsung Galaxy S-10 phones..... I got Ripped off!
It's for type "C" phone adapters only. It said in it's list of compatible devices that my Android Samsung Galaxy S-10 would work with it but when I got it I was dismayed that it wouldn't fit the charging port in my phone. I sent an email and I was told to purchase an adapter......?
So, I need to purchase another product to make their product work for me.... When they claimed "will work with any device". Bad business practice in opinion. They mislead me at the beginning and to top it off I even upgraded thinking I was going to get a better device than a "normal" one which cost me more money than the alleged "regular version".
I've been duped. Ripped off.... And lied to. Bad business. I do not recommend this device at all. Stay away from it.
Respectfully, William S.