PoolDeals.com Reviews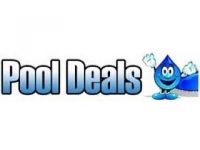 PoolDeals.com is the online home of Pool Deals, a company that calls themselves 'America's online pool store', and promises to give their customers the best quality pool supplies at affordable prices.
How Does PoolDeals.com Work?
According to their website, PoolDeals.com was established after they founder decided that he wanted to build a website that had the ability to deliver all the swimming pool products and supplies right to your door "at prices that couldn't be beat."
In addition, they understand that not all their customers will know exactly what they need or what best suits their pool, so they employ a well informed and knowledgeable staff that can help you with whatever you need if you simply call them and ask for their assistance.
Customers are welcome to use this website in the same way they would any other online retailer. You can either use their search feature to find a specific product you know you need or want, or you can search through their current inventory of products by category, including Accessories, Chemicals, Cleaning, Covers, Equipment, Floats & Toys, Liners, Parts, Pool Kits, Solar, Clearance, and more.&nbsp
&nbsp
Cost/Price Plans
The prices of the products on this website will certainly vary, as it depends on the type of product you are getting, the volume of product you choose to order, and other factors which may influence price.
That being said, one of the most important pillars of this company's philosophy is that they are able to provide their customers with the best quality products at the most affordable prices you can find online.
Refund Policy
This company has a very limited Refund Policy, stating that if customers receive an incorrect shipment or if an item arrives damaged or defective, they ask that their customers contact them within 14 days of the date of delivery and report the problem so that their Customer Service team can arrange to have your item re-shipped.
Customers must have an RMA number on the package when they send the product back, and in some cases customers will need to be able to provide Customer Service with pictures of the damage or defect.
Unfortunately this company does not provide returns and refunds on products that are not incorrect or damaged. The website says that in order to keep their product prices so low, their products must be considered final sale.
This is why they strongly encourage their customers to carefully measure their pool for any products which might be size specific, and to also contact their Customer Service team whenever they have a question before ordering.
Customer Service Contact Info
Customers who would like to contact Customer Service with any questions, concerns, or complaints can do so by phone at 800-768-1049 or by submitting them directly to their website through their Contact Us link.
Reputation
Unfortunately it seems as though this company doesn't have the best reviews at this time, which isn't really surprising. The Refund Policy that they publish on their website simply says that all customers must receive an RMA number before returning a product.
Their actual website provides no information whatsoever on how limited this policy and that they will only provide refunds for damaged or defective products. This information can only be found in their Terms and Conditions.
This leads to unhappy customers who regularly fight with Customer Service and describe their assistance as being very poor. Some customers even complained that no one ever answered the phone when they called.
Customers who are still interested in using this company for their pool supplies must be sure that they are willing to take the loss if the product they order doesn't work out.
Competitors and Alternatives?
There are many other online retailers which will offer pool owners the products they need to keep their pool in the best condition possible, as well as many local retailers that may be available in your residential area.
If you have experience with PoolDeals.com or their products, please leave your reviews below.
You may also be interested in
PoolDeals.com Customer Reviews